Dear Philly Baristas: Give Us Gritty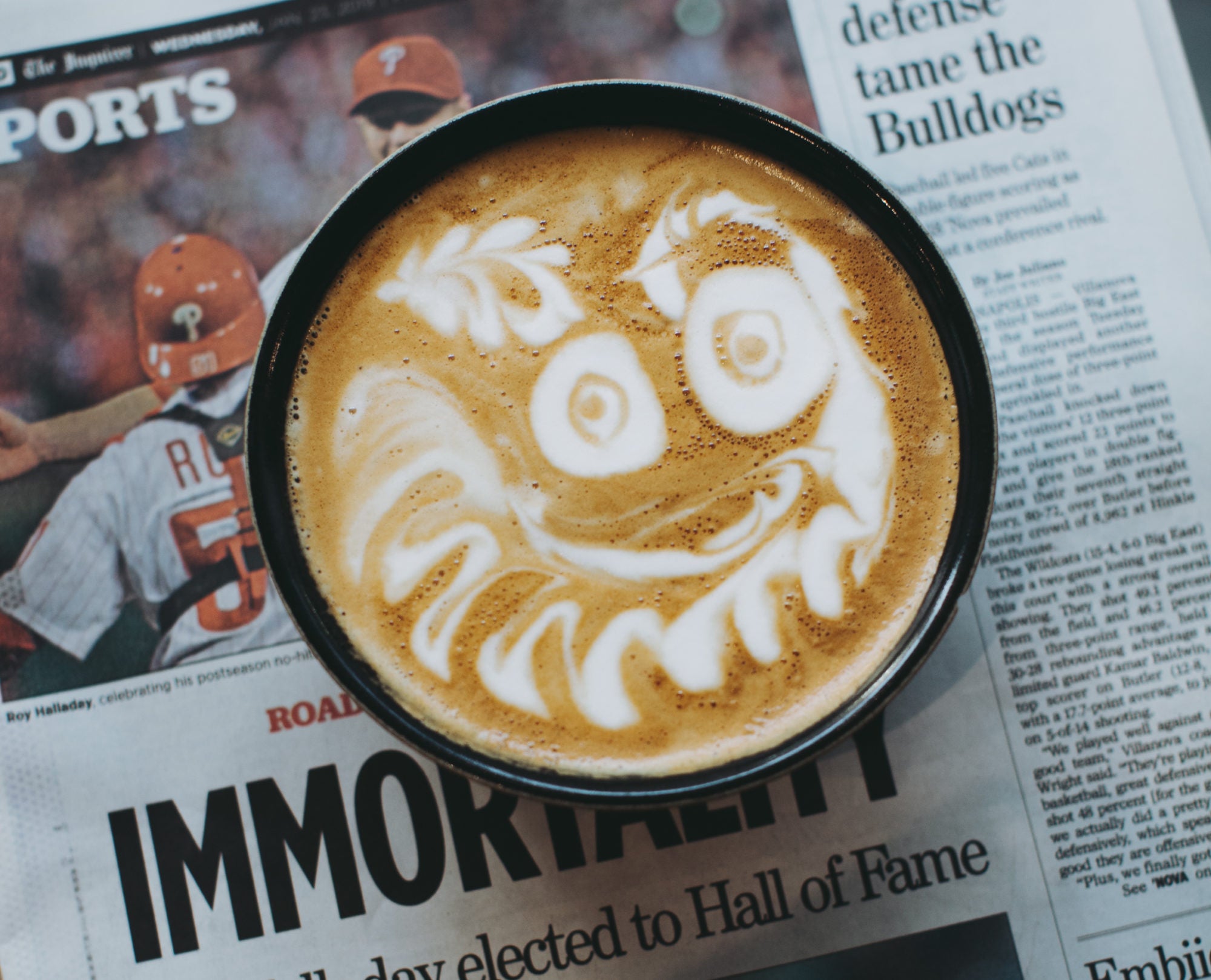 The Philadelphia Flyers mascot has a home atop espresso and steamed milk.
At six months, babies start sitting up on their own, eating solid foods, and gurgling verbal responses. Just shy of his own half-birthday, the loony-eyed, ginger-scruffed trickster god known as Gritty is blossoming ahead of schedule. He doesn't crawl—he rappels from the rafters to "Wrecking Ball." He prefers punching Nazis to shaking rattles. Shouted out in a Jeopardy! clue? Sharing mozz sticks with Jean-Luc Picard? Your fave infant niece could never. The Philadelphia Flyers mascot just keeps tearing big, sloppy bites off the zeitgeist—impressive, considering his jocular jack-o'-lantern grin features zero teeth.
Hoarding mindshare in his hairy mitts like Infinity Stones, Gritty is that rare sports entity lionized by those who don't care about sports. It's in his DNA: Gritty was developed by the creative firm founded by David Raymond, the original Phillie Phanatic. Bigger than that, the crazed Cheez-It fur creature was conceived as cross-platform shorthand for Philly-brand spunk. That earnest, if inelegant, finger-in-your-chestiness, a trait synonymous with the Flyers and their city, transcends the National Hockey League. That how's Gritty became an open-source avatar for any cause that could use a boost of backbone.
The sizzle reel's far too long to roll in full, but here's the quick-n-Gritty. Outside official team duties, he's been co-opted by antifa and anticapitalists, with tug-backs from the right. His resemblance to America's 45th president has inspired political art. But he—some see Gritty as nonbinary; we're following Flyers pronouns—is also a hit on the late-night and YouTube pizza review circuits. Most crucially, he's endeared himself to Philadelphia's most cutthroat critics: Philadelphians.
The speed and scope of Gritty's rise was "a spectacle, and one that has exceeded our goals," says Flyers spokesperson Joe Heller. "We certainly welcome all to embrace him."
Sports culture, political culture, pop culture, food culture, Philly culture. Which industry should Gritty infiltrate next?
Coffee. At least that's what Philly-based ReAnimator was thinking last October, just one month after the mascot's debut, when it teamed up with Sprudge to host a Gritty latte–art contest on Instagram. The leading coffee-industry site challenged baristas to create his transfixing likeness in espresso and steamed milk. Participants from all over America submitted some excellent work, but it seemed only right to showcase submissions from his hometown, too.
Philadelphia's specialty coffee community is special, a collaborative network of independent shops and roasters staffed by diverse, dynamic professionals. We approached five of the city's best cafés with a simple directive: Show us your Grittys.
Unlike the international latte-art scene, which is highly regimented, there were no technical stipulations in place here—no judges' panel, time limits, prohibited ingredients, or stylistic strictures. And declaring winners and losers would not be in the true Gritty spirit, bellicose as he may be.
We've recently learned that Gritty doesn't sleep, which tracks with the Flyers' intimation that he enjoys a stiff brew—just don't expect to spot him ruminating over an microlot pourover from Ethiopia. "I'm pretty sure he prefers Dunkin'," says Heller. (The Massachusetts-based chain is an official corporate sponsor of the NHL.)

Jordan Seefried of ReAnimator Coffee Roasters
Though he grew up in Buffalo Sabres country, Jordan Seefried declared his loyalty to the Flyers at the age of 7, in an era when stars like Eric Lindros and John LeClair ruled the rink. When it came to hockey, "I was ever the outcast," says Seefried, who's since come down to join his favorite team. Prior to the move, the artist and musician worked in merch and tour management for fellow Rochester natives Joywave; he's now employed at the Kensington HQ of ReAnimator, founded in 2013 by Mark Capriotti and Mark Corpus. (Seefried now plays in a band, LUNCH, with two other ReAnimator employees.)
Still an avid Flyers fan, the barista says he had the same reaction as most upon Gritty's September 2018 introduction: "What the hell is this thing?" But he soon came around, in part because the mascot's persona seemed…familiar. "I feel like I've met Gritty in human form a few times in Fishtown," says Seefried, referencing the northern neighborhood that's home to another one of ReAnimator's four locations. "If you don't like him, he doesn't care."
Free-pouring the "goofy, googly eyes" was the most vital task for Seefried, who leaned on ReAnimator's own Telemetry Blend espresso with whole milk. He also paid close attention to shaping Gritty's odd-fitting hockey helmet, using a stir stick to etch in the creepier details of his whiskers and smile. 1523 E. Susquehanna Ave., Philadelphia, PA 19125; reanimatorcoffee.com

Evan Inatome of Elixr Coffee
After relocating from California to Philly, Evan Inatome opened the first Elixr in Center City in 2011, later adding three additional cafés and a roasting operation that's allowed him to build an award-winning retail line. "Direct trade is a really important part of who we are," says Inatome, who works closely with small family growers in Guatemala, El Salvador, Costa Rica, and Colombia; he describes his menu of single-origin coffees as "the jewel of Elixr."
Inatome, who grew up a Detroit Red Wings fan, is a veteran of the competitive coffee circuit and will represent Elixr in the roasting category at the 2019 U.S. Coffee Championships. In making his Gritty, he tapped skills acquired over a very long career participating in "Thursday Night Throwdown" latte-art competitions.
"I only know how to do free pour," says Inatome, who leaned on that ability, and his signature Beekeeper espresso, to pull out Gritty's distinctive facial features—particularly his weird, bushy eyebrows, which evoke the laurel crowns worn by ancient Greeks. "Before Gritty was a thing, I'd always described Philadelphia as a gritty city," Inatome adds. "People really embrace it. It really does speak to the spirit." 207 S. Sydenham St., Philadelphia, PA 19102; elixircoffee.com

Blew Kind of Franny Lou's Porch
"I don't know what this child is. Who is it? What is it?"
Blew Kind remembers being a little perplexed by Gritty the first time she saw him. But while the owner of Franny Lou's Porch is not a huge sports fan, she has an appreciation for phenomena capable of bringing all of Philadelphia together. "He's an Everyman type of character—it's almost like he's a mascot of the people, too," says Kind, whose East Kensington café is named in honor of African-American female leaders Frances Harper and Fannie Lou Hamer.
Kind, who has worked in coffee since the age of 14, previously owned another shop, Leotah's Place, prior to the opening of Franny Lou's in 2015. Then and now, the Virginia native's philosophies shape how she runs her business, with attention paid to sustainability efforts, local/organic/ethical menu offerings, and more. "We need more places for black and brown people to feel safe, to relax, to be at peace and be welcomed…places where we can practice our creativity together," she says.
Using local milk and espresso from nearby Triangle Roasters, Kind messed with varying free-pour angles to get Gritty's unsettling smirk right where she wanted it, dotting his eyeballs with chocolate syrup and dusting on fair-trade cocoa powder to suggest the sensation of scruff.  2400 Coral St., Philadelphia, PA 19125; frannylousporch.org

Nikki Meyer of Ultimo Coffee
Nikki Meyer's initial reaction to Gritty was mixed. "I remember my first reaction being, 'He's kinda cute,'" says the Ultimo Coffee barista. "Then I saw a video of his eyes going everywhere, and I was like, 'What the fuck was that?'" But Meyer, who grew up in a Flyers family in the area, soon came to see him as a local. "Philadelphia in general is a pod of really strange people doing really strange things—endearing and charming in their own way." Gritty fit in perfectly.
Meyer started her coffee career in Arizona before coming back home and finding a job at Aaron and Elizabeth Ultimo's shops, which were among the first cafés to introduce the "third wave" school of coffee thought to Philly. You can expect a dialed-in, perfectly executed espresso drink any other time you order at Ultimo, but for this task, Meyer needed to go off-script.

"I realized that it looked too polished—not rough enough," she says of her first few attempts. She started by pouring a rosetta, the classic latte-art design, messing around with the foam afterward to carve in Gritty's face. For the coffee, she used Ultimo's own Candelaria Rise espresso. To achieve the tint she wanted, Meyer dyed her milk with turmeric and berbere spice that was on hand for other specialty drinks. She has a natural compunction to shield sweet Gritty from outside criticism. "Don't make fun of our little brother," she says. "We know he's weird, but he's our little brother." 238 S 20th St, Philadelphia, PA 19103, ultimocoffee.com

Pilar Poeschl of Menagerie Coffee
A classically trained dancer and seasoned coffee pro who manages one of April Nett and Elysa DiMauro's two Menagerie cafés in historic Old City, Pilar Poeschl took naturally to this challenge. "I'm originally from Minnesota, so my hockey blood runs strong," she says. Her father, Jeff, was a standout college goalie who was drafted by the Hartford Whalers in 1981. He's coached hockey for the past 20 years, and Poeschl's siblings played, too, so the type of hardcore fandom embodied by Gritty is extremely familiar to her. "He personifies the golden-era hockey player, who plays because they really love the game," she says.
Poeschl, brought to Philly by dance and choreography opportunities, connected with Menagerie because it uses beans from a former employer, Minnesota-based Dogwood. She used their Neon espresso for her Gritty attempts, the first few of which "looked like a cross between the Teletubbies sunshine baby and an ugly lion," says Poeschl. She eventually determined that nailing the mascot's weird smile, "wry and off-kilter and a little bit too big for his face," was key to the rest of the attributes falling into place, along with his eyebrows. "He's a very jovial character, but he's also a little bit mean and rude and clumsy," she adds. "The eyebrows and the grin—that's where the Gritty lies." The Bourse, 111 S. Independence Mall E., Philadelphia, PA 19106; menageriecoffee.com