A Day of Dumplings in Brighton Beach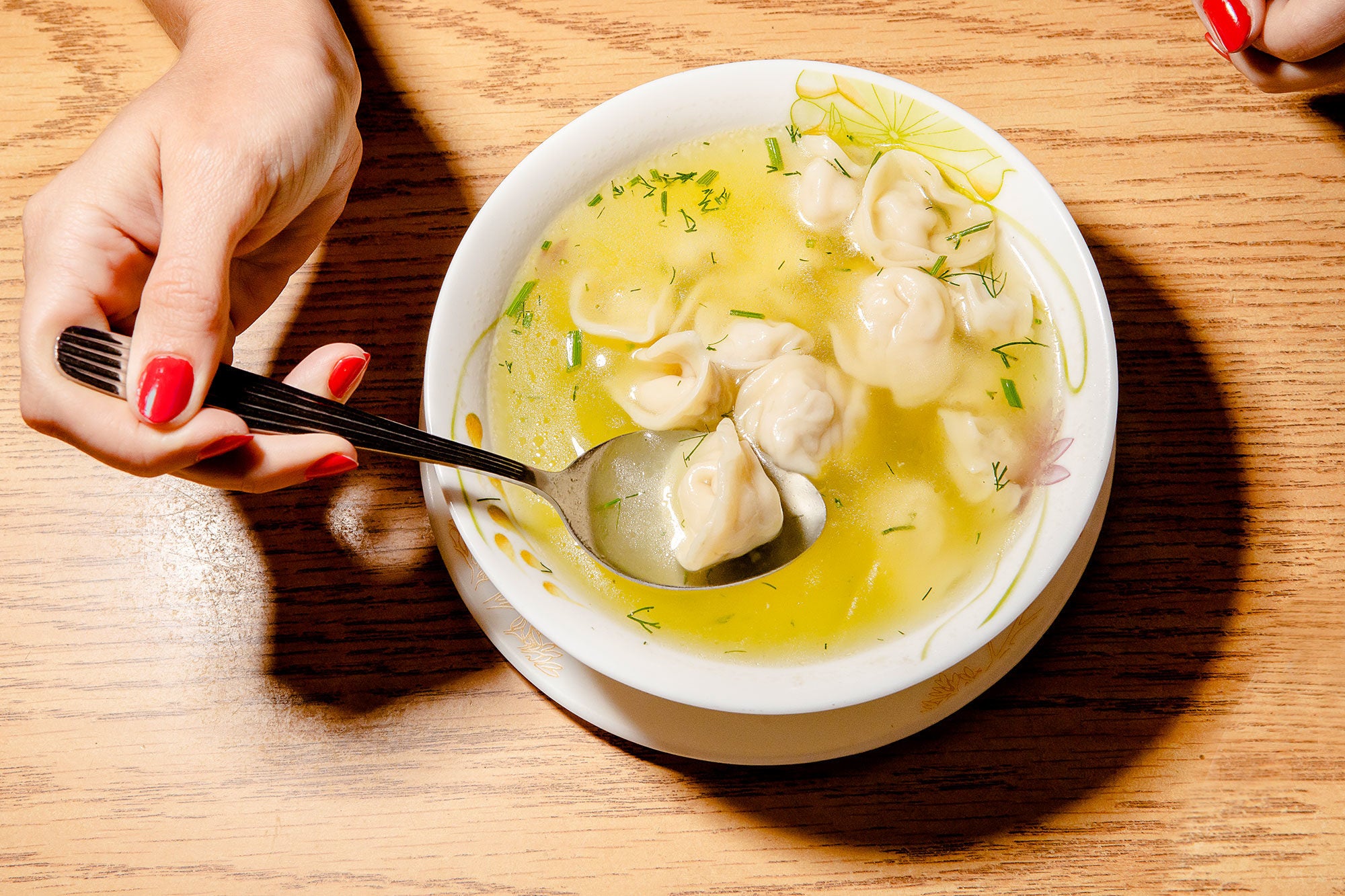 The best introduction to New York's biggest Russian neighborhood is through its pelmeni, manti, and khinkali.
Back before the B or Q trains existed, about 150 years ago, Brighton Beach was a resort town—a spot for apartment-bound New Yorkers to swim, bet on horse races, and spend a weekend in a hotel, away from cramped high-rises. A few waves of infrastructure change, and a few more waves of post-Soviet immigration later, the seaside enclave still feels like a getaway for the 8 million New York City residents who might visit from other parts of the city. But this time around, you can take the subway to get there—around 40 minutes from Manhattan. And there are pelmeni.
Brighton Beach is one of the few places in New York City where you can taste Dungan food, Azerbaijani food, and Uzbek food all within a square mile. It's a rare neighborhood where you could set out grocery shopping and buy both a pound of fresh Turkish delight and a pound of bulk caviar—if you wanted to burn through a few hundred dollars at once. So if you're thinking of combining a dip in the Atlantic Ocean with some of the best food Brighton Beach has to offer, you might be best off limiting yourself to one food group. Like, say, dumplings.
In just one dumpling-centric day in Brighton Beach, you could try button-shaped Russian pelmeni, stuffed full of chicken, shrimp, and veal. You could eat a dozen different semicircles of Ukrainian vareniki, full of fluffy potato or syrupy cherries and topped with scoops of sour cream or tangles of fried onion. You could fit in a plate of tiny, angular, square Turkish manti, followed by a steamer full of plump, soupy Uzbek manti. And you could round it all out with some doughy, satchel-shaped Georgian khinkali, full of peppery, coriander-scented pork.
You could spend from sunrise to sunset doing this, punctuated with breaks for black tea with lemon or for strolling along the beach. Lots of restaurants in the neighborhood are either officially, or unofficially, BYOB at all hours of the day, so be sure to pick up a small bottle of Stolichnaya or a few tall boys of cheap, refreshing Baltika on your way in. And after you've eaten everything that you can, make sure you stop into a grocery store (like Gourmanoff or Exquisite Foodland) for Russian candies and canned fish to take home. Here's how to pull it all off in one day.
Varenichnaya
Since this pint-size café by the boardwalk opens at 10 a.m., you can make it breakfast with a cup of tea and a plate of cherry vareniki half-moons, eaten among the Russian dolls and plastic foliage that line the walls. If it's chilly out, or you're getting over a cold, add a bowl of dime-size pelmeni swimming in golden chicken broth.  3086 Brighton 2nd St., (718) 332-9797, website.
Cafe Euroasia
Next, walk the four blocks to Cafe Euroasia. Even walking in at breakfast time, you'll be struck by a heady whiff of Bison Grass vodka and lamb. Regulars cart out bottles of vodka in plastic bags to pour into tiny glasses to accompany platters of grilled skewers. The Uzbek manti are fist-size oblong dumplings cooked in a bamboo steamer, and each bite is full of buttery, brothy lamb, sweetened with sautéed onions and sprinkled with finely chopped dill. If the restaurant is closed or too full, the tiny café Bek, next door, serves similar manti and other snacks, like a flaky, meat-filled samsa. 602 Brighton Beach Ave., (718) 891-0008, website. 
Toné Café
Now, walk two avenues inland from the boardwalk, to Neptune Avenue. You'll find Toné Café, a quiet Georgian spot where you can share a cheesy, melty khachapuri and a plate of khinkali—thick, doughy dumplings that look like little drawstring bags. The khinkali are peppery and full of coriander—perfect with a half-liter of jungle-green tarragon soda. 265 Neptune Ave., (718) 332-8082, website.
Cafe at Your Mother-in-Law
After a beach break and a sunset beer at the boardwalk bar at Tatiana, make your way to Cafe at Your Mother-in-Law. This is the best spot to catch up on your Russian pop music videos while eating Uzbek-Korean food—a cuisine that came as a result of ethnically Korean residents being forced out of Russia in 1937 and settling in Uzbekistan. The menu is full of neighborhood standards like manti, pelmeni in broth, steamed buns full of lamb, and noodle soups, but inflected with pickled vegetables, sesame seeds, chile flakes, and bean sprouts. 3071 Brighton 4th St., (718) 942-4088, website.
Luda's Dumplings
After a spin through Gourmanoff for some grocery souvenirs from your day, walk toward Sheepshead Bay for a stop at Luda's. The shop puts a refreshingly modern spin on run-of-the-mill Russian pelmeni. Grab a bag of frozen shrimp-filled pelmeni, tinted bubblegum-pink with beets, and head up the steps to the train platform for the sleepy, very full ride home. 3371 Shore Pkwy, (347) 566-0604, website.