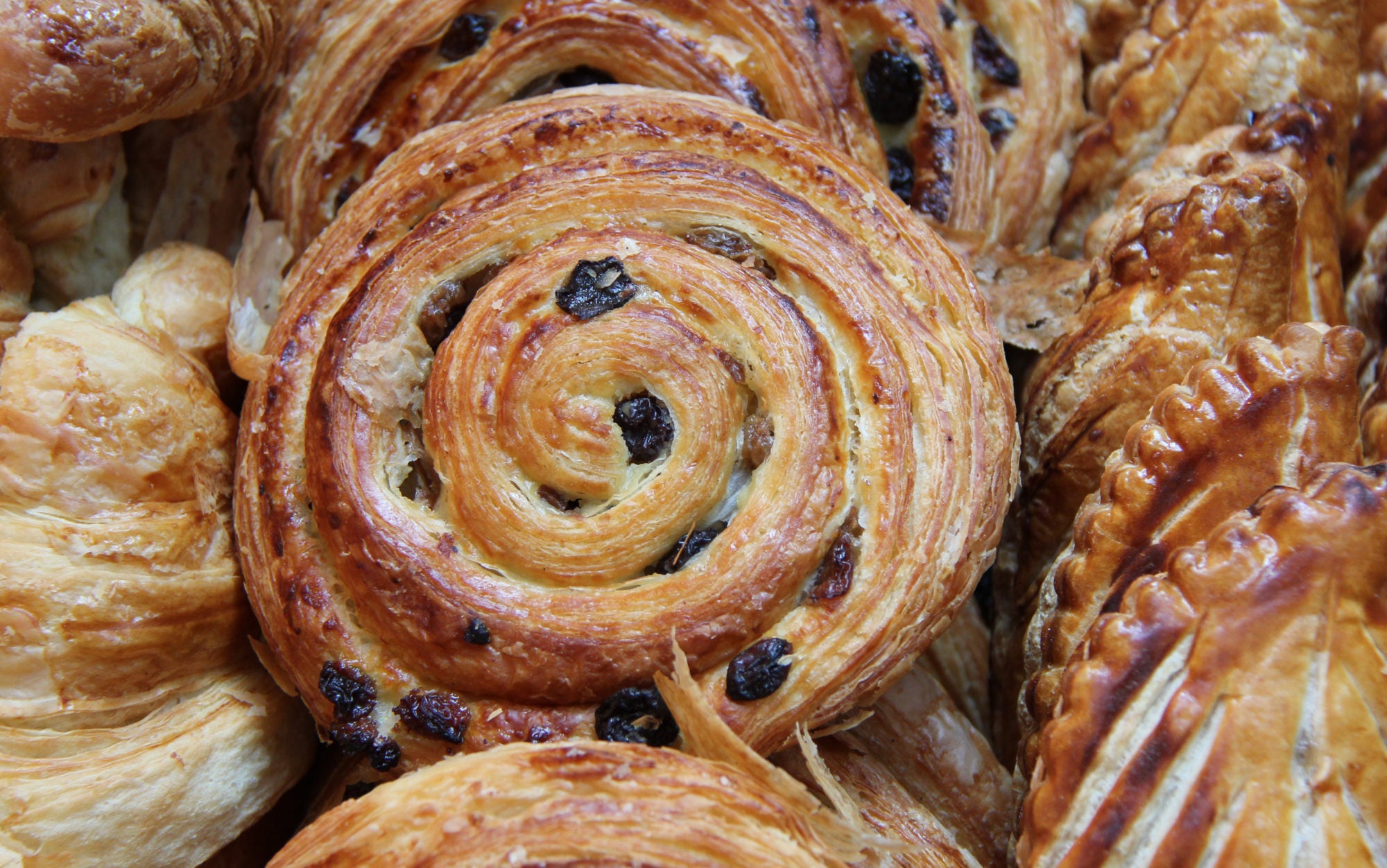 The days of cupcakes and Cronuts are behind us. It's time to take a fresh look at an old pastry-case friend.
I've never taken breakfast all that seriously. As a kid, it was a bowl or two of Sugar Smacks mindlessly spooned while watching The Great Space Coaster; in high school, it was a Coke, a pack of Ho-Hos, and a clove cigarette; in college, a blueberry muffin, coffee, and a real cigarette. In the 25 years since, I've gone through oatmeal phases and smoothie phases; Hubig's pie phases (I spent some years in New Orleans); and Thomas' English muffin phases. These days, it's the frozen fruit, yogurt and maple syrup smoothies I make with my three-year-old daughter, Sylvia, as she lobs questions at me about Twilight Sparkle, the Abominable Snowman, and why people turn to stone when they die (she's still trying to grasp the concept of headstones).
But walking past a Brooklyn bakery called Runner & Stone a few months ago, I found a new ritual to quickly foment within my daily life.
There, sitting among a glistening display of croissants, cinnamon buns, and scones, was a Danish—this version coiled up, serpentine style, and studded with purple and golden raisins. After paying $3.50, I walked back to my office, removed it from its paper bag, and started monkey-breading it apart. Biting into its flaky crust, the morning gloom of the Gowanus Canal lifted, turning the Superfund site into the Seine. Polishing it off at my desk, I remembered the happiness a simple pastry could bring. I remembered how much I loved these things when I was a kid—I remembered that I needed to call Mom.
Mom had called me at least three times in the past three days, and I hadn't called her back. But the Danish shocked me into thinking about her, jolted me into missing her, made me fear what life would be like without her. Guilt overcame me for not having had the decency to call her back, because just as I can't eat a brown M&M without thinking of Van Halen, or sip a gin rickey without conjuring Fitzgerald, I can't eat a Danish without thinking about Mom.
There's the grainy pre-HD memory of us sitting at some Cincinnati bakery—Servatti's or Busken; Graeter's or the BonBonerie—eating Danish in between running errands at the Kroger and Hitch's Meat Market. There's Mom biting into a Danish even before she'd paid for it at Mon Delice bakery in New Smyrna Beach, Florida, where she lives now. There are the big memories—the Christmas memories—of mornings spent with Mom and the rest of my family, bleary-eyed and hovering over a dozen glazed Danish before opening our presents.
I figured the Danish from the Gowanus bakery would leave me feeling weighed down, but it didn't. Unlike other morning sweets—belly-bombing donuts or bagels or sticky buns—Danish have an airiness and a light flakiness that, while not exactly healthy-feeling, leave me with minimal regret. Yes, I'm too middle-aged, too hypertensioned, and too gym-averse to risk making Danish an everyday thing. But I have folded them into my life just a tiny bit more these days, enjoying them, post smoothie, after I drop my daughter off at daycare in the morning.
Danish History
The term "Danish," of course, is a misnomer. In Denmark, they are known as wienerbrød, or Vienna bread (pictured above). In Vienna, they are known as a plunder—and not Vienna bread. There's a story that goes along with how Danish made their way to Denmark, but as far as its veracity, I can't make any concrete claims. According to the Union of Danish Bakers, they arrived after the country's bakers went on strike in 1850 and the owners of those bakeries hired scab bakers, many of them Austrian.
A 2016 article in the Copenhagen Post explained how it didn't take long for the pastry to cross an ocean to the U.S, thanks in large part to a Danish immigrant named L.C. Klitteng. "Klitteng had quickly spread the word across the country by supplying his pastries to the wedding of President Woodrow Wilson in 1915," the Post article claims.
By the 1920s, Klitteng had opened the Danish Culinary Studio on Fifth Avenue, where he schooled Gotham-based bakers on the art, and the birthright, of his homeland. And before long, the pastry was enjoying Cronut-circa-2013-like popularity.
Emailing my friend Suzanna in Copenhagen a few weeks ago, I asked her if Danish are still popular in Denmark. "Do you ask if they are still popular here?" she responded, rather peeved. "That's a little like asking an American if a burger is still popular over there. Danish pastry has been around forever, and it is not something that goes out of style—ever! It might be a little old-school for the young people, but it's a part of our culture, and that is not going to change."
I almost felt bad for asking.
Grocery-Store Specials
By the time I was growing up in the 1970s and '80s, Danish were everywhere, from French and Italian bakeries to the breakfast aisle of our local Kroger. Kellogg's sold mass-produced Strawberry Danish Rings and Danish Go-Rounds. Another company offered a toaster Danish called Danka. My friend and former coworker Stella Parks (aka Bravetart) told me about how, while working for the Bluegrass Baking Company in Lexington, Kentucky, just after culinary school, she would sneak a few of her favorite pinwheel-shaped cheese-and-sour-cherry Danish each morning. "It was sort of like a classic cheesecake Danish," she told me. "And since the owners were wonderful people, they had a policy that we could eat whatever we wanted. And I ate wayyy more of those than I should have."
Parks said Danish were among the top-selling items at the bakery, something she partially credits to the proliferation of those grocery-store versions mentioned above. "I think there was this period in the early '90s that was especially Danish-centric and pastry-centric," she recalls. "And I think it was fueled by those toaster pastries, which provoked a craving for them."
The popularity of Danish among the American masses might also be traced, in part, to the Swiss-born pastry chef Albert Kumin. Between stints working at the Four Seasons Hotel and Windows on the World, Kumin went to work for Howard Johnson's in the early 1960s, where, according to The New York Times, he set up a pastry department "that turned out 10 tons of Danish pastries a day for the hundreds of restaurants in the chain."
The Reawakening
I never had a Howard Johnson's Danish, but I bet they were very good. The truth is that I'm happy with just about any Danish—even the soggy, sticky, jammy ones they serve at the local BP station. Lately, though, I've become increasingly enamored of the more traditional flaky, slightly crunchy versions that are gaining favor again at bakeries like Runner & Stone. While I've thought about making them myself—and debated with the editor about including a recipe in this story—Danish is a time-intensive process, involving laminating rolled-out dough with a sheet of cold butter (that's the lamination) and giving it several turns, each of which requires a cooling period of anywhere between one and six hours in between. I've watched plenty of YouTube videos on how to do it, but after the third turn, I'm usually ready to walk out the door and up to my local bakery for one that's already made.
Modern Danish come in all sorts of shapes, sizes, and flavors, from pinwheel-shaped versions dotted with apricot jam to bear claws to the traditional kringle pastry enjoyed all over Wisconsin. But one of my favorites is made just up the street from my apartment, at a bakery called Der Pioneer. There, baker Björn Böttcher makes a German variation of Danish called franzbroetchen, as well as apricot Danish (picture above), which are said to have originated in his hometown of Hamburg. It's the classic Danish base dough (a combo of flour, unsalted butter, yeast, milk, sugar, and salt) folded, rolled, and coated with unsalted butter, sprinkled with cinnamon sugar, rolled more, and cut into slices. What makes it a true franzbroetchen, though, is that each slice is smooshed together in the middle with the bottom of a wooden spoon, so that the butter and cinnamon sugar ooze out, allowing them to caramelize during the baking.
I am eating one right now, in fact. I am sitting here at Der Pioneer, tapping at my keyboard, as tiny flakes of franzbroetche fall down on it. I am listening to a Best Coast song called "Crazy for You," which seems apt for the occasion. I am remembering, once again, that Mom has called me three times in the past three days, and that I need to call her back—that I need to make a conscious effort to communicate with her more, even though, in the simple act of eating this pastry, I already am.