The Cup Noodle Industrial Complex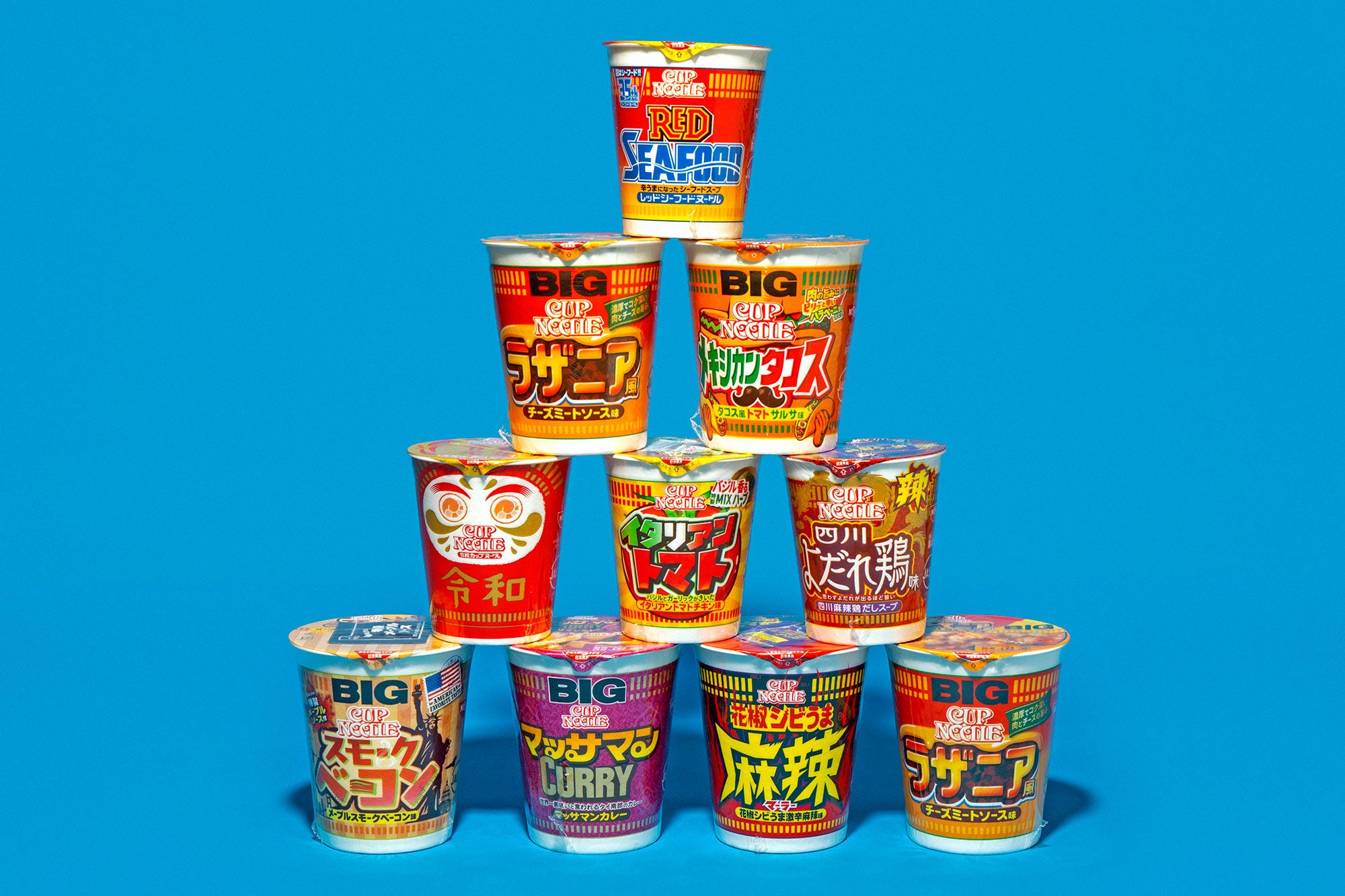 In Japan, you can eat a different flavor of instant noodles every day of the year.
Under the bright, fluorescent lights of my local Family Mart (a convenience store with 1,600 locations throughout Japan), I gaze upon rows and rows of instant noodles—ramen, soba, udon, and even yakisoba—sold in shrink-wrapped disposable cups with peel-off paper lids. Packages with high-contrast graphics, boasting names of famous ramen shops, and pictures of noodle waterfalls glistening with hot broth compete for attention. But the gold bars and serifed red type of Cup Noodle (as iconic as a package of Oreos or a can of Coke) stand out—with a parade of constantly rotating new flavors.
In place of the standard Chicken, Beef, and Shrimp flavors I know from American grocery stores, the cups I see in every supermarket and drugstore in Japan include Shoyu, Seafood, and Curry—and usually Cheese Curry, Chili Tomato, Salt, and Miso, too. And then there are limited-release flavors that vie for dominance in the instant-gratification world of the convenience store. Each month, I watch for the red-and-yellow "NEW!" sign on the top shelf of the instant noodle aisle and sound out the names of the flavors that appear—I read Japanese about as well as a kindergartner after living here for more than a year.
In that time, I've tasted chowder-like Milk Seafood, aromatic dark-brown Spice Curry, and a whole series of Mystery Meat flavors—Nissin's clever adoption of fans' term for the ambiguous cubes of freeze-dried protein—including Rare Species and Meat Festival. I've purchased Lasagna and Smoked Bacon (with the Statue of Liberty on the cup) as souvenirs, and I've mailed Luxury Cream Uni to my brother and his fiancée as an engagement present. I collected all three limited-release Naomi Osaka packages, in standard flavors like Shoyu, Curry, and Seafood, with images of the tennis star on the front, like a Wheaties box (I meant to keep them, but I got hungry).
Momofuku Ando started Nissin Foods in 1958, offering a block of instant noodles in a single flavor—Chicken Ramen—that he thought would appeal across cultural and religious lines. (David Chang's restaurant empire is named in honor of the man credited with inventing instant noodles.) Japan was still suffering from food shortages in the wake of World War II and the loss of its rice-growing colonies in Korea and Taiwan, according to George Solt's book The Untold History of Ramen. American food aid—and Japanese government propaganda (wheat and meat will make you strong and smart like the guys who bombed us!)—precipitated the proliferation of bakeries and ramen shops and the mass-produced foods that followed.
Nissin Foods introduced just-add-water instant noodles in a cup to a tepid reception in 1971. In a country where fresh noodles in hot broth were already ubiquitous, cheap, and fast, Cup Noodle (pluralized as "Cup Noodles" only in the American market) were at first a hard sell. The tipping point came a year later, according to a story that's well known in Japan (and repeated in Nissin's own marketing materials). During the televised Asama-Sansō hostage crisis (when the radical United Red Army held up a mountain lodge in Karuizawa), Nissin donated Cup Noodle to the police officers working around the clock in the cold. The hearts of Japan's citizens were warmed by the sight of emergency workers eating steaming noodle soup during the 10-hour live broadcast. Sentiment rocketed Cup Noodle into the mainstream.
"It is no exaggeration to say that we would not have this rich cup noodle culture without the original Nissin Cup Noodles," says Ossern (his social media handle), who runs Cupmen.org. Ossern has sampled 200 varieties of Cup Noodle (Abalone was his favorite) in 12 years of reviewing over 4,000 instant noodles. According to Nissin Foods, Cup Noodle are sold in more than 80 countries, and total sales reached 40 billion units in 2016—and the shelves are crowded with competitors. According to the World Instant Noodles Association, approximately 280 million servings of instant noodles (in some form) are consumed globally each day. And they've been eaten in space—Momofuku Ando designed Space Ram for Japanese astronauts in 2004.
Nissin Foods manufactures its products differently in each region of the globe, and Americans may be getting short shrift. Hans Lienesch, who reviewed over 3,000 varieties of instant noodles in the past decade on his Ramen Rater blog, says that in America, "You're gonna get three pieces of corn, three pieces of dehydrated chicken that might hydrate okay, and a few peas that if you don't let it sit long enough are going to be crunchy, and then just this really thin broth, and a noodle that's just kind of lackluster." (I've checked, and this is barely hyperbole.)
In contrast, Yuuki (he goes only by his first name publicly), who has tasted every Cup Noodle flavor since he started reviewing them four years ago on his blog, Kyo mo Tabete Mimashita (I Tasted Again Today), describes the Japanese broth as "high quality" and notes that the thickness of the noodles varies depending on the soup. In America, says Hans, "people are looking at cheap food, they're not looking at good food" when they shop for instant noodles. But in Asia and Latin America, brands compete on quality and novelty, and it's an arms race toward better flavor technology.
Approximately 280 million servings of instant noodles (in some form) are consumed globally each day.
Each limited-edition Cup Noodle I've tried in Japan is a remarkable likeness of another dish, and yet it always tastes comfortingly like Cup Noodle—salty, slightly spongy ramen in a facsimile of chicken broth, rich with MSG and industrial oil. Lanzhou Beef, fragrant with cilantro, transports me to an imaginary street stall in northwest China. Spicy Hot Pot, with a packet of mala chile oil, vibrates with Sichuan peppercorn.
Mexican Tacos has nothing to do with Mexico, but it tastes exactly like the American supermarket taco seasoning for ground beef that you'd serve in a hard taco shell (it's especially good with gooey processed cheese melted on top.) Italian Tomato Basil smells like a frozen pizza bagel or Prego tomato sauce—complete with a packet of papery basil flakes to sprinkle on top (all that's missing is Kraft Parmesan). Massaman Curry is cloyingly sweet, like cheap New York Thai takeout, but the shredded chicken and diced potatoes taste like they're cooked to order.
Trying to get any information about the research and development process that goes into this vast roster of flavors is like asking a government official to reveal military secrets. "The instant noodle industry is very tight-lipped," Lienesch told me. The World Instant Noodles Association (also founded by Momofuku Ando, now headed by his son) did not respond to multiple requests for comment. Regarding new products, a Nissin Foods representative tells me only that the company "releases new flavors to go along with the trends and seasons."
Ossern says, "We Japanese love new things (not just food). Having access to new flavors, released almost weekly, satisfies our curious nature." Yuuki tells me he doesn't tire of reviewing instant noodles because there is always something different to try, and even the limited flavors are easy to track down since Nissin noodles are sold everywhere. Unlike a new iPhone or Supreme shoes, you don't need to wait in line or spend more than a few dollars for limited-edition Cup Noodle. It's a collectible that might only survive until your next meal, but there will be a new one to try before you can miss it.