The Cult of Spicy Chile Crisp Is Real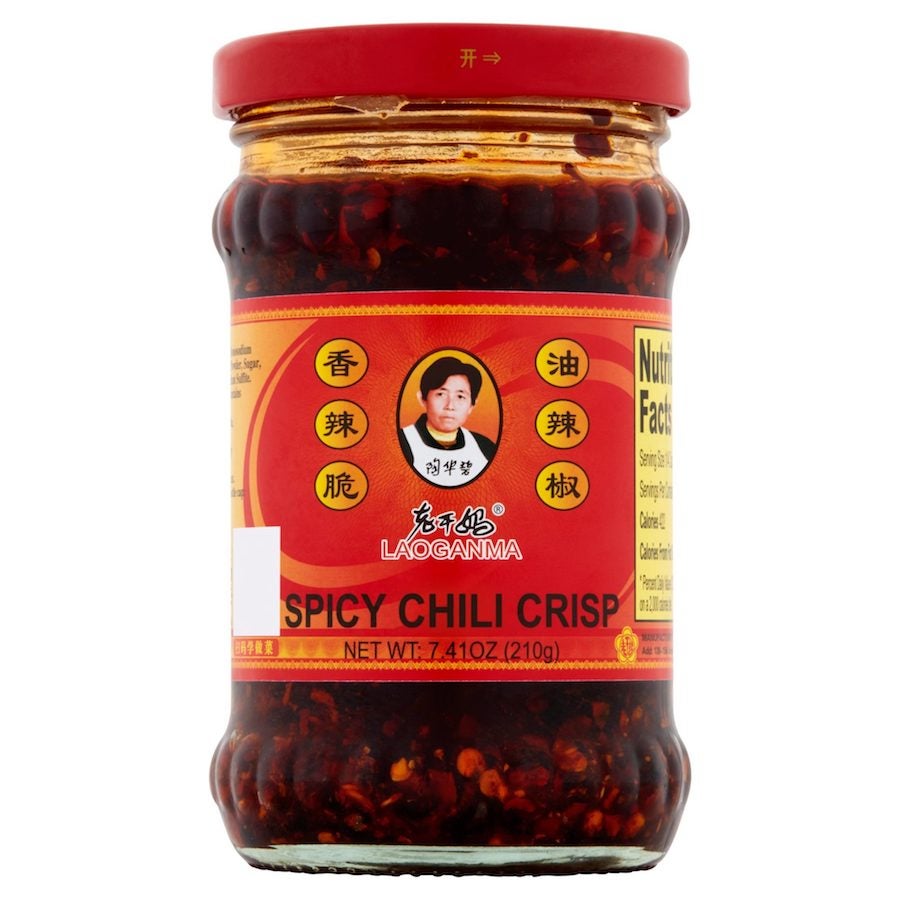 Chile crisp is the garlicky, spicy, crunchy condiment that somehow works in everything from noodles to ice cream to peanut brittle.
Knowing whispers. Rapt excitement. Swift proselytizing. When a cult is formed around a food, it can seem like it hit the world all at once—with vibrant images of vermilion chile sauce drenching soft-serve ice cream. But this oily, mottled mixture of fried spices, with a not-so-subtle boost of MSG, has been around in China's Guizhou province since Lao Gan Ma started making and selling the chile crisp in 1997.
Yet many of those who have spread love for the sauce in the States cannot pinpoint exactly when or where they first had it.
"It kind of bubbled up into my consciousness," says Kate Ray, the founder of Lao Gan Magazine, a zine that was published earlier this year in adoration of the "godmother sauce," as the brand name translates. Ray remembers first becoming aware of the sauce in her 20s through Chinese-American friends.
Tao Huabi, the godmother pictured on the jar, was a widow when she opened a noodle shop in Guizhou to support her family. She began bottling the sauces and quickly became one of the richest self-made billionaires in China. Ray's zine reads like an ode to Tao's culinary contributions, replete with recipes like peanut butter thumbprint cookies with the sauce spooned into their centers, and a make-your-own saint candle, a printout of Tao adorned like the Virgin Mary to stick on your tall glass candle holder.
Straddling the chile-loving southwestern Chinese provinces of Sichuan, Hunan, and Yunnan, Guizhou has perhaps not surprisingly become home to a condiment sensation of the last decade or so. A largely rural region, it is where the majority of China's chile peppers are grown. Its cuisine shares similarities with that of Sichuan and Hunanese, and Guizhou's signature flavor combines spiciness with sourness. Sourness isn't evident in chile crisp, but it was created as a mix-in for noodle dishes, where Chinese vinegar can be added.
"I would eat it a lot growing up, putting it on everything," says Jenny Gao, the founder of Sichuan Chili Crisp, a condiment she created as a 100 percent natural alternative to this type of sauce with her newly launched brand, Fly by Jing. Having grown up in China's Sichuan province, Gao was accustomed to all manner of chile oils and sauces before deciding to put her own spin on them, sans MSG.
This fall, Wursthall, the restaurant owned by J. Kenji Lopez-Alt, served a special dessert of Lao Gan Ma sauce drizzled on ice cream, after seeing posts featuring the combination on Chinese social media. The trend has been percolating in "dark cuisine," or bizarre food combinations, as it's known on the Chinese Internet, but it has surpassed the realm of shock-value memes to become a real, and in-demand, offering at ice cream parlors in Sichuan province. Nowadays, Lopez-Alt says, he makes his own spicy chile sauce to serve with desserts and other offerings—like a cucumber salad with chile crisp sauce and yogurt mixed together. But on initial discovery of the sundae, "I heard about it and we served it that night."
Over the last few years, writers for national publications have been swooning over Lao Gan Ma and declaring they might die if they run out of the stuff. The wrestling legend and action-movie star John Cena has shared a Youtube video in which he professes his love for the sauce. Countless chefs have confessed to spooning the stuff on food after business hours, or formulating their own housemade iteration inspired by it.
"We have a cook that trained in Lanzhou, and he showed us how to make it. We add crispy potatoes fried in garlic oil to get the 'crisp' instead of crispy garlic," says Brandon Jew, chef-owner of Mister Jiu's in San Francisco.
"Every single one of my friends, whether they were restaurant friends or non-restaurant friends, were like, 'This is my favorite chile oil,'" says Rich Ho, chef-owner of Ho Foods in New York City, of Lao Gan Ma's chile crisp. He also makes his own version of chile oil at his restaurant, blending red and green Sichuan peppercorns and some orange peel with three different types of dried red chile flakes.
"Lao Gan Ma has such a stronghold on the Chinese market," says Gao. Her Kickstarter campaign for Fly by Jing has surpassed its initial goal by more than 300 percent, making it one of the most successful food launches on the platform. "I think Sichuan food has definitely been having a moment," she says.
A key component in the allure of Lao Gan Ma's sauce, many have said, is its crispiness. "I can't forget that experience…the satisfaction of the crunchy sensation," says Jenn de la Vega, a private chef and food writer who served as the recipe tester for Lao Gan Magazine. "It kind of checked a lot of boxes for four or five other condiments I would have added." Having grown up with a plenitude of Filipino sauces that were typically associated with one dish that they were served with, she relishes its versatility.
"It made sad kitchen mistakes taste bearable, and maybe even exciting. This is why Lao Gan Ma is considered the patron saint of bachelors and college students on the Chinese Internet," says Christina Xu, another contributor to Lao Gan Magazine and a freelance tech ethnographer. Ray adds, "It's not very spicy, it's very savory, and as a vegetarian, I'm always looking for an extra kick of umami."
What it also has is cultural cachet. Many have described the fandom as cult-like, and that seems appropriate, given the intensity of the devotion. But don't call it a trend. It is the biggest chile sauce in China, the country with the biggest population. And as one might imagine, in China, "it's like ketchup," says Diana Kuan, author of the upcoming cookbook Red Hot Kitchen.
As a fairly recent convert myself—I was always warned about the safety of food products made in China by my Taiwanese mother—I too have fallen under its spell. I was introduced to the brand by way of chef Danny Bowien a few years ago, when he was opening his first Mission Chinese Food in New York City. I bought Lao Gan Ma's spicy bean sauce for a few years, until one day I accidentally picked up its chile crisp at the store instead. With a looser consistency than its pastelike sibling doubanjiang, the chunky chile oil was no less satisfying in anything I might use it for—and useful in more ways. Sprinkled into fried rice as it reheated on a pan, dabbed on dumplings, it could be used for cooking, marinating, dipping, or making desserts a lot more exciting.