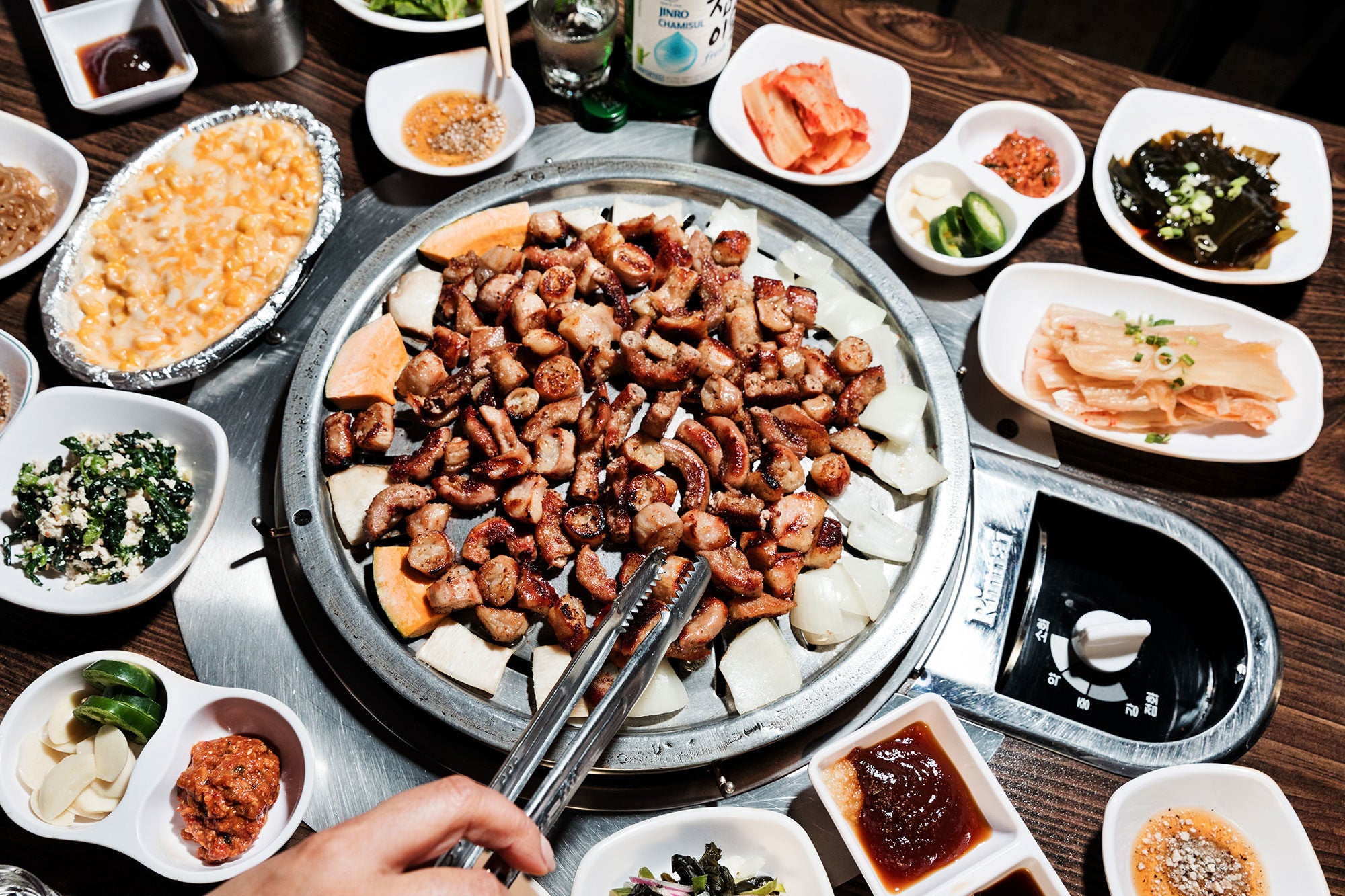 Gopchang went viral in Korea, and it's coming for America.
The scene opens on Ahn Hye-jin (stage name: Hwasa), a South Korean pop star, clad in denim overalls, sitting at an empty restaurant patio somewhere in Seoul and presiding over a tableau of gopchang, or grilled beef intestines sizzling on a platter. She enthusiastically snaps up small bites with her metal chopsticks, dipping them into various sauces, exhaling with glee. She whips her long hair back and forth as she eats. You can hear the snap and chew of the meat, breaking through the potato-chip-crispy exterior to the rich, buttery interior. It's incredibly satisfying to watch.
This 2018 mukbang—a format of audiovisual broadcasting of eating popular in South Korea—was so widely seen (the YouTube video has close to 5 million views) that it prompted a nationwide shortage of organ meats.
In South Korea, gopchang is cultishly beloved. It ticks all the boxes: fatty, chewy, snacky, and, most important, a perfect pairing for soju—the country's national beverage. There are clusters of gopchang restaurants in Seoul, and well over 5,000 Instagram posts (mostly videos) tagged with #gopchang. Gopchang is just starting to gain a following in the United States—mostly among Asian diners—but it remains to be seen whether grilled intestines can ever achieve such a cult status here.
Consuming gopchang allegedly dates back to somewhere in the Joseon Dynasty, which lasted from the fourteenth to nineteenth centuries—it was a cheap cut of meat said to have valuable nutritional properties. These days, it's known as a staple drinking food, called "anju" in Korean. It's commonly served grilled—sometimes tableside, like with traditional Korean-style grilling—often with a chive or scallion salad on the side, and small bowls of salt and sesame oil for dipping. It's also served in a rich and sometimes fiery stew called gopchang-jeongol.
A lot of people consider intestines to be an inferior alternative to some presumably more delicious part of the animal, says Matthew Kang, the editor of Eater Los Angeles. But to him, they're not an alternative. He craves them.
"What do you want when you are drinking?" he says. "Something that is fatty and salty and enables you to keep drinking more. Gopchang has all those qualities. How is it different than buffalo wings or a burger?"
To those who love it, gopchang is the ideal marriage of texture and unsullied, rich flavor—"clean, pure, buttery fat," as James Park, who also works at Eater and hosts a YouTube cooking show called "Cooking My Feelings," puts it.
Deuki Hong, the coauthor of the cookbook Koreatown, compares the consistency to chewy rice cakes called duk, with an "elastic-y" inside. "In Asian cuisines, people seek that out," he says. Every restaurant has a proprietary seasoning or marinade for its gopchang, he adds, which brings yet another level of flavor.
Gopchang is also part of Korean pop culture. Youngmi Mayer, a New York comedian, says that during part of her childhood in Korea, she associated gopchang with her uncles. "It seemed more like an old-man drinking food," she says of the scenes that played out in which her family members enjoyed gopchang alongside their libations at restaurants and at home. But she's seen the dish catch on with a younger crowd in Korea, thanks to all the mukbang videos—there are so many more than just Hwasa's.
The dramatic presentation and unique texture make gopchang a perfect mukbang candidate. In one video, a Korean YouTuber who goes by "G-NI" starts by grilling the intestines herself, letting them develop a deep, golden-brown sheen, then cutting them into bite-size nibs with scissors and devouring the entire platter, piece by piece, while intermittently taking sips of soju. Hong says that in Korean dramas, characters are often eating gopchang and drinking soju—because it's such a classic drinking food, it's become an archetypal setting for fictional social situations.
In the United States, a few restaurants dedicated to gopchang have popped up in cities with big Korean-American populations—there's Gopchang Story BBQ in New York, and Ahgassi Gopchang and Byul Gobchang in Los Angeles. At some more general Korean barbecue places, gopchang is also available, even if it's not on the menu, Park says—you just have to ask.
A hostess at Gopchang Story BBQ said the clientele is "mostly Asian," but not all Korean, and she rarely sees non-Asians dining there. Even with such a segmented audience, she said, there's a one- to two-hour wait most nights. The place is always packed.
When Hong opened the New York branch of the Korean barbecue spot Kang Ho Dong Baekjeong in 2014, the company wouldn't allow him to put gopchang on the menu—but he kept some in the back and would serve it to whoever asked. "If I were creating the menu, I totally would have put it on there," he says. "I fully believe it would have done really well."
"It is like offal cooking in the South," he adds. People's passion for it "doesn't go wide, but it goes deep. The people who love it really love it."
But Kang is more doubtful of gopchang's ability to hit the American mainstream. He and Mayer point out that when they go out for gopchang here in the United States, their fellow diners are almost exclusively Asian. And until restaurants put gopchang on their menus instead of just offering it as a secret item, people won't know to even try it.
"I don't think intestines will ever be all that popular," he says, adding with a chuckle, "even if all of BTS promotes it."