Crown Your Cake With Almond Brittle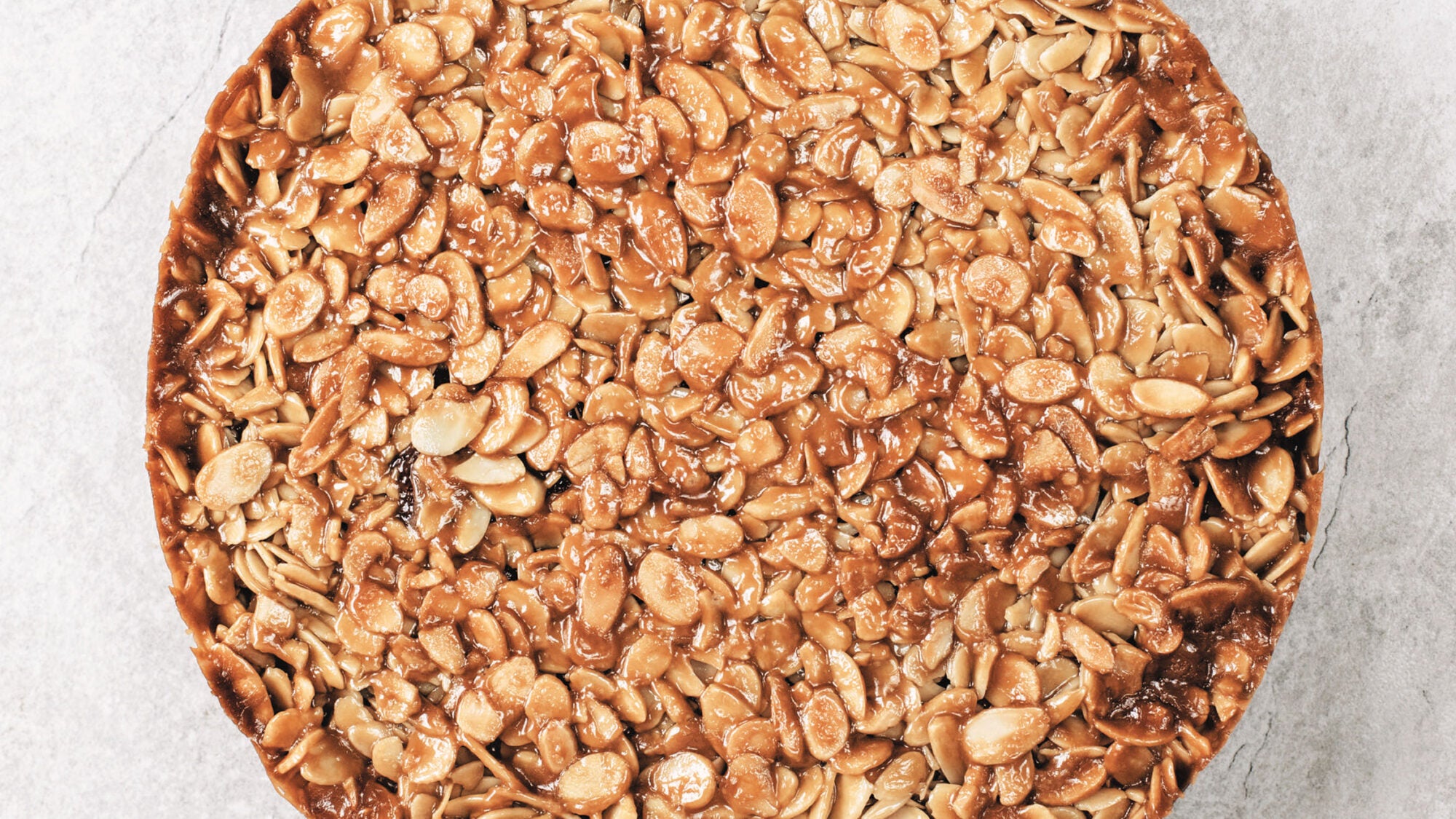 A Great British Baking Show alum rethinks a fluffy Scandinavian classic.
If you caught her during her stint as a Great British Baking Show contestant in 2016, you may have seen Benjamina Ebuehi braiding elaborate heart-shaped bread loaves and decorating chamomile layer cakes with elderflower buttercream and cascades of pansies. But the Londoner's first cookbook, The New Way to Cake, is a celebration of a much more pared-down style of baking—a style that plays less to TV audiences and more to the way home cooks like Ebuehi actually bake. And rather than leaning fully into the Anglophilia that fuels much of the Great British Baking Show fandom, the book draws influence from Scandinavia, France, and India, from ingredients like cardamom and caraway.
"I've always been a less-is-more kind of baker," Ebuehi says over a recent cup of coffee in Manhattan. "I like the look of less—just that simplicity, and how elegant that can often be." This is all part of the direction Ebuehi thinks baking is moving toward. "I like to think that we're moving away from purely just aesthetic," she says—maybe a bit of a reaction to the type of intricacy she summarizes as "spending ten hours making sugar paste flowers for a cake, and then the flavor is kind of not that great."
Rather than preaching on adherence to technical skills, the book is full of a kind of gestural simplicity. There's no precise piping—just the freedom to drizzle glaze with abandon. Ebuehi even worries that her personal favorite recipe from the book (a one-bowl pistachio, cardamom, and lemon cake) might be overlooked because it's so understated. "This is just a humble little loaf in the corner," she jokes.
If there's one semiprofessional skill that Ebuehi thinks every baker should master, it's making caramel. A pecan cake in the book is topped with a frosting made by simmering honey in a small pot until it darkens and starts to smell smoky (she also recommends mixing this burnt honey with butter and spreading it on toast with a sprinkle of salt). From her caramelized plantain upside-down cake to a sage caramel for an apple cake, the ingredient balances sweet and bitter notes in many of the recipes.
The caramel also brings texture into one of the book's early runaway hits—the almond brittle cake. Based on a Scandinavian cake called toscakaka, the recipe tops an airy cardamom chiffon cake with an audacious layer of sliced almonds mixed with a brown sugar caramel.
"The cake is not completely baked—just firm enough to hold the brittle on top," she explains. "Then that goes back in the oven, and as the sugar cooks and the nuts caramelize, once you take it out and it cools, it's super, super crunchy on top." The layer turns into a shiny, crackly crown of golden-brown brittle that doubles as a decoration—no sugar paste flowers needed.