Cream Cheese Your Way to Better Rugelach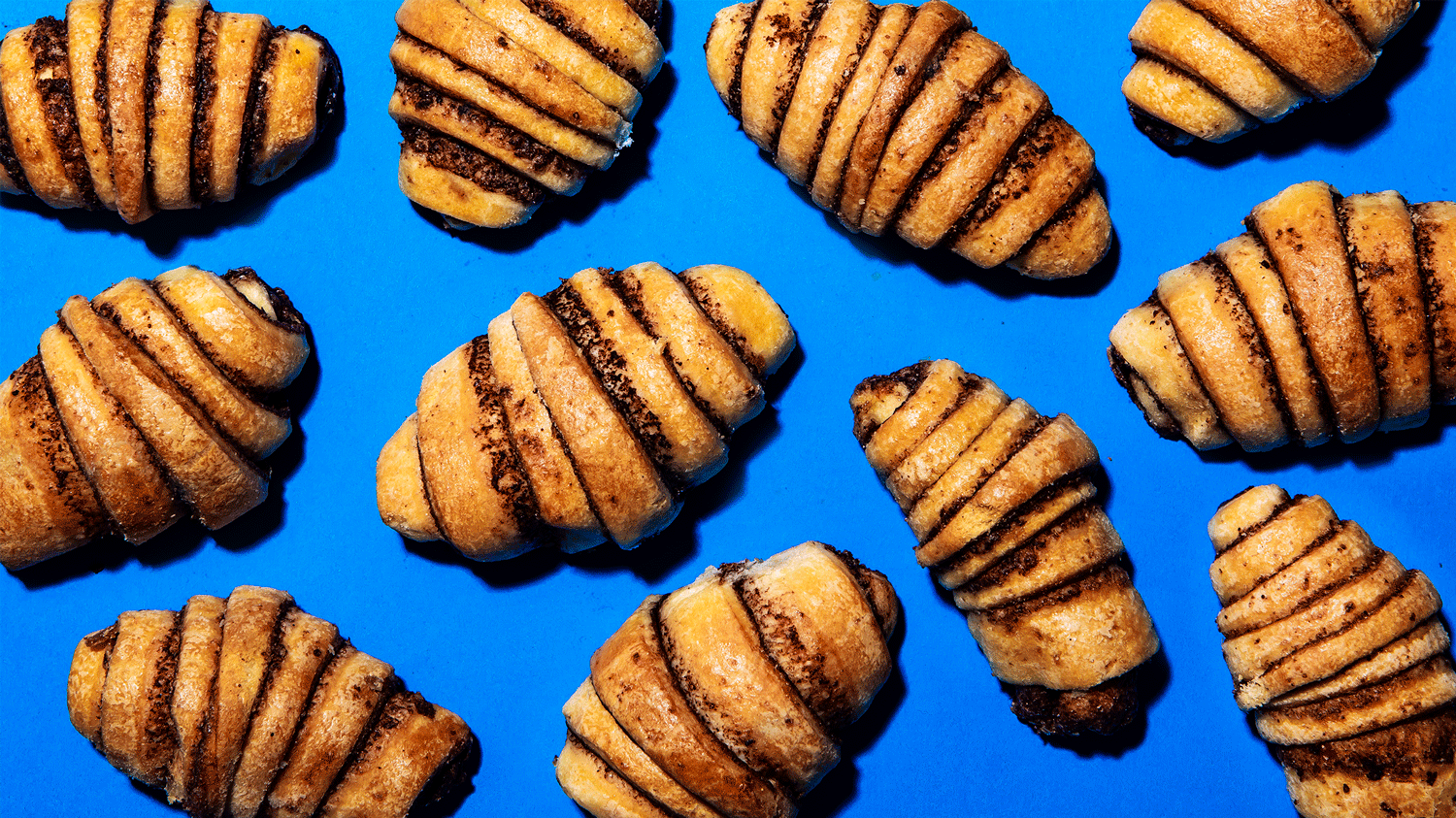 How Eastern European baking tradition collided with a very American ingredient.
Few confections are as important to Jewish food as rugelach—the mini croissant-shaped cookies rolled with jam, nuts, and dried fruit and dusted with cinnamon sugar. Although everyone swears that their bubbe has the best recipe out there, that's because every great bubbe's rugelach shares one convenient ingredient in common: cream cheese.
Early recipes for the pastry relied strictly on dairy-free yeasted doughs, but this all changed in the late 1800s, when Eastern European baking traditions collided with the American-born mass-produced spreadable cheese. When Margaret Palca, the owner of Brooklyn bakery Margaret Palca Bakes, came across a recipe for "cream cheese ball" cookies from the 1890s, she was surprised by how superbly supple the dough was.
On a whim she decided to roll it out and try a batch of rugelach. "We altered the proportions, and the result was so flaky, as if we laminated the dough," Palca recalls, attributing the results to the proportion of ten parts butter to six parts cream cheese. "You see layers, it doesn't crumble apart and can bend easily. Cream cheese is softer from the fridge than butter."
In part, the ingredient works so well in pastry because its mixture of milk and cream acts as a surfactant, creating a compound that lowers the surface tension between two liquids, keeping it somewhere between a liquid and a solid. In other words, the cream cheese is emulsified so that the dough stays soft and pliable and no liquid seeps out and turns the texture tough or gluey. "It's actually less about the sourness of the cream cheese than the texture it imparts," says Palca.
Bonnie Stern, a respected Canadian food writer and personality, founded the Bonnie Stern School of Cooking in Toronto 40 years ago, and she has been teaching Jewish baking—and the art of making rugelach with cream cheese—ever since. Stern believes that home cooks are more inclined to make a cream-cheese-based dough than one with yeast simply because it's less scary. "Yeast has a more complicated aura to it. This dough is very forgiving for people afraid of pastry. It's easy to roll out, doesn't crumble as much, and gives it that signature sour taste."
In Evelyn Rose's The Complete International Jewish Cookbook (1976), there's a recipe for Cream Cheese Flaky Pastry, described as a "perfect base for pizzas or quiches," that suggests substituting dry curd or sieved cottage cheese as a stand-in. Stern regards these substitutions with skepticism. "Anything other than cream cheese isn't as smooth and adds so much more wetness," she says.
Back in Brooklyn, Erica Kalick, proprietor of Erica's Rugelach in Sunset Park, has been serving the greater New York area first-rate rugelach for the past few decades. Kalick is headstrong in keeping the brand of cream cheese she uses a secret, but she's willing to share a bit of discerning advice about choosing one. "It's the fat content that really matters," she says. "If that isn't right, water leaches out. The cream cheese has to be full fat."