Cream Cheese: A Homemade Ice Cream Miracle Worker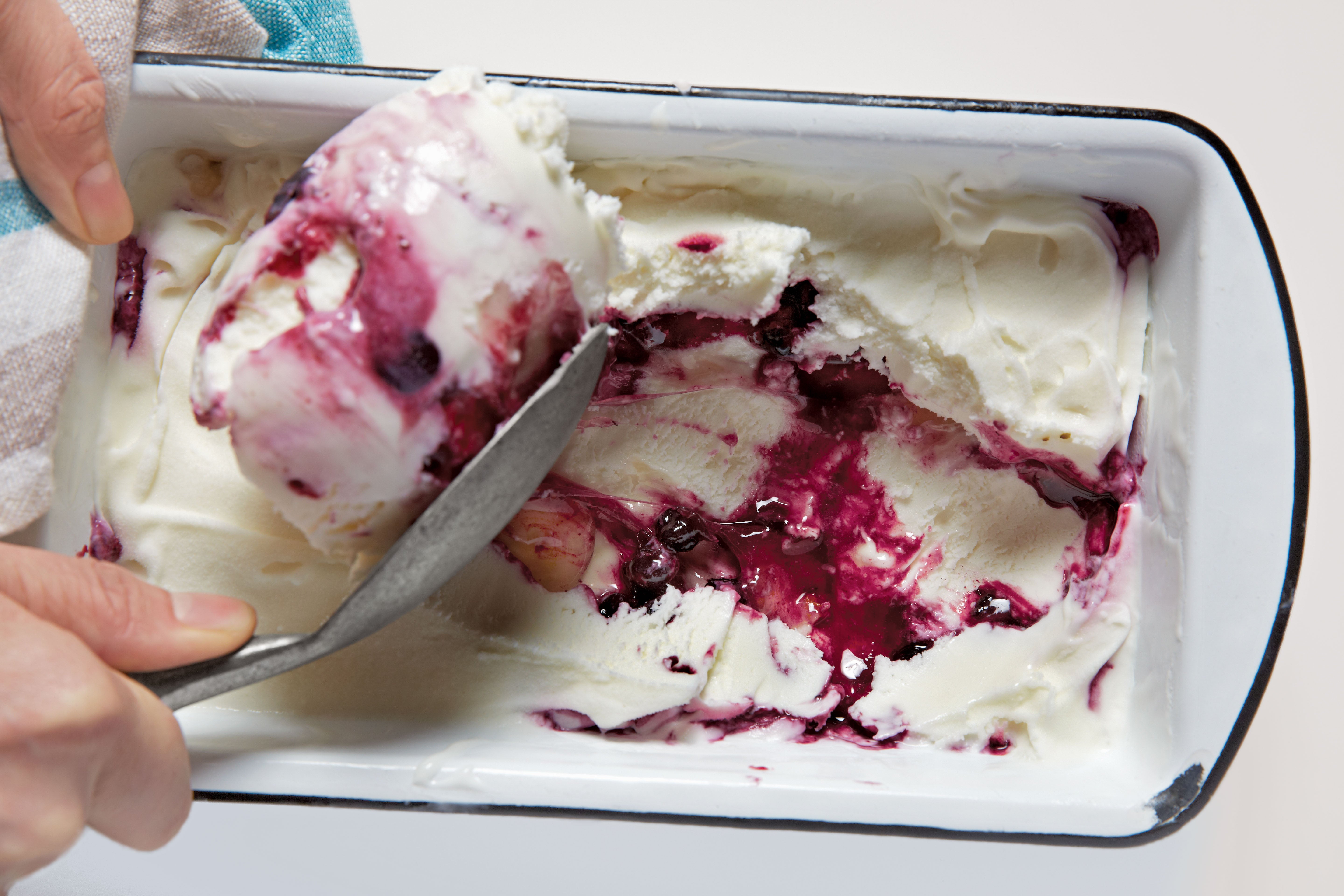 A one-stop ingredient to make your homemade ice cream thicker, smoother, and more flavorful.
If you've ever labored over a batch of homemade ice cream, only to churn out a dense and unscoopably icy final product, it might be missing an ingredient that's key to most commercial ice creams—a stabilizer. Usually, when we think of stabilizers, we think of vials of chemical compounds developed by food scientists, but Dana Cree, pastry chef at the Publican in Chicago, is setting out to change this perception, armed with corn starch, tapioca starch and believe it or not, cream cheese. In reality, stabilizers are simply ingredients that keep ice cream smooth by preventing water from seeping out of the milk and cream and forming big, unruly ice crystals.
In her new book, Hello, My Name Is Ice Cream, Cree points out that plenty of familiar household products work as stabilizers, and cream cheese—a mainstay of American desserts—comes conveniently loaded with its own handy cocktail of stabilizers (like whey proteins, locust bean gum, and xanthan gum). As she writes, "The word stabilizer has a really bad reputation. It has come to suggest anything artificial, used to alter wholesome food into unnatural, fake, processed food, for the purpose of extending its shelf life at the expense of your health so as to maximize profit. When you put it that way, yeah, stabilizers sound like jerks."
The technique of adding cream cheese to ice cream, which Cree admits she picked up from Jeni Britton Bauer of Jeni's Splendid, has the added bonus of thickening the ice cream base. "The main thing cream cheese does for ice cream is add solids in the way of milk protein," says Cree. This means the ice cream will trap more air as it churns, making the final product smoother and slightly chewier. "You might not realize how important the chew factor of ice cream is, but remember, the hallmark of American hard-pack ice cream is a scoop you can bit into," she writes.
The thicker texture holds up well to mix-ins, like cakes and cookies, or swirls of fruit preserves or fudge. The flavor has what Cree calls "a lovely tang that goes with, um, everything." She adds, "Fruit and cream cheese are best friends, and I really love to add things like chunks of gooey butter cake, and ribbons of lemon curd to cream cheese ice cream. Because it's more acidic, it works well with rich flavors as well as bright flavors."
To customize the basic cream cheese recipe with a flavor like vanilla, coffee, or tea, just infuse the milk with the flavoring agent before you begin. If you find an ice cream recipe that you want to try with cream cheese, you can customize it by substituting 5% of the cream in the recipe with cream cheese. Just be sure to mix it in at the end, once the base has cooled.