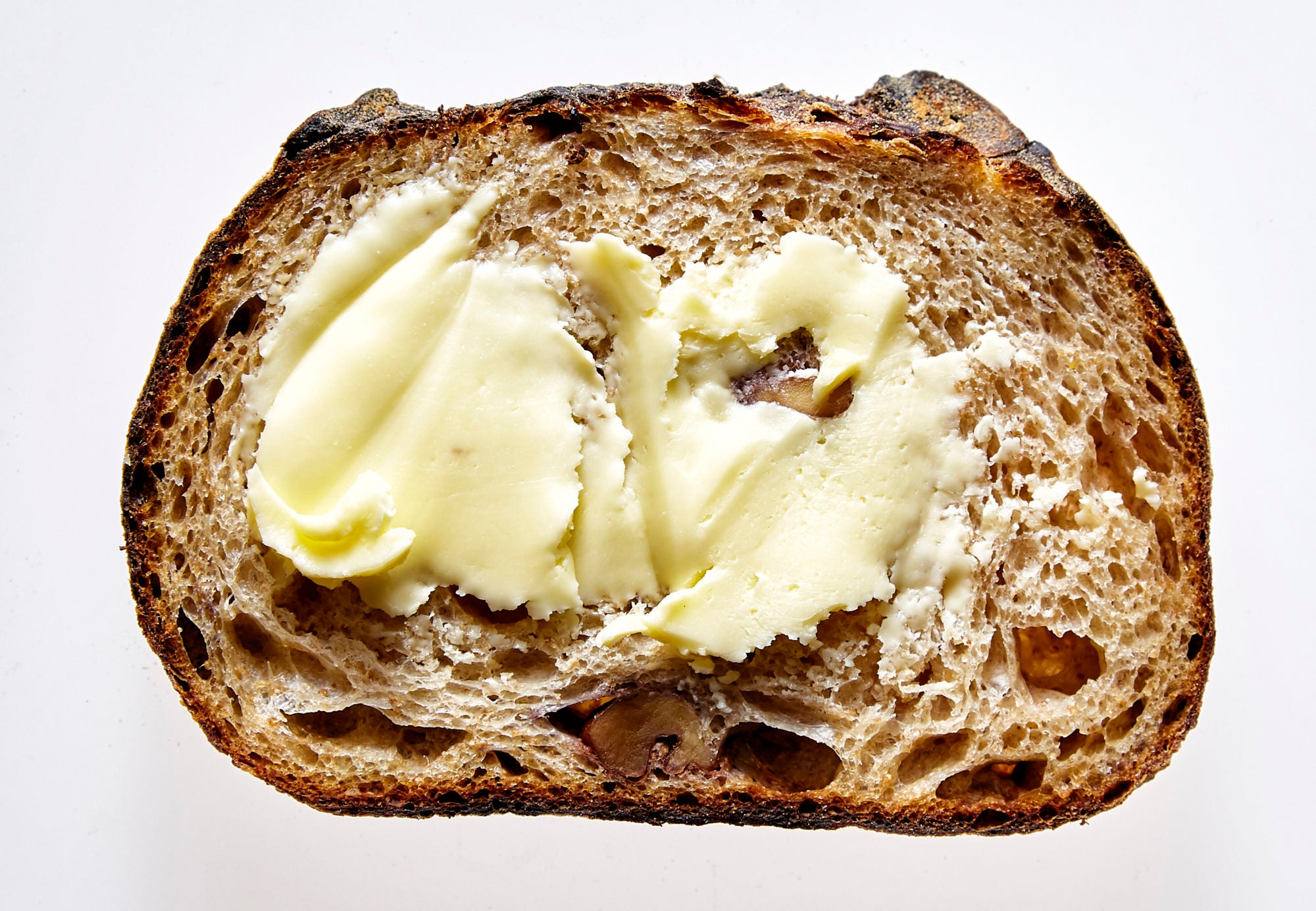 Gone are complicated sauces and bloated menu descriptions. Here are meal kits and unflinchingly cool, back-to-basics recipes. But does this movement toward pared-down eating help us understand the future of home cooking?
After the fancy chef cookbooks, after the mile-high sandwiches and boutique burger blends, after Marie Kondo had commanded us to discard all that failed to spark joy in our lives, and after we all pretended to understand what it really meant to own an immersion circulator, Bon Appétit published its August 2017 Simple issue. A lushly photographed compendium of recipes containing a scant five ingredients or fewer (salt, pepper, and cooking fat notwithstanding), it was born after editor Adam Rapoport "finally realized," as he wrote in his editor's letter, "that it's not about the number of steps or ingredients in a dish. If you shop smart, buying peak-season produce…and quality protein, you don't have to do much at all."
This declaration provided a useful way to announce the launch of Basically, a new Bon Appétit website that promised, in the magazine's words, "a new way to cook." A mix of recipes, informational articles, and sponsored content, it appeared to reject complexity and fussiness while acknowledging what the $5 billion meal-kit delivery industry banks its fortunes on: that a considerable amount of people don't have the time, energy, or inclination to cook an entire meal from scratch.
It also announced that, as ever, Bon Appétit had its finger pointed at the prevailing zeitgeist: a broader lifestyle-oriented movement toward minimalism, albeit of the voluntary, heavily curated variety. It could be seen in tiny but exquisitely appointed houses whose dearth of square footage demands a paring-down of earthly possessions; the photogenic itinerants of #vanlife who opted for the (relative) austerity of nomadic life over the luxury of being able to accumulate a bunch of stuff in a fixed location; the sparsely photographed, but texturally luxurious, pages of Kinfolk magazine; the whitewashed coffee shops that evoke both the Apple store and a Swedish sanatorium; The Life-Changing Magic of Tidying Up, Marie Kondo's aforementioned best-selling manifesto.
This strain of minimalism had started to seep into the food world, where restaurants began ditching gasbag menu descriptions for ones that read like incomplete grocery lists ("lovage, cod, soil") and fine-dining chefs began opening simple counter-service operations (albeit ones propelled as much by punishing restaurant economics as a desire for simplicity). Wellness acolytes began popularizing the concept of so-called clean food—generally anything devoid of added sugar, dairy, gluten, refined grains, soy, or legumes—that rejected overindulgence, even as it inspired uncomfortable thoughts of a sort of culinary eugenics movement. Buzzfeed's Tasty pared cooking instruction down to "snack-sized" videos on YouTube, while the Minimalist Baker promised one-bowl, 10-ingredient recipes, and meal-kit delivery services like Blue Apron and Sun Basket promised minimal effort for you, the put-upon consumer.
All of which raises the question: Does this constitute evidence that we've entered a new age of minimalist cooking? And if so, why? And why now?
If you want the long-view perspective, ask a food historian (or two). "It's sort of like a pendulum: Food can get really fussy, and then it gets dialed back and streamlined, sort of like fashion and architecture," says Amy Bentley, a professor of food studies at NYU. "There always has to be something new for the consumer."
And as in fashion, when a previously rarefied experience becomes available to the masses—when you're suddenly rubbing shoulders with tourists at Alinea—"you have to invent a new kind of sophistication, and that often is a complete return to simplicity," says Ken Albala, a professor of history and the chair of food studies at the University of the Pacific in Stockton, California. "It's finding something so beautiful and simple that you can't access it with mere money." None of this is new, of course: In the ancient Roman novel Satyricon, a nouveau riche character throws an elaborate banquet, only to be told by Rome's disapproving elites that it would be better to go to a farm and eat just-laid eggs and fresh vegetables. "You think, Oh my god, this was written yesterday," Albala says. "But it's 2,000 years old."
These trends, Albala adds, tend to come and go in 15- to 20-year cycles. It's worth remembering, after all, that Rozanne Gold published her James Beard Award–winning Recipes 1-2-3, the first of a successful three-ingredient cookbook series, in 1996. And it was Gold who also wrote the Entertaining Made Easy column that ran from 2000 to 2012 in none other than Bon Appétit. The home cook's desire for simplicity and minimal fuss is, of course, eternal; as Kara Nielsen, vice president of trends and marketing at CCD Innovation points out, "convenience has always been an American theme," one sold by the metric ton to 1950s housewives and millennials alike.
Nielsen, incidentally, doesn't view Basically as part of some kind of minimalist-food trend. Between its very, well, basic recipes and articles—"How to Dress a Salad," "The Official Guide to Reheating Every Leftover Ever," "What Are Capers Anyway?"—it's more about teaching people how to cook. Or more specifically, young people; it's "inviting them into the kitchen," Nielsen says.
"So to me," she continues, "what it's addressing is the fact that there is a generation of people who have grown up in an era of convenience cooking, of going to Whole Foods and hitting the prepared food bar, and growing up with probably boomer parents who like to go out a lot and kind of stopped cooking. We know from looking at consumer reports that a lot of millennials aren't investing in, like, a Kitchen Aid mixer." And yet, she adds, they're excited about food. Just not about cooking it.
Basically editor Amiel Stanek echoes Nielsen's thoughts about the website: It's "definitely a response to the world we're in, where you have tons of young people who are obsessed with food, but they actually might not be able to cook," he says. But he adds that it's also a reaction to what he describes as the food media's tendency to "fiendishly obsess, almost to a fault, [over] the product and the finished dish"—which has in turn had the effect of relegating the actual process of meal preparation to the shadows.
Basically's emphasis on process instead of product, Stanek points out, is actually "part and parcel with minimalism," meaning that the simplicity of the finished dish belies all the thought and effort that went into it on the part of Basically's staff—it may look easier, but it's not. So his hope, he says, "is that people who are reading Basically feel as invested in the process as what ends up on the table."
Much of this points to one of the more compelling theories behind this ostensible paring down: Even as Americans have grown more excited and knowledgeable about food over the past decade, our deepening interest hasn't kept pace with, as Nielsen says, "our ability to prepare food at home that we like and want to eat." Meal-kit companies understand this and thus peddle dinners that are paint-by-numbers easy, but they also understand that we aspire to cook zeitgeist-scratching dishes like Mumbai turkey meatballs, za'atar-rubbed chicken breasts, and Vietnamese pho.
So maybe it's not so much a trend toward minimalism as minimal exertion, or minimal knowledge required to enter a kitchen. Two of the best-selling cookbooks of 2016 were Ina Garten's Cooking for Jeffrey and Chrissy Teigen and Adeena Sussman's Cravings, books that offered a comforting, laid-back "you can do this too" approach to home cooking. Thug Kitchen, another best-seller, was written by a couple of nonprofessional cooks who got famous making simple vegan recipes with minimal ingredients and maximum swearing. And J. Kenji Lopez-Alt's 958-page The Food Lab, another hit, was created in part to demystify the science of home cooking.
Anthony Bourdain and Laurie Woolever's Appetites was the only so-called chef cookbook to crack the top 10, and even that was characterized in part by exceptionally simple recipes (scrambled eggs, tuna salad) and Bourdain's disclaimer that "[t]here is nothing remotely innovative about the recipes in this book. If you are looking for a culinary genius to take you to the Promised Land of next-level creativity, look elsewhere. That ain't me."
To be fair, chef cookbooks rarely crack the best-sellers list and are even more rarely designed to do so. But, says Ten Speed Press editor Emily Timberlake, "I think there's fatigue that we as book publishers have; we've out-esotericized ourselves, and it's time to return to basics." Her sense, she continues, is that there's a new generation of beginning cooks—just as there was 10 to 15 years ago—who aren't necessarily being served by cookbooks aimed at the more sophisticated home cooks who might buy a smoker or cure their own salami. (Disclosure: TASTE is an independent publication and imprint in Penguin Random House, home of Ten Speed Press and many imprints publishing cookbooks.)
Plus, Timberlake points out, there are also plenty of more experienced home cooks who struggle with what to put on the table every night and appreciate the more solution-oriented approach of books like Food52: A New Way to Dinner or Melissa Clark's Dinner: Changing the Game. "So in a way," she says, "this new crop of more minimalist cookbooks both serves the novice reader and is a nice reminder to advanced home cooks that the best stuff is often simplest."
Of course, another way to look at minimalism is as a market correction. For years now, publishers—some of whom don't necessarily have cookbook expertise—have been churning out heavily designed, overly chef-y titles created to capitalize on America's newfound enthusiasm for food. The result? "There's just too many books being published," says Lia Ronnen, the publisher and editorial director at Artisan Books. Many of those books "put the chef or design first," Ronnen points out; the reader is often a secondary consideration. So if there is a trend toward simpler books, "I think it's the fact that we're realizing there's only so much people can take," Ronnen says. "If they're being called upon to spend money on a cookbook, it has to function beyond a really great story or something that's different for the sake of being different; you want to be able to cook from it."
Two of Artisan's recent titles, Joshua McFadden's Six Seasons: A New Way With Vegetables and David Tanis's Market Cooking, exemplify this idea: McFadden is a respected Portland chef, but his recipes are both easy and innovative enough to appeal to beginning and more seasoned cooks alike, while Tanis writes a New York Times column geared specifically toward home cooks.
Cookbooks bearing a more democratic sentiment have been selling well at San Francisco's Omnivore Books, where owner Celia Sack reports that her best-seller this year is Samin Nosrat's Salt, Fat, Acid, Heat, a book dedicated entirely to teaching readers about the basic elements of cooking. "It's not that there are no fancy books coming out," Sack says. "But there are a lot more of the doable books also." Julia Turshen's Small Victories, Cal Peternell's 12 Recipes, and Melissa Clark's book have also been popular with customers—many of whom, Sack says, "come into the store very shy about not knowing how to cook."
These simpler books, Sack points out, also reflect a shrewd financial decision by their publishers: Instead of paying huge advances to famous chefs to write fancy books that won't sell outside of the holiday season, they can pay less for books "that can be perennially interesting and sellable and really for the masses," Sack says. "Which is great. I'm really happy to see that."
One of Ten Speed's more accessible—and minimal—spring 2018 titles is Maggie Hoffman's The One-Bottle Cocktail, a "sort of rebellion," as Hoffman says, against books that feature "all of these bartenders who want to show off what is most complicated." Inspired by a popular series Hoffman wrote a couple of years ago as an editor at Serious Eats, its concept marries simplicity and affordability; the point, Hoffman says, is to show readers that they can create flavorful cocktails with a single spirit and a few supermarket ingredients instead of spending a ton of money attempting to replicate fancy cocktails.
"The answer isn't to go home and make shitty cosmos," she says. "The answer is to think about what we can take from this inspiring complexity of cocktail flavors we have in restaurants now and figure out what we can do at home."
Hoffman's approach—the distillation of complexity into accessibility—is mirrored by other cookbooks coming out in 2018. They include Salad-ish, Ilene Rosen's guide to straightforward but nuanced salads; Lindsay Maitland Hunt's Healthyish, which uses minimal pots and pans and straightforward instructions in service of recipes like peanut butter granola and miso toast with a nine-minute egg; Orathay Souksisavanh's Super Easy Burgers; Janet Hayward's Lemons Are a Girl's Best Friend (a guide to so-called superfoods, it pairs each food with two simple recipes, one of which is for a beauty treatment); Marnie Hamel and Jen Stevenson's Camp Out, a compendium of simple but elevated camp food; Carolyn Federman's New Favorites for New Cooks, which is aimed at kids; and The Blue Apron Cookbook.
Figuring out what we can do at home is what so much of this boils down to. Whether you look at it as minimalism, an attempt to court millennial dollars, a backlash against needlessly belabored chef cookbooks, a dumbing down, an attempt to further customize convenience, or simply another swing of the pendulum, what remains is that there are many people who are trying to figure out how to feed themselves and many people who want to make money by helping them to do that.
And there is also the irony that minimalism is born of maximalism, meaning the enormous and terrifyingly complicated industrial complex of food supply chains, manual (and often badly exploited) labor, marketing, branding, and consumer research used to guess at what we'll want to buy—and eat—next. But whatever your feelings about this, one thing is certain: Sooner, rather than later, it will be replaced by something else.