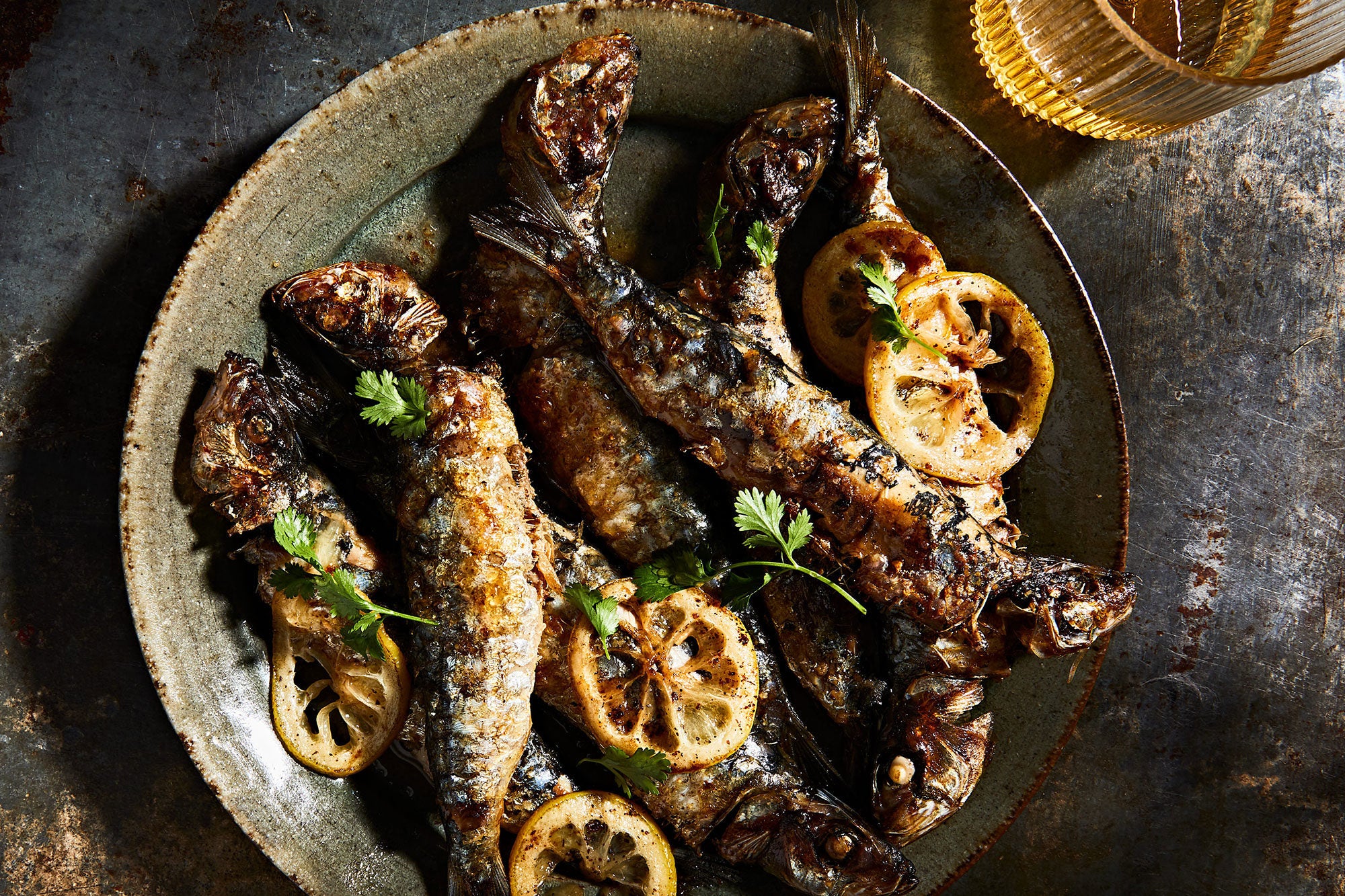 Cooking with the whole lemon can be a revelation—skin, pith, juice, and all.
For my entire life, I had underestimated lemons. It took the combined forces of a Shaker lemon pie and a Passover salmon to make me understand the depths of my ignorance. Yes, I had happily used lemon juice and lemon zest in everything from sautéed vegetables to fruit cobblers, but the idea of using the whole fruit was alien, even off-putting. All of that sourness, I thought; all of that overwhelming bitterness. But then I ate a slice of the whole lemon pie, and I tasted the very soul of citrus. And then I made the salmon, whose top and bottom I had adorned with paper-thin lemon slices and eventually ate whole, rind and all. I don't remember why it occurred to me to stick one of them in my mouth, but when I realized how beautifully they had absorbed the oil and juices of the salmon, I wanted to eat them all.
If whole-lemon cooking remains an oddity to many cooks put off by the idea of the fruit's spongy, bitter pith and overall sourness, it has some respected proponents who recognize that each part of the fruit boasts its own virtues. Its juice is tart and acidic, while its peel contains its fragrant oil, which is where the essence of the fruit lives. Taken together, juice and peel offer a bright, aromatic, sweet-sour jolt of life to any dish they touch.
Anna Jones uses lemon zest and juice with liberal abandon throughout her newest cookbook, The Modern Cook's Year, but it's in her lemon cardamom upside-down cake that they find their most full-bodied expression. The lemons here—the recipe uses five—are seeded, sliced thin, and candied in a simple syrup, then arranged around the bottom of the cake pan, where they "burnish as the cake cooks," Jones writes. Once the cake is finished and cooled, it's flipped so that the fruit becomes "a gilded lemon roof," according to Jones. When I made it, on a gray December day, the finished cake's lemon-tiled facade evoked the actual shining sun, a corrective to my moderate seasonal depression. The flavor itself was a reminder of the sheer lemony-ness that the skin contains, that glorious citrus perfume paired with a very specific—and pleasing—creamy-chewy texture that evokes nothing but itself.
In her new cookbook Nothing Fancy, Alison Roman fries slices of lemon in chicken fat.
Plenty of cooks and bakers have found ways to incorporate the entire fruit into their desserts. Both David Lebovitz and Deb Perelman have recipes for whole-lemon bars, while Dorie Greenspan published a recipe for a whole-lemon tart in The New York Times; its flavor, she says in the headnote, "is exuberantly full." And then, of course, there were the Shakers, a Christian sect perhaps best known for minimalist, well-made furniture and, in culinary circles, for their namesake lemon pie. The baker and gardener Sarah Owens has a recipe for one in her new cookbook, Heirloom; it "speaks to the pure flavor of lemon," Owens writes, along with the wisdom of using the whole fruit, which (minus the seeds), she here slices thin and macerates for 24 hours with sage, sugar, and salt before mixing with the rest of the pie's filling.
On the savory side, whole lemons present a wide, puckery world of opportunities. Chief among them is preservation, a process practiced for centuries by cooks throughout India, North Africa, the Middle East, Turkey, and Iran. Brining and preserving lemons in salt and their juices mellows their bitterness and creates a sweet, salty, and sour flavor heavy with citrus and umami. Preserved lemons make an ideal accompaniment to everything from grilled meat and fish to salads; the pickling liquid adds depth and dimension to Bloody Marys.
In her new cookbook Nothing Fancy, Alison Roman fries slices of lemon in chicken fat as part of her one-pot chicken with dates and caramelized lemon. She both pan-fries and salts them in her pan-fried sardines with fried and salted lemons; their tanginess, she writes, slices through all of the fat from the browned butter in the recipe. Roman is something of an expert when it comes to spreading the gospel of whole-lemon cooking; in her 2015 Short Stack cookbook, Lemons, she makes use of every bit of the fruit, save for the seeds, in recipes that include whole-lemon salsa verde and lemon-coconut tea cake. "I feel like they do everything," Roman says of her longtime love of the fruit. "The acidity to me is the perfect acidity. Vinegar never tastes fresh, but lemon juice always does. And lime juice has too much flavor. Lemons really get along with every single flavor profile." Roman's guiding principle is that the lemon must be there for a reason: "You can't just throw a whole lemon in there and hope for the best."
For my part, I've continued looking for any excuse I can find to use whole lemons in my cooking. With summer waning and fall approaching, that imperative is even stronger; though the fruit is available all year round, peak Meyer lemon season begins in November and runs through March. Once the days begin to grow cold and dark, I plan to make my way back to Jones's lemon-cardamom cake, and to the promise of the sunshine that it holds.