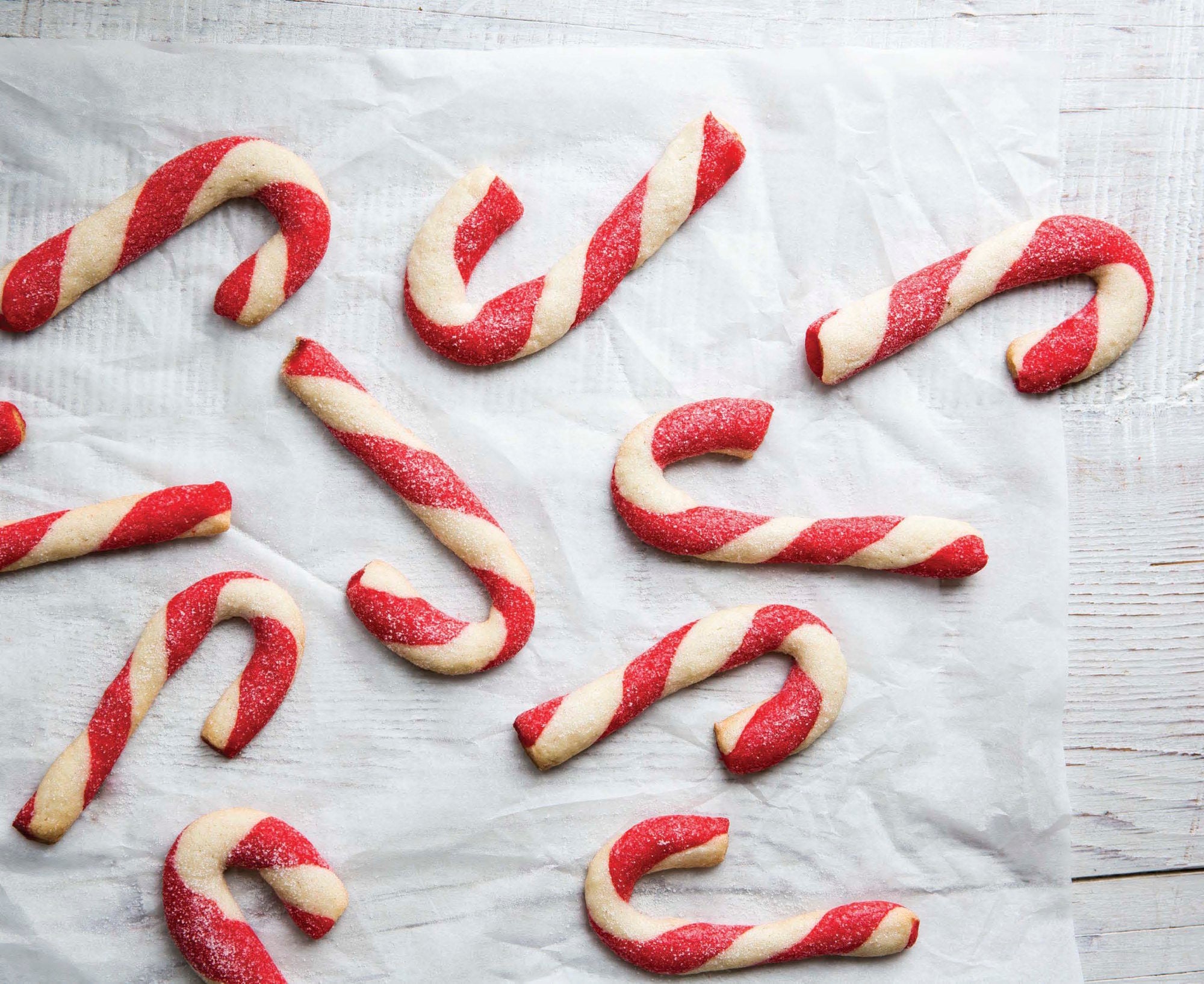 Four writers on the holiday cookies that will be getting them through the season.
We make holiday cookies to exchange with friends and eat after convivial family meals, but half of the draw is the comforting ritual of the making itself—the rolling up of the sleeves, the crisp cut of a well-floured cookie cutter, and the snow-like dusting of confectioners' sugar. Baking cookies is a type of work that roots you in the season, overtaking your senses with the smells and textures and motifs of Christmas.
For Elisabet der Nederlanden, the author of Holiday Cookies, the ritual is rooted in Sweden, where she grew up in the country, working as a teenager in a local bakery. Her new book celebrates some of the mainstays of Swedish Christmases—the cinnamon- and cardamom-laced cookies and the gingery, crisp pepparkakor—as well as Italian pignoli, French pain d'epices, Austrian linzer augen, and South American alfajores.
As precise and detailed and faithful to tradition as these recipes and techniques are, they are also deeply personalizable. Among the repetitive, mechanical motions of cookie-making, there are an infinite number of small gestures that will set your cookies apart from the cookies that everybody else you know will make. This is why we asked four different writers and home bakers to pick a recipe from the book and put their own spin on it. Maybe you, like Molly Yeh, will outfit your gingerbread people in cozy holiday sweaters, or maybe, like Michelle Lopez, you'll dip your coconut macaroons in an ombré of different chocolates. The recipes are just the starting points.
MOLLY YEH, blogger at My Name is Yeh and author of Molly on the Range
Ugly sweater gingerbread humans! Because around the holidays I find I like decorating cookies more than actually eating them, an evening of sitting at my kitchen table and piping a million itsy-bitsy dots onto one cookie while listening to Christmas movies is my ideal holiday move. Also ugly sweaters never flatter me, so I figure, why not dress my gingerbread kids in them instead?
YOSSY AREFI, blogger at Apt. 2B Baking Co. and author of Sweeter off the Vine
I always have a few jars of jam kicking around the back of my fridge, so I am a real sucker for a jam-filled cookie. When I saw the powdered-sugar -usted bowties called Hungarian Kiffles, I knew I had to make them. The original recipe calls for an apricot filling but also suggests that just about any jam or even poppy seed filling will work, so I filled them with some homemade quince jam spiked with lemon and vanilla I made with quince my mom sent me from Seattle. I also made some with poppy seed filling because poppy seeds just don't get enough love, and they are delicious!
MICHELLE LOPEZ, blogger at Hummingbird High
When I was younger, I always thought macaroons were the losers of the cookie world. They always seemed so bland and healthy, especially when compared with the sugar cookies and chocolate crinkles of the holidays. Not to mention that they're gluten-free; my younger self definitely would have wrinkled her nose at that. Now that I'm older, I actually love macaroons for the very reasons that made me shun them as a child. A good macaroon recipe is one that isn't too sweet, allowing the coconut to really shine. I personalized this recipe by dipping each macaroon in three types of Valrhona chocolate: dark, milk, and dulcey, a caramelized white chocolate that perfectly complements coconut's nutty, tropical flavor.
DANIELA GALARZA, Eater editor and TASTE contributor
Inspired by a simple spiced cake made all over France—but especially in the northeastern part of the country—these cookies smell like the inside of bakeries in Alsace after they pull pale golden loaves of pain d'epices out of the oven. A traditional winter treat, the quick bread has been made in some form in France since at least the 1600s. Translated into cookies, it's even more charming. The dough gets a heady dose of cinnamon, as well as ginger, cloves and freshly ground anise seeds; rye flour, in addition to all-purpose, and a spoonful of honey rounds out the warming spice mixture. The dough could be put into a cookie press, but piping it into fluted rounds is just as fun. Consider shaping the cookies into wreaths instead of rosettes and adding sprinkles or silver dragees for an especially festive gift. Or serve them for breakfast on Christmas morning with cups of coffee spiked with cardamom.