Where Mahlkonig K-30s and AirMax 720s Link Up in Harmony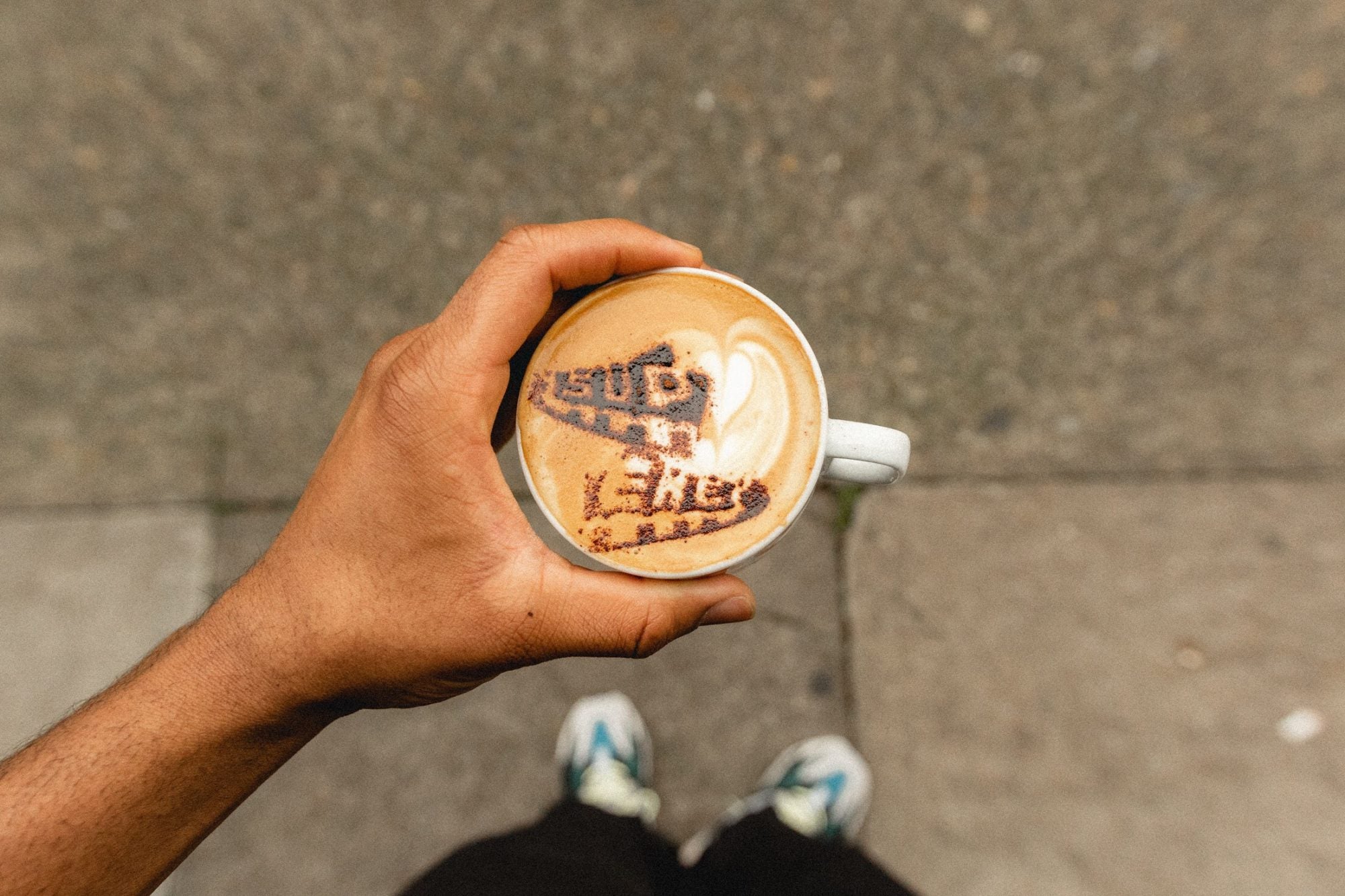 Sundays at Portland's Deadstock Coffee are a beautiful intersection of barista life and sneaker life. 
The German village of Herzogenaurach is where the rival Dassler brothers—Adolf and Rudolph—founded the opposing sportswear empires of Adidas and Puma. Their brotherly opposition soon infected the townsfolk, the vast majority of whom worked for either firm. Before a villager could so much as buy a loaf of bread, or start a casual conversation on the street, they would need to first check out the footwear of their fellow man. Herzogenaurach soon became known as "the town of bent necks."
A hundred years later, the sobriquet works at Deadstock Coffee, a café dedicated to fusing sneaker and coffee cultures. Consider it the "coffee bar of the bent necks"—a buzzing hive of sneaker culture industry and influence that's become a global pilgrimage point for earnest Hypebeasts across the planet.
The sky may be gray and the concrete on the block may be bleak, but inside this coffee bar in the Old Town neighborhood of Portland, Oregon, it's a scene of peacock hues. Tar Heel blue and ivory, cream and beige and coral pink, metallic black as reflective as a Mesmer chain, elephant slate and Braeburn red, chocolate cocoa powder flecked with gold, seafoam and shamrock and parakeet green, like out of some rococo color-wheel fever dream.
The door creaks open and everyone looks down.
Portland is the original Niketown—the global brand's international headquarters is just across Forest Park from the city of Portland, in the tony suburb of Beaverton. Today Portland also hosts international campuses for rival brands Adidas and Under Armour, making the city a nexus for sneaker and streetwear designers, brand reps, and culture hounds. Everyone needs to start somewhere, and Ian Williams found his a decade ago at the Nike campus, where he was hired first in retail, then as a shoe-loving janitor. From there he made connections, showed interest, stayed late, and worked his way into a series of opportunities in footwear. Eventually he designed his own shoe, a Nike Dunk SB variant modeled after the "wet floor" signs he was tasked with placing on recently mopped hallways.
Around the same time, Williams started exploring the region's coffee culture and found himself curating art shows and events for the artists and designers he now called peers and friends. He considered opening a gallery and looked at coffee as a way to fuse his art dreams with a working financial model. He also saw a gap in the market.
"Here in Portland," Williams told me in 2018, "if your walls aren't white with a crazy-looking espresso machine, and you aren't playing super mellow whatever music, you don't fit in the coffee world here. I don't like any of that. That's not for me." Instead he wanted to build a café where he and his friends would feel welcome, one that could function as a gallery while paying the bills via coffee. Williams—who doesn't drink alcohol—wanted especially to build a community space that kept all-ages access as a founding principal, without a booze-centric vibe.
Opening a coffee shop in line with one's taste is nothing new—in fact it is hundreds of years old—but what Williams has done in Portland is revolutionary almost by accident. Deadstock is diverse in a way that challenges Portlandia stereotypes and inclusive in more ways than one. It's true that this is a black-owned business with a global clientele; it's also true that you can be the schlubbiest of unstylish newbies here and fit right in with just a bit of effort.
If you try—if your shoes are cool, even if they cost $30—you will be complimented. Williams is personally generous with his praise as a matter of hospitality, dishing out sneaker-specific compliments with the same range of motion he uses to make a mocha, from beans roasted by Williams himself just across the river at a collaborative roasting space (and dusted with cocoa powder in the shape of a shoe, natch). It is Williams's unique ability to notice whatever thing you're wearing that you care about that day, and to pull it out and compliment it genuinely, that makes you want to return to his space again and again.
How uncommon is that in our world today? How deeply rare is it in our toxic masculine society to find a space where it is socially acceptable for people to compliment each other? And when was the last time you cared about what you wore to the coffee bar, because you knew it would become a point of conversation? I find myself thinking the night before about what shoes I want to wear to the café the next day.
I write about cafés around the world for a living, and I have never, ever felt like this about a coffee bar before. There is something magic here.
It is a packed Sunday afternoon at Deadstock, maybe 50 people deep, all turned out for a live lo-fi music producer set. It's so busy in this small space you can barely move, no bigger than a small NYC apartment, every square inch packed with sneaker ephemera, vintage basketball memorabilia, Bo Jackson rookie cards, Allen Iverson jerseys, and dozens of shoes mounted on gallery display.
Look down and you'll see a deeply rare pair of Adidas Snoop x Gonz Matchcourts in robin's egg blue, Nike AirMax 720s in T-1000 rainbow liquid gunmetal, Sobakovs and PrimeKnits and Gel-Lytes and Cell Vipers, Bathing Ape and Pharrell Williams, Supreme and Hanon and throwback Reeboks, and Air Force Ones for days in every colorway. A riot of colors and designs. Your favorite coffee bar could never.
There's so much kindness in this room. An underreported aspect of sneaker culture is its kindness. In the context of Deadstock it feels drawn from some very old form of social experience, what hundreds of years ago was called café society, now in a 2019 lens: kaleidoscopic, urgent, diverse, demanding to see and be seen in return. It's fun, it turns out, to care a little bit about what you're wearing—it doesn't matter who you are. The custodian-inspired Dunk High SBs Williams designed for Nike are now completely sold out and going for close to $200 on resale websites (if you can find 'em).
The door jingles and the heads nod to find the new Nike x Patta of Amsterdam collab in navy blue. The wearer of said kicks turns out to be a young Nike exec—the first clue should have been the "Sample" stamp labeled clearly on the back leg of her joggers. She fields genuine compliments and gives a few in return before hopping on line to order coffee from Ian Williams and his team. Music bumps, the door jingles again, and we all look down.
"Yo, this is fucking dope," I overhear someone say, apropos of nothing. It's the truth.