Chorizo Your Beans and Greens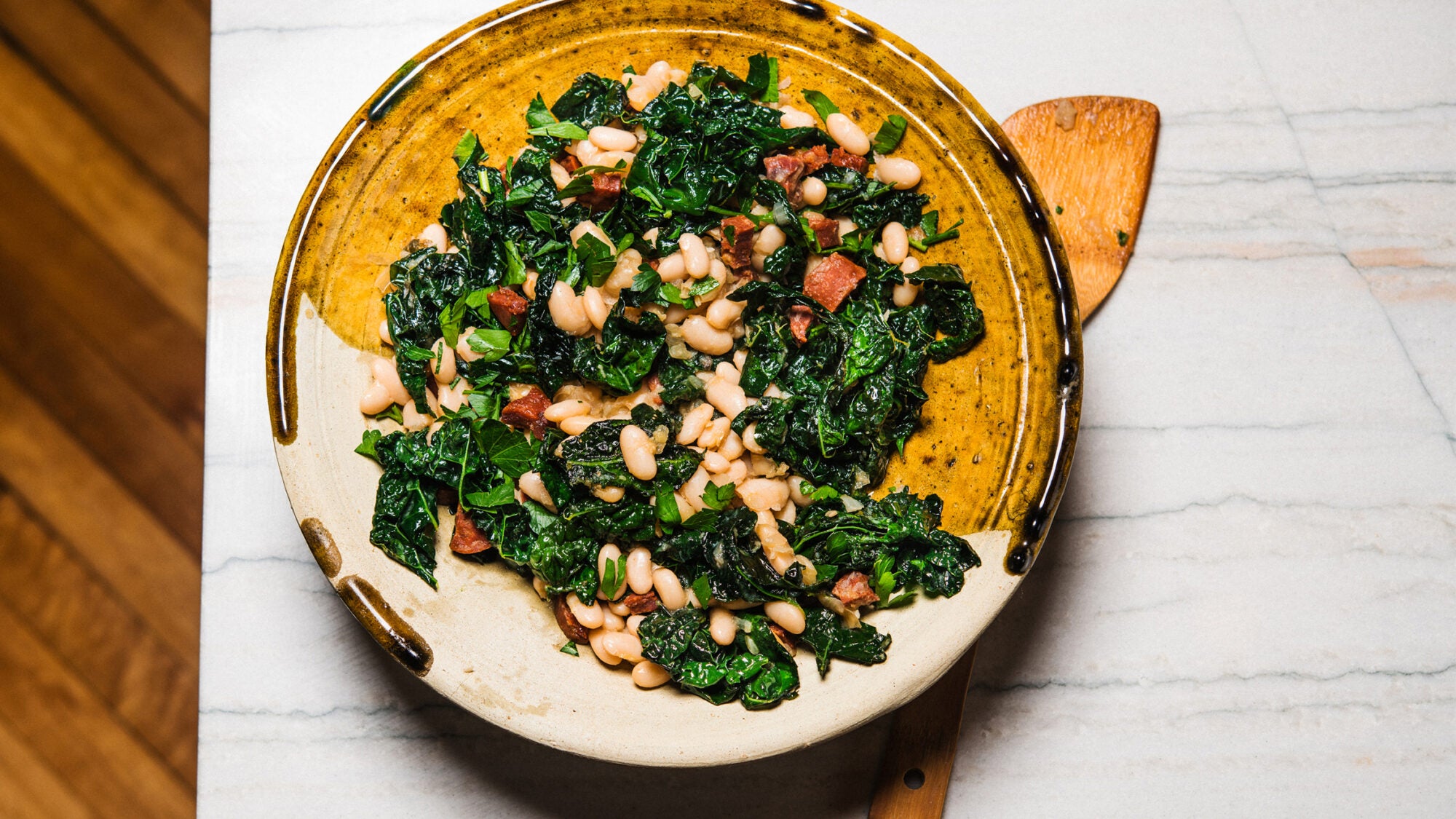 A smoky, spicy upgrade to the classic combo.
It seems every other trip to Instagram these days yields at least one overhead shot of a Dutch oven brimming with cooked beans. The generous, simmering pot shot has become an unlikely status symbol for a generation of home cooks obsessed with packing pastel-hued saucepans with an assortment of heirloom legumes from Rancho Gordo. But social media flexing aside, it's also a wholesome way to brag about being prepared for the week ahead.
Making a pot of beans that you will be as excited to eat on day three as you are on day one is all about integrating a foundational layer of flavor into your cooking liquid. This recipe, by Laurie Ellen Pellicano, starts with a pile of finely diced dried chorizo, which infuses the onions and garlic with smoke and spice from the paprika. Once the beans have had some time to soak in the flavorful oil and aromatics, they're crowned with a few big handfuls of oven-crisped kale, which softens as you stir it in. The result has all the heft of a brassica salad, in a warming pot that you can keep on adapting all week long.
In a soup mood? Simmer the beans with a little extra stock, and toss in some toasty croutons for crunch. Need a breakfast plan? Add a crispy, olive oil–fried egg to a shallow bowl of the beans. Want to visit the world of beans and greens during an afternoon snack? Fry a couple of thick sourdough slices in olive oil, and scoop some of the beans on top with a drizzle of lemon juice or a sprinkle of fresh herbs. The best leftovers are the ones that will turn into something completely new every time you get hungry.