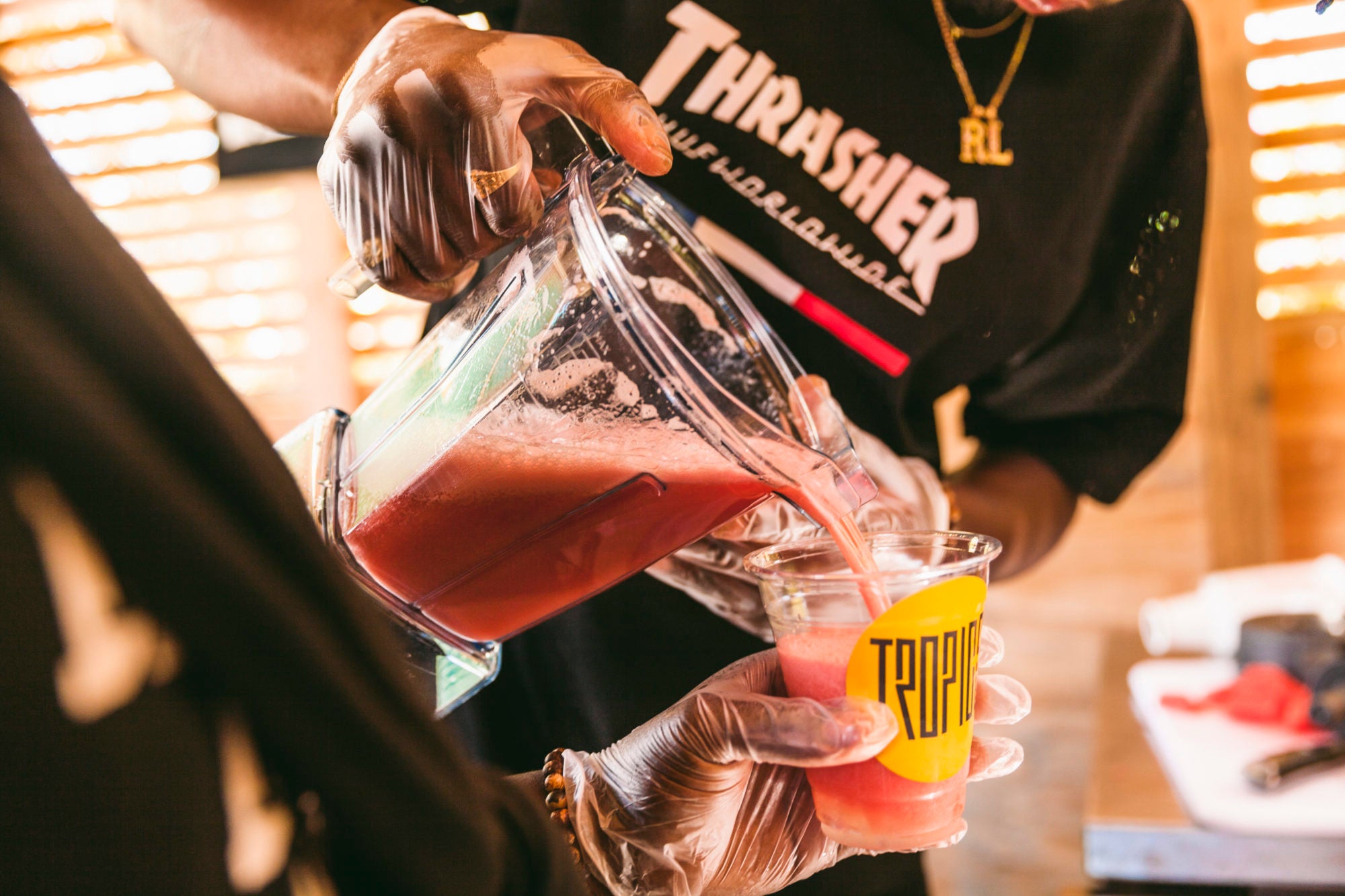 How a pack of L.A. skateboarders bettered their neighborhood through the power of juice. Really good juice.
In Los Angeles, juice comes with a sort of a stigma, along with seasonal salads and $20 avocados mashed on bread. But in communities that lack fresh and healthful food options, having juice can be revolutionary. At least, that's what a group of five young black skateboarding vegetarians, who call themselves Tropics, thinks. They're trying to answer an important question: How can they introduce their underserved community to the benefits of fresh, healthful foods in an accessible way?
Their answer? A pop-up juice bar in their Los Angeles neighborhood of Baldwin Hills. Better known as the Jungle, Baldwin Hills has been plagued by gang violence. In the predominantly black neighborhood—where most households make $20,000 or less a year—it can be easier to find a fast-food chain than a grocery store with fresh vegetables.
This past spring, the founders raised $60,000 on Kickstarter to open a juice bar at the Underground Museum. Founded by the late painter Noah Davis, it's a haven for a community with little or no access to artistic programs, coworking spaces, or trendy coffee bars. Since July, the group has been selling fresh juices, cold-brew coffee, and acai bowls—crafted with enticing names and fresh, familiar ingredients. My signature acai bowl came with coconut flakes, banana and strawberry slices, and a very generous drizzle of honey.
Many of the juices are named after seasons or feelings, like the Childhood juice—which was inspired by eating watermelon on a hot L.A. day. The Emerald juice is a vivid jewel-green blend of apples, cucumbers, celery, parsley, and lemon with a kick of heat from juiced jalapeño. The juices are as beautiful as they are refreshing—enticing to customers who might not have even been in the market for juice.
So how exactly did five young black skateboarders barely out of their teens, growing up in a food desert, become vegetarians? Skateboarding initially brought the group together, although a few of the members knew each other just from growing up around the Jungle. The group's members—Thomas James, Preston Summers, Ryan Satram, Willford "Willy" Neal, Jair McKay, and Jorge Robles—range in age from 21 to 23 and are all faithful skateboarders. "We all skated around the neighborhood, but when the skate park was built, it brought us all together," Neal recalls. He adds that skateboarding was a way to escape the perils of gang activity and harassment, as well as the limitations that can come with being a black boy from the hood.
When James decided to pursue a vegetarian lifestyle, his friends supported him by also adopting vegetarianism. This support, enthusiasm, and we're-all-in-this-together mentality remains the foundation of the collective. Four years ago, the group of friends crashed a Fourth of July party thrown by Daniel Desure, a thirtysomething creative director of a design firm called Commonwealth Projects, whose office was just across from their skate park. They became fast friends. (Desure introduced the Tropics crew to the design world; they provided him with a richer understanding of his new neighborhood and, in turn, their lives growing up in the Jungle.)
"This whole process in a way has been a sharing of experiences and cultures," Desure explains. And over lunches at their regular Korean spot and mindfulness sessions at Commonwealth Projects, the idea for Tropics was born.
One sunny afternoon in June, we stop by on the final Tropics training day to sample the Childhood juice, a refreshing summer blend of sweet watermelon punctuated by tart lime and a hint of heat from juiced ginger. Tropics develops their juices through a mix of their favorite childhood memories and visits to the farmers' market to discover new fruits and sample familiar fruits in season. Back at their test kitchen at Commonwealth Projects, the group workshops ideas and pitches in thoughts on flavor, texture, and color. Once the group agrees on a juice, it goes up on the menu for the public.
Along with these seasonal juices, Tropics also sells a potent cold-brewed iced coffee sourced from a local coffee roaster as well as acai bowls with toppings including cacao nibs, shaved coconut, and fresh tropical fruits. Each juice comes with ingredient and nutritional information, so customers can learn about the foods they consume and how those foods can affect them so they can make empowering choices when they head to the grocery store or the farmers' market.
"How do you get people to eat better?" James asks rhetorically: "You come to them."
Tropics is actively taking the idea of empowering others to make something—the "something" being a healthier, food-engaged, and educated community—by setting the example that engaged community members can change an underserved community using the resources, resourcefulness, and energy of the neighborhood.
The pop-up runs through this month, and the group hopes the three-month project will help set the tone to expand across the United States in places like Baltimore and Detroit. They're even considering an international expansion with the favelas of Brazil in mind. But first they're focusing on their home: They're working toward a brick-and-mortar to bring their juices to communities in Los Angeles where fresh-pressed juice made by a group of young black skateboarders is just a glimpse of the food revolution to come.