Chicken and Dumplings: The Great Equalizer of Southern Cooking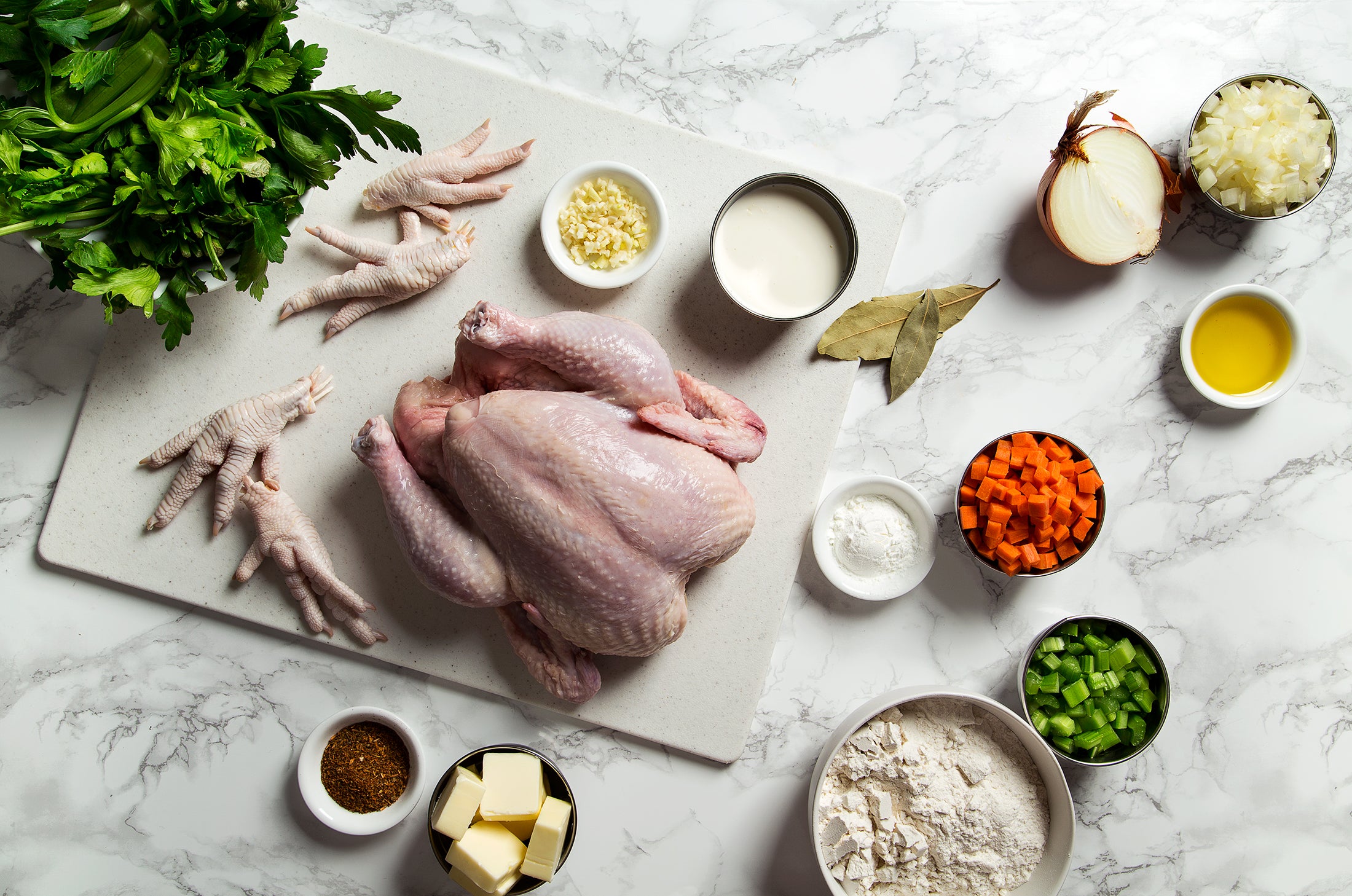 Words like "working class" or "humble" are often used to describe chicken and dumplings. But there's a rich and diverse history to this unifying recipe from the American South.
My mother had two ex-husbands, two kids, two jobs, and one chicken and dumplings recipe. Once, when I told her I preferred the food at a friend's house, where the mother stayed home to serve ants on a log after school—and never dumped leftovers topped with Velveeta into a casserole dish to be reheated for a midweek dinner—my mom replied with a simple question. "Can her mama make chicken and dumplings from scratch?"
She had me there. Our family's chicken and dumplings recipe is a point of pride for my mother. I grew up in a North Louisiana town of less than 1,000 people with one grocery store and a Dairy Queen as our only food options. Due to my mother's busy schedule, many of our meals were from cans or boxes, and our meat was usually boneless, skinless, and tasteless.
But her chicken and dumplings were homemade, consisting of biscuit dough cut into long, thin strips, then boiled in salty chicken stock until they puffed into little pillows, soaking up the flavor of the chicken along with the celery and carrots my mother added to the stew. She always seasoned her stock with a hint of cayenne that cut through the vegetable flavors at the end of each bite—not enough to burn, just enough to tickle. She also added butter and cream right before she finished boiling her dumplings, letting them cook until the stew was thick enough to be served on a plate without running off the sides. It tasted rich and luxurious at a time when not much else felt that way.
According to Ronni Lundy, the James Beard Award–winning author of Victuals: An Appalachian Journey With Recipes, chicken and dumplings has been helping Southern women feed their families while managing their households for hundreds of years. "The dish probably began in a woman's kitchen whose name we'll never know," Lundy says. "When women have children and families to feed as well as household chores, adding bread to a sauce or meat saves time, increases the volume of the meat flavor, and leaves everyone satisfied."
Unfortunately, the dish my family knows and loves so well doesn't seem to have enjoyed the same mainstream recognition as other Southern foods. As recipes for smoked Gouda grits pop up in foodie magazines and gumbo is sold on street corners in NoLita, chicken and dumplings are mostly still relegated to home cooking, or on the menus of the kind of restaurants that sit just off the interstate from Texas to Virginia with parking lots big enough to accommodate 18-wheelers—where the food is cheap and hearty, but the chicken and dumplings are often a gray, gelatinous goo made from canned broth and flavorless chicken, a sad imitation of the fluffy, hearty chicken and dumplings I grew up with.
Perhaps the lack of interest comes from its reputation as a food born of extreme poverty. A quick search for the term "chicken and dumplings" yields the inevitable mentions of the Great Depression and the Civil War as giving rise to the dish, which is tactfully called "working class" or "humble" when writers mean "poor." But chicken and dumplings is a food that's been enjoyed by Southerners from all walks of life in times of feast and famine, Lundy insists.
"It's a great equalizer food," Lundy says of the dish, used in all types of houses to enable a single chicken to feed a tableful of guests without sacrificing quantity or flavor. Neither the Great Depression nor the Civil War gave rise to chicken and dumplings, which has existed in cookbooks that predate both. "Tying all our food to the Civil War or the Depression denies the history of the region and the people," Lundy says. "Pinning a date on a thing is the accepted way to document history, but food history never starts with a single political or historical event, and stretching a meal is not just about poverty."
According to Lundy, the association of crumbling shacks and shoeless, Depression-era children with chicken and dumplings, along with restaurants' reluctance to serve it, could be because of chicken's reputation as a low-end meat. But long before the mass production of meat, chicken was considered a delicacy, and chicken and dumplings was usually made from an old rooster, which was often leaner than a young chicken but with a more robust flavor. These birds would be boiled for hours before cooks picked the meat from the bones and added vegetables to the hearty stock. However, the advent of canned broth and the industrialization of chicken farming have made modern iterations of chicken and dumplings a pale imitation of what they must have been in their heyday.
"Boneless, skinless chicken breasts are one of the worst things to ever happen to the world," Lundy says. "When I was growing up, there wasn't a huge culinary scene in the South, but you had these cafeterias that were really good. Chicken and dumplings were the perfect food for those because the meat was extended and the dish kept well, but then they became bastardized by commercial gravy and chicken broth."
One Southern chef hoping to change the way we think about chicken and dumplings is Karl Worley, owner of Biscuit Love in Nashville, whose chicken and dumplings recipe appears in Victuals. He uses his grandmother's beloved version as an inspiration. But since he doesn't generally have access to old roosters, he buys young, plump free-range chickens and roasts them with fresh herbs and butter, which keeps the chicken moist without the loss of texture that comes from a long boil. He then picks the bones clean and uses them alongside celery and carrots to make a light stock infused with vegetable flavor. Much like my family's recipe, he also adds richness to the dish with butter and heavy cream, so that it's less like a soup and more like a stew.
When I ask him why the dish doesn't seem to get much love in New Southern restaurants, he says it may be a beauty problem. "You can't do some crazy puffy dumplings with chicken soup poured inside. Not if you want to make it great. It's brown on brown on brown." He's right: Chicken and dumplings is a delicious meal that's unlikely to win many hearts on Instagram.
However, Worley recently served his version at an event hosted by the elegant Fearrington House, where guests are used to award-winning food. According to Lundy, both diners and chefs were blown away by the roasted flavors of the chicken and the way the dumplings maintained their fluffy, biscuit-like texture, even if the dish wasn't exactly Instagrammable.
And while Worley hasn't added chicken and dumplings to his menu, he's recently been serving it more often at private events and dinners. Worley says there are rarely leftovers, suggesting that chicken and dumplings might be ready for a comeback among diners increasingly eating to satisfy cravings for great food served up with a side of nostalgia.
"This comes from my childhood," Worley says. "Memories are made around the table, and this is the kind of recipe that fills the part inside of us that longs for home-cooked food and connection."