Big Chicken's Drumstick Dilemma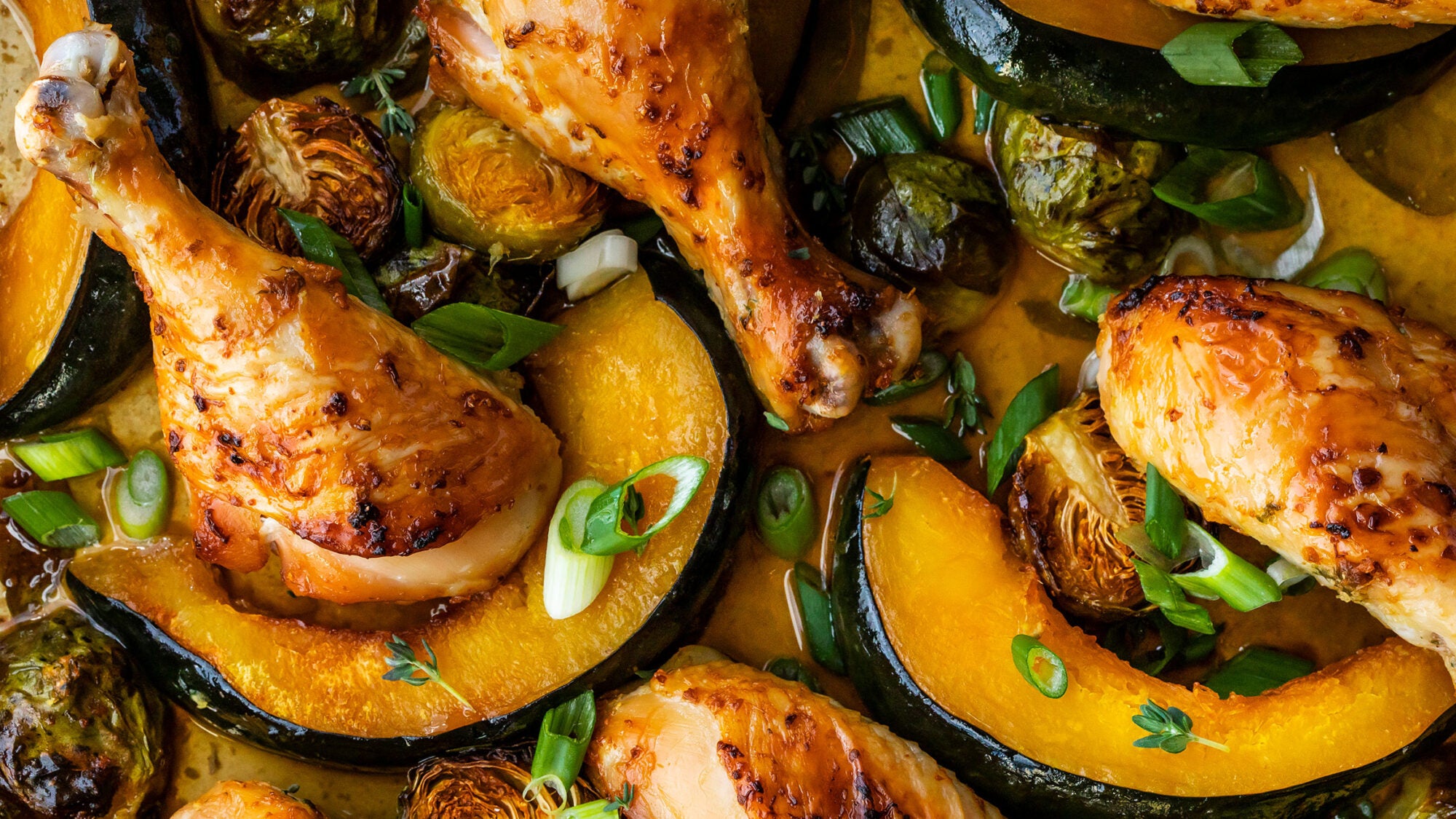 Dark meat is having a moment, so why has the drum been left behind?
In the late 1970s, Dale Faunce was a buyer for Kroger in Detroit. Every Friday, he'd get a call from his chicken supplier, Holly Farms, with a desperate plea. "I got two boxes of wings and I'll sell them to you for ten cents a pound," Faunce recalls. Now, as the director of marketing at Springer Mountain Farms, a midsize chicken producer based in Gainesville, Georgia, he doesn't have enough wings to go around. "What's happened with wings over the last 25 to 30 years, I've never seen anything like that," he says of the sea change in appreciation for the bony bird part, which he attributes to chain restaurants' adoption of fried and glazed Buffalo wings throughout the 1980s and '90s.
He's wondering if something similar can't happen with chicken drumsticks—the part of the leg below the thigh, with the caveman-style handle of a shin bone. Right now, the selling price of Springer Mountain Farms' drumsticks is about 75 percent lower than all the other parts, Faunce estimates. And compared with boneless breasts—the most valuable of all the cuts—they're a staggering three dollars less per pound.
Across the US chicken industry, drumsticks have fallen out of favor. This is happening even while dark meat chicken is winning over consumers and tastemakers for its flavor and juiciness, chipping away at the dominance of the all-American, lean white breast meat.
"Breast meat is still America's favorite—about 60 percent of our chicken sales is breast meat," says Eric Christianson, chief marketing officer of Perdue Farms, one of the largest poultry producers in the country. He notes that the industry—and the birds—have adapted accordingly. "The birds have been grown and bred to have more breast." But over the past three years, Perdue's breast sales have only increased by about 6 percent, while its thigh sales have increased by 26 percent.
Americans love their chicken. It's been the most consumed protein in the country for decades, overtaking beef in 1992, and we eat more and more of it each year—up to 93.5 pounds per capita in 2018, according to the National Chicken Council. Much of this popularity stems from the industry's promotion of chicken as a lean alternative to other meats—with white breast meat at the apex of this positioning.
But white meat's heyday may be drawing to a close. A 2019 report by CoBank, the largest lender to the US agriculture industry, found that chicken breasts' value has dropped by 26 percent since 2000, while the value of dark meat (thighs and drumsticks) has risen by 30 percent. But the fervor for dark meat is not equitably split throughout the chicken's leg. There is one clear winner in a chicken's dark-meat anatomy: thighs.
Once maligned by nutritionists for their higher fat content, chicken thighs have become the darling of today's chefs and food media. It's the boneless thighs, not breasts, that are called for in fried chicken sandwich recipes by Martha Stewart and J. Kenji López-Alt—and used in those from David Chang's chicken chain, Fuku. You'll see bronzed chicken thighs gracing the covers of recent cookbooks like Dynamite Chicken by Tyler Kord and From the Oven to the Table by British cookbook author Diana Henry—whose book includes a whole chapter devoted to chicken thighs, entitled "My Favorite Ingredient."
"Basically, thighs have way more flavor and are much juicier than breasts. They're hard to cook badly, which is one of the reasons they're so popular," says Henry.
Pati Jinich, food TV host and cookbook author, thinks that the popularity of dark meat is a result of people coming around to the taste. "Even if there's more bone to meat, it's more flavorful because of that," she says.
Chicken drumsticks, on the other hand, have not enjoyed the influencer treatment since Fred Flintstone chomped his way through them.
The industry also credits this shift to the changing demographics of the country. "In Asian and Hispanic cuisine, dark meat is more of a primary piece of meat than a second thought," says Christianson. And the fat fears of the '90s have been replaced by keto diet trends. "Fat has become permissible as an ingredient you see come up in fine dining and, by the same token, [at] places like Chipotle—all they use is thighs," he explains.
Chicken drumsticks, on the other hand, have not enjoyed the influencer treatment since Fred Flintstone chomped his way through them. And, according to Datassential, which gathers restaurant menu data, while thighs have experienced a 60 percent increase in menu penetration over the last four years, whole chicken legs and drumsticks have experienced an inverse of this trend over the same period, appearing on 14 percent and 7 percent fewer menus respectively, says Gerald Oksanen, a senior analyst at the company.
So why, with all the wind blowing in dark meat's sails, are drumsticks getting left behind—and even losing fans? The handheld fixture of fried chicken baskets, Medieval Times meals, and emoji fame can be even darker and more flavorful than chicken thighs. The oily flesh soaks up marinades just as well. Drumsticks are also easy to cook—quicker than bone-in thighs, because they're generally a little smaller. And there's only one bone.
"When I was a kid, I loved the drumsticks," says Anita Lo, a longtime chef and author of the cookbook Solo, who noted that watching The Flintstones might have played a role. "But as an adult, you realize that there is that not-so-pleasant large tendon on them, and the meat that is just under can be on the drier side."
Today's customers are also more apt to buy their favorite part and skip the rest of the bird. A few decades back, most recipes instructed you to cut up a whole chicken, or to ask your butcher to do it, when cooking a dish with pieces. Now, you're more likely to find trays of identical parts from many birds in a supermarket, and no butcher in sight. And when you cook exclusively with one part, you come to rely on more uniform results.
Producers can get more profit from separating the legs into thighs and drumsticks than from keeping whole legs intact, the report by CoBank finds. And when thighs are boneless, the profits skyrocket. The average price of a boneless, skinless thigh was so high in 2017 and 2018 that the leftover drumstick from trimming the leg could almost be considered a free byproduct.
"There's almost a one-to-one value—the value of the drumsticks is nearly free in that equation," says Will Sawyer, lead economist at CoBank, who authored the report. The increasing domestic demand for thighs is incentivizing producers to keep chicken legs, which have historically been heavily exported overseas, in the US market. But since every bird has one drumstick for every thigh, it leaves more drumsticks in the market, often at bargain-basement prices.
The average price of a boneless, skinless thigh was so high in 2017 and 2018 that the leftover drumstick from trimming the leg could almost be considered a free byproduct.
One way that Perdue is looking to keep more of them in the domestic market is by selling more ground chicken that incorporates drumsticks. Another is investing in newer, better deboning technology. The manufacturing company Foodmate, based in the Netherlands, has introduced machines capable of deboning a whole leg, thigh, and drumstick in one piece.
Bell & Evans has already enthusiastically adopted this technology. According to its owner, Scott Sechler, it's allowed them to launch new products like boneless, skin-on whole legs, spatchcock chickens, and chicken meatballs from dark meat.
So why not sell boneless, skinless drumsticks for the retail market?
"I've seen it, and it's a weird-looking product," Sawyer admits.
Faunce, at Springer Mountain Farms, doesn't have high hopes for boneless drumsticks at the retail level either—calling it visually "a mess." But he's on a mission to increase appreciation for bone-in drumsticks, and he's enlisting chefs like Atlanta's Todd Richards to create recipes using them throughout 2020. Previously, his attempts to convert chefs into selling them have not gone well. So, in an effort to change this, Springer Mountain Farms is planning a series of recipe partnerships with institutions like the Atlanta Food & Wine Festival and the James Beard Foundation.
Somewhere between 65 and 70 percent of Springer Mountain Farms' drumsticks are exported or sold for other uses than human consumption, like pet treats. Faunce says their situation is probably worse than other poultry producers, because their no-antibiotics, non-GMO Certified, and American Humane Certified poultry attracts a unique demographic of customers who are interested in healthier eating—and are still hung up on white meat.
Faunce also loved drumsticks as a kid. He recalls that a typical Sunday dinner would be a casserole of them, roasted over a bed of rice. But he's hoping that a new generation of chefs will be up to the task of expanding the drumstick's repertoire.
"What's the magic on the drumsticks? I don't have the answer. The only people who can make a difference are the creative geniuses like chefs."
Know Your Chicken. When America's favorite protein crosses cultures and winds up on a sheet pan, it's a winner chicken dinner. Cathy Erway is forever inspired by the chunky, funky poultry and wants you to put this in your oven and roast it. Her book, Sheet Pan Chicken, arrives this September.