Chhena Poda, A Simple Indian Cheesecake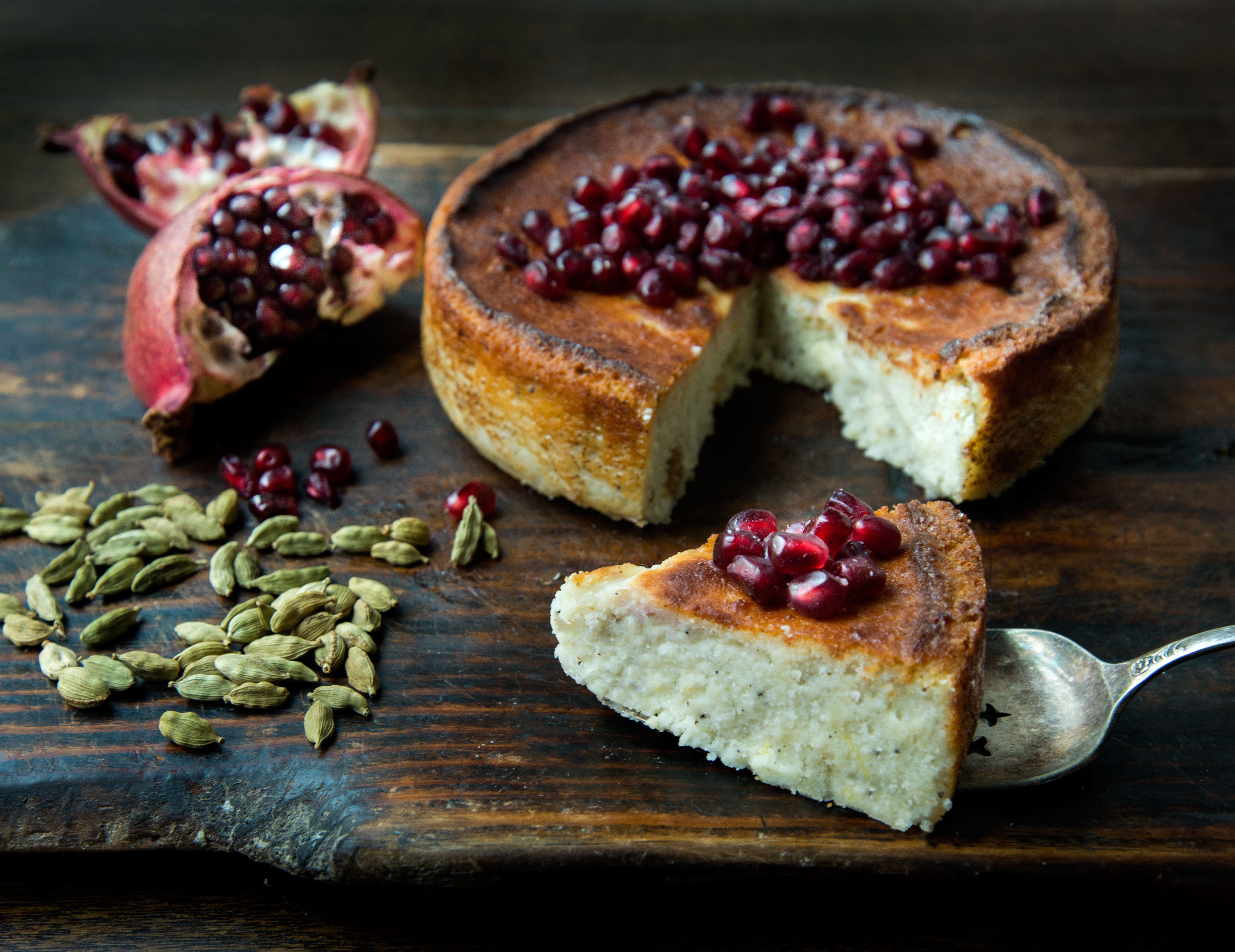 On a recent trip to Whole Foods in my Philadelphia neighborhood, there was a woman sampling a new line of cottage cheese backed by General Mills. It's an organic, non-GMO, probiotic cottage cheese—made from grass-fed cow's milk from sustainably raised Wisconsin cows—available in flavors such as strawberry chia, sun-dried tomato, and kalamata olive. Word on the street is that several other food companies plan to follow suit in 2017 with their own lines of flavored cottage cheese, as this year saw the first uptick in cottage cheese sales for the first time in decades—up 1.2 percent, according to Dairy Foods Magazine.
What makes a trend a trend? In his popular book The Tipping Point, Malcolm Gladwell defines the tipping point as "That magic moment when an idea, trend, or social behavior crosses a threshold, tips, and spreads like wildfire." If kale, quinoa, cupcakes, and smoothie bowls can become trendy, then why not cottage cheese? Will cottage cheese reach its tipping point? Only time will tell.
That being said, in other parts of the world, cottage cheese is already popular. In India, for instance, chhena (a fresh farmer's cheese that is India's version of cottage cheese) is used widely in cooking, including desserts. In particular, there's a beautiful cottage cheese dessert from Odisha, India, known as chhena poda that rose to fame in the mid-twentieth century. Chhena translates as "cottage cheese" and poda is "burnt"; this dessert literally means burnt cottage cheese, and the results are deliciously surprising.
Dense and rich, with a caramelized, nutty finish, this rather intriguing cottage cheese cake can be served warm or cold and requires only a handful of ingredients. At a minimum, there's chhena (either homemade or store bought), fine semolina (referred to as suji in India), sugar, and spice (typically cardamom). But from there, you can add nuts (such cashews, pistachios, almonds), dried fruit (such as raisins, dried cherries, or cranberries), other spices (such as cinnamon, nutmeg, or even saffron), orange or lemon zest, chocolate chips, or perhaps even a bit of rose essence. I piled a handful of pomegranate seeds on top before serving just for a splash of color, but found the tartness nicely counterbalances the sweetness of the cake.
Although this dish is customarily served for Durga Puja, an autumnal Hindu celebration, it makes for a unique dessert any time of year.
Chhena Poda (Burnt Cottage Cheese Cake)
Serves 8
Chhena poda is the rich, dense, and very sweet signature Indian dessert from the state of Odisha prepared with fresh cottage cheese. Traditionally, chhena poda is made with fresh chhena, prepared by curding milk with lemon juice and then straining the liquid whey. American-style cottage cheese is much wetter, so I recommend straining for several hours, ideally overnight (in cheesecloth placed in a strainer over a bowl in the refrigerator). I've also used a soft block of chhena I found at a local Indian grocery store to make this. You can also try this recipe with other types of fresh, crumbly cheese, such as ricotta or farmer's cheese. Serve the cake warm or cold. I added a handful of pomegranate seeds on top just for color, but recommend doing so as it provides a nice contrasting tartness with the cake.
INGREDIENTS
3 cups chhena (Indian cottage cheese), American cottage cheese (strained overnight), ricotta, or farmer's cheese, room temperature
4 tablespoons fine semolina/suji
1 cup sugar
2 tablespoons warm cream
½ teaspoon baking powder
1 tablespoon store-bought ghee or clarified butter (see note below on how to make clarified butter), plus extra for greasing the pan
1 tablespoon cashew pieces, roughly chopped
1 tablespoon raisins, golden or regular
Zest of 1 lemon
¾ teaspoon ground cardamom
DIRECTIONS
1. Preheat the oven to 400ºF. Grease a 7-inch round springform pan with ghee. Cut a round piece of parchment paper to fit in the bottom of the pan. Grease the parchment with ghee as well.
2. In a large mixing bowl, combine the cheese, semolina, sugar, warm cream, baking powder, and cardamom. Mix to combine. Let sit 10 minutes to allow the semolina to absorb moisture.
3. Knead the mixture by hand for about 5 minutes, until it forms a paste.
4. Heat the ghee in a skillet. Add the cashews and raisins and fry until the raisins plump and the cashews turn a light golden brown. Add the lemon zest and cardamom. Stir into the chhena mixture.
5. Transfer the chhena mixture to the lined baking pan. Bake until a toothpick inserted into the center of the cake comes out clean, about 40 minutes. Turn on the broiler and bake until the top of the cake browns, 3 to 5 minutes (make sure to watch carefully so it doesn't burn).
6. Let cool for 1 to 2 hours. Slice and serve. Store leftovers in the refrigerator.
Note: To make clarified butter, line a glass measuring cup with cheesecloth. Melt 1 pound of unsalted butter in a small, heavy-bottomed saucepan over low heat, to separate the water and solids from the clear butterfat. Stir from time to time, to ensure the butter melts evenly. Once the butter has melted, foam will start to gather at the surface. Scoop the foam out with a spoon. Keep skimming off foam until the melted butter stops foaming. Some milk solids will settle to the bottom and brown lightly, which gives clarified butter its nutty flavor. This process will take 15 to 20 minutes. Once the liquid is clear, with a light amber hue, strain it through the cheesecloth, leaving the browned milk solids behind. Once the clarified butter cools, transfer it to a clean glass container and seal. Will keep at room temperature for several months.