The Queen of Sichuan Soul Food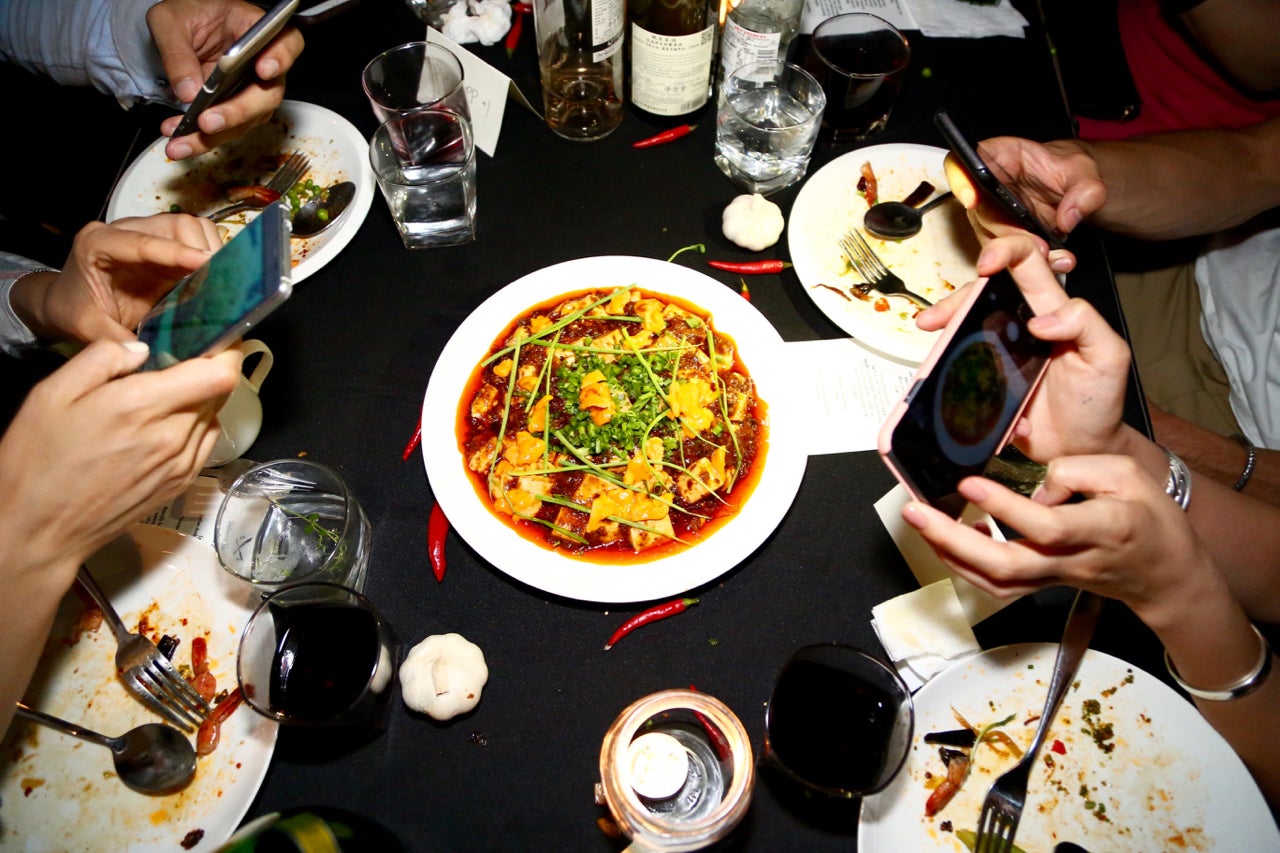 Bite by bite, chef and writer Jenny Gao is changing the way Chinese diners think about Sichuan food, peppers, and chiles.
Every month, a private dining room in Shanghai cranks out Sichuanese dishes for 10 lucky diners. On the tasting menu, you'll find staples like dandan noodles and mapo tofu sitting alongside modern dishes such as huiguo rou tacos, featuring classic twice-cooked pork atop handmade tortillas, and mapo short rib rice—cooked for 24 hours with an oozing egg and dace fried rice. At Fly by Jing, the pop-up brainchild of chef Jenny Gao, a new style of cooking is developing in mainland China. You could call it Sichuan soul food.
Gao is a rising star on the Shanghai food scene and the go-to local guide when American food folks like Eddie Huang, Emeril Lagasse, and Andrew Zimmern roll into town. She opened up her first restaurant, Baoism, in 2015, serving Taiwanese gua bao (open-faced steamed buns filled with meat). Similar to the modern cuisine she's cooking today, Baoism also eschewed strictly traditional items, instead offering spinoffs like a shiso tonkatsu bao or cheeseburger bao, the latter slightly reminiscent of Shake Shack's signature item. In 2016, she landed a Time Out Shanghai Food Personality nomination, and she has since started to move outside of the local food sphere, doing pop-ups in Hong Kong, Japan, and New Zealand.
Born in Chengdu, the capital of China's Sichuan province, Gao draws her inspiration from her hometown. She redefines traditional flavors with elements from her global upbringing, melding bagel sandwiches with Sichuan pulled pork, Emmental, and chile mayo, or Lazi-spiced fried-chicken-and-slaw sliders.
Gao understands her province's food beyond the namesake—and ubiquitous—peppercorn. Diners often associate Sichuan dishes with mouth-numbing spice and heat, but Gao believes this is a misunderstood element. More mainstream Sichuan dishes, which often do involve a fair amount of spice, tend to lead eaters to believe that all Sichuanese fare is equally as mouth-scorching and heavy in ma and la (words that translate to "hot" and "numbing"). She makes the important point that Sichuan flavors go beyond chile and Sichuan peppercorn, that the cooking is far more diverse. The cuisine is based on compounding flavors, building upon bitter, smoky, salty, and sweet tastes as well.
Gao wants to push the boundaries of how peppercorns and chile peppers can be used in cooking and how different aging techniques can shape their flavor into something more dynamic than just heat. She points out that chiles can be fermented alongside fava beans for up to several years, producing the umami-rich doubanjiang (broad bean chili paste) that is the soul of Sichuan cooking, providing complex flavors to famous dishes like mapo tofu and twice-cooked pork. It can also be pickled in a lacto-fermented process that makes it a refreshingly sour accompaniment to dishes like eggplant (eggplant cooked in a garlic-soy-vinegar sauce) and pickled mustard-green soup. Even Sichuan chile oils are not just spicy; they are deep in flavor, laced with aromatics like ginger, garlic, star anise, cassia bark, cardamom, and so on.
For Gao, the best way to view any traditional ingredient is through a lens of experimentation, riffing on Swiss cheeses or menu items from American diners. "Sichuan cuisine has always been in flux, incorporating influences from other cultures," she says. "So it feels natural that it continues to evolve in our modern world."