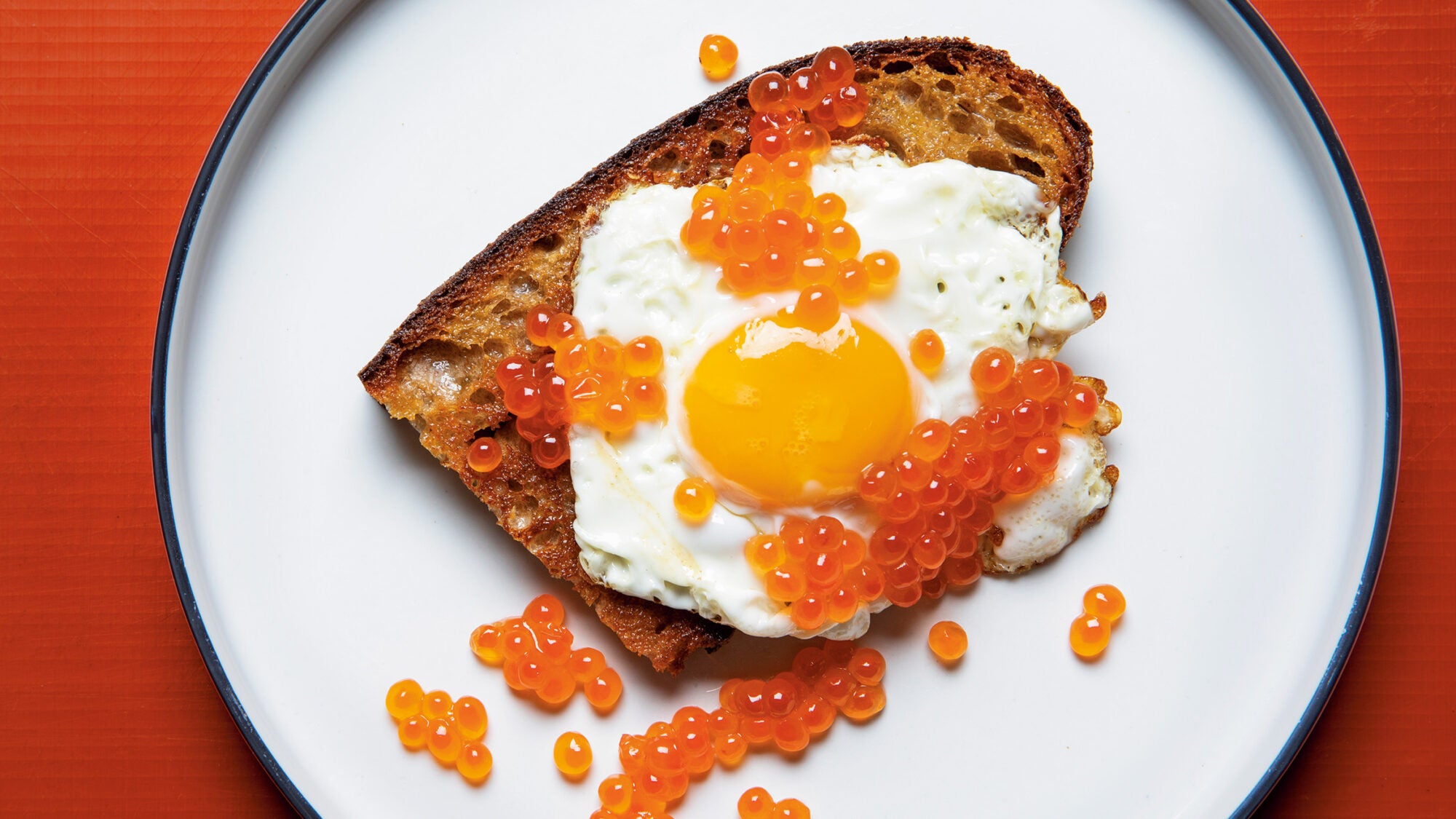 In Alaska, where salmon fishing is a way of life, roe is an everyday luxury.
From rice bowls to deviled eggs, recipes involving salmon roe tend to assume one thing: that you will not be buying more than a thimbleful of it. In New York, you might buy a two-ounce jar of salmon roe at Whole Foods for about $12, or a four-ounce shrink-wrapped tray of ikura (the Japanese name) at Sunrise Mart for the same price. In the grand scheme of caviars, it's modest—some belugas from the Adriatic sell for as much as $4,500 a pound. But still, the price is enough to keep the electric-orange orbs relegated to the category of an occasional garnish.
But in Alaska, the months between May and September bring thousands of Anchorage and Juneau residents (and seasonal workers from across the Pacific Northwest) to the state's bays, inlets, and rivers to haul in more than 200 million salmon to be sold all over the world. For many who fish the yearly harvest with dip nets, gillnets, seines, or good old-fashioned poles and lines, it's also an opportunity to collect a chest full of fish to smoke, can, pickle, or freeze, and eat throughout the year. But with access to some of the freshest salmon in the world, it's also a gold mine of what members of the industry call "green roe"—fresh, raw salmon eggs.
"I ate eggs with at least one meal a day from the time that we started fishing in late June to when I ended my season on July 22," says Melanie Brown, who fishes commercially on Bristol Bay, in the southwest corner of the state. "They are perfect on any egg dish, leftovers, salads, potato salad, salmon salad, or any fish salad," she says. Brown has nestled the pearls into the hollowed-out centers of kelp pickles, shoveled them into tacos, and scooped them onto crackers spread with Kewpie mayo. Channeling the spirit of the blinis she's had in Brooklyn's Russian enclave of Brighton Beach, she sometimes cuts pancakes into quarters and adds a dollop of sour cream and a heap of roe to the center.
"I ate eggs with at least one meal a day from the time that we started fishing in late June to when I ended my season on July 22."
Even at its wholesale value, salmon roe often exceeds $20 per pound, making it one of the most valuable products from the Alaskan seafood industry, and the great majority of it (between 17 and 29 million pounds per year) is exported. About 70 percent of the exported roe goes to Japan. The roe from sockeye salmon, which tends to be small, dense, and deep ruby red, is generally turned into sujiko—left in the intact skein (the natural membrane that holds the eggs in a cluster), packed in salt, and sold individually to use in sushi, rice bowls, and more.
Although Alaska's indigenous cultures have been eating uncured salmon roe straight from the skeins for millennia, a brief bath in an extremely saturated salt solution (in a processing plant or in a bowl in a kitchen sink) can kill harmful microbes inside the eggs, preserve the cell structure so that you can eat the eggs over the course of a couple weeks, and add a pop of flavor. Eggs that are removed from the membranes in processing plants tend to be cured and then frozen in industrial-size plate freezers and shipped around the world in bulk quantities.
The roe from the keta species of salmon is the most coveted to eat in loose caviar form—prized for its bouncy pop and its soft, oceany flavor. But for her home use, Brown cures keta, king, and sockeye roe with just a sink, a few bowls, and a clean tennis racket as her tools. There's about a 50 percent chance of opening up a salmon and finding roe, and each fish holds 12 to 24 ounces of roe—or, by current prices at Whole Foods, about $72 to $144 worth of it. This means that anyone who fishes, or has friends or family who fish, can end up with many pounds of eggs to cure and experiment with every season.
"My son loved eating roe as a baby and still enjoys it piled high on crackers."
"Every summer, when any of my friends go dipnetting, I ask them to store their roe on ice, and I pick it up the day they get home so the roe is only a day old," says Anchorage resident and blogger Natasha Price of Alaska Knit Nat. Price has made as many as 40 jars of roe in one summer, and she likes to eat it simply—on buttery crackers or by the spoonful, straight from the jar. "It's also a terrific baby food," she says. "My son loved eating roe as a baby and still enjoys it piled high on crackers."
Cordova writer Kinsey Justa, whose partner fishes commercially, cures roe from about five coho salmon per season. "Mostly I eat roe for breakfast on cream cheese toast with chives or on top of eggs," she says. "I have had it on vanilla ice cream before, and it was super good—sweet and salty!"
Christa Hoover, whose family participates in subsistence fishing, harvests and cold smokes two to four pounds of roe each season. "It's a delicate balance to keep the smoke in a home smokehouse cold enough that the roe doesn't get hot or even warm," she says. But the payoff is salty, smoky eggs that can be stirred into scrambled eggs for the final minute or two of cooking or piled onto grainy toast spread with lots of melted butter.
The process of home-curing generally begins with removing individual eggs from their skeins, either by gently agitating them in a bath of warm water until they loosen or, for maximum efficiency, by massaging the eggs through the mesh of a tennis racket. Next, the eggs get a three- to ten-minute bath in a cold saline solution. "If it brines for more than ten minutes, it's way too salty," says Justa. If the eggs have become cloudy or opaque in the warm water that's used to remove the skein membrane, the cold salt water will restore their jewel-like translucence. At this point, the eggs can be scooped into glass jars to refrigerate for 10 to 14 days, or frozen (although they're best fresh).
While a simple saturated solution composed of about 25 percent salt (where there's enough salt that some falls to the bottom without dissolving) will get the job done, the curing process is an opportunity for experimentation and personal touch. Brown uses a basic formula of two parts tamari, one part sake, one part mirin, and a tiny bit of apple cider vinegar. Justa's standard brine consists of mostly salt and water, with a bit of soy sauce and some ginger shavings.
Hoover has tried adding a touch of ginger or wasabi, but she finds herself returning again and again to the straightforward salt-and-water brine. "There are other ways to get those flavors incorporated into the final presentation if it's really important," she says. "Plain, salted roe is my go-to."