Weeknight Skillet Idea: Introducing the Dutch Baby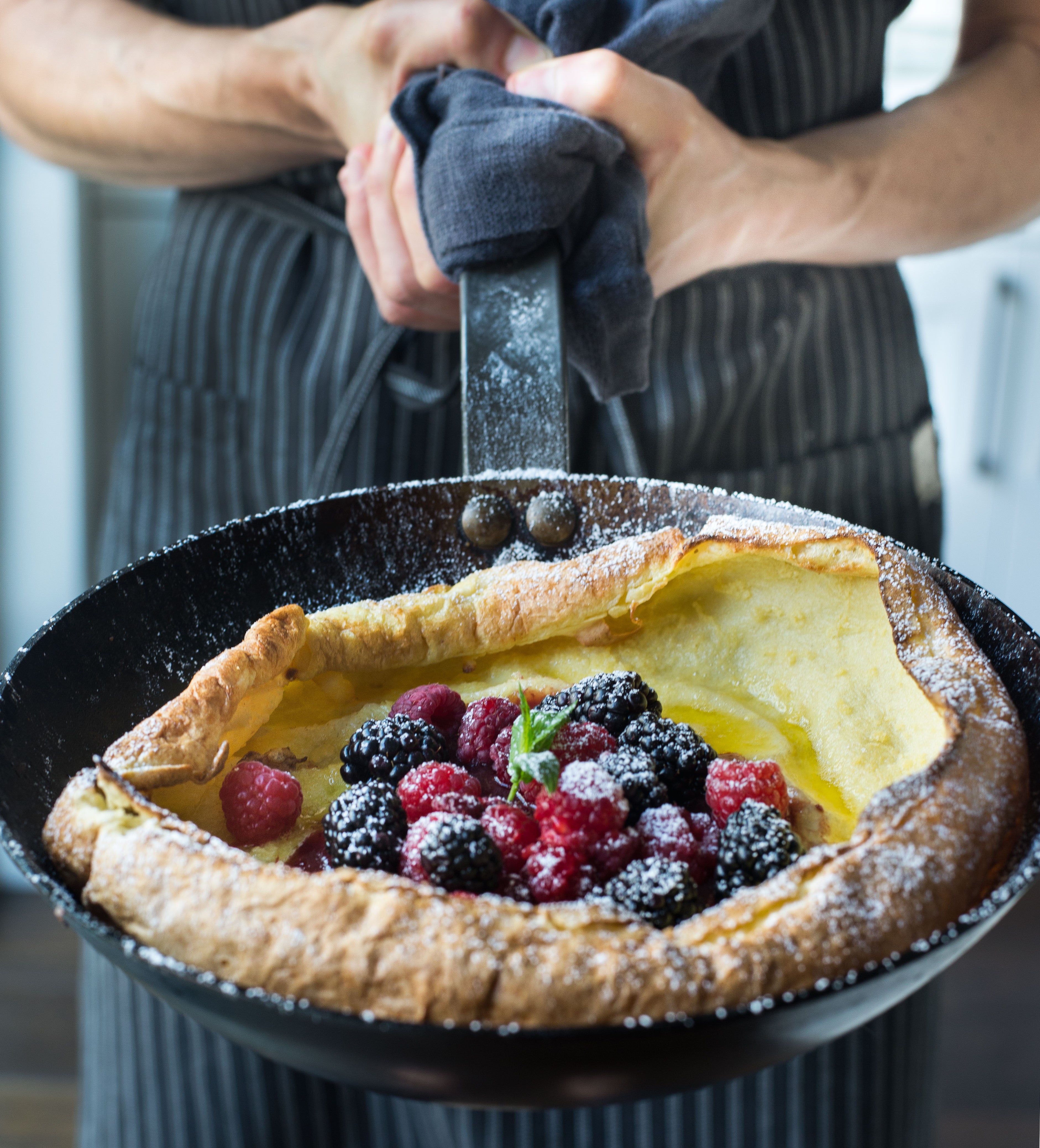 The Dutch baby is kinda like a crepe, and kinda like a popover. But it's also sort of a pancake. Anyways, I love it and it makes a great weeknight dinner (you can stuff it with fresh berries, sausage links, sautéed mushrooms, smoked salmon, an exploding egg or three). This is a recipe from my own childhood, and my mother actually has the original and very ratty clipping from the 1966 New York Times, where this was called David Eyre's Pancake. The only trick here is that the pan must be very, very hot (some call it smoking) before you melt the butter and pour the batter in—extreme heat is what will make the pancake puff. The ingredients should be cold from the fridge, or just slightly warmer than cold from the fridge, to make the puffiest pancake. And every now and then, for no discernible reason, the pancake will fail to puff at all, and you will feel like the opposite of a dinnertime hero. So it goes in the wonderful world of cooking.
DUTCH BABY PANCAKE
Hands-on time: 10 minutes
Total time: 35 minutes
Serves: 4
INGREDIENTS
2 eggs
½ cup milk (2% or whole)
½ cup flour
½ teaspoon kosher salt
4 tablespoons butter, cut into a few pieces
DIRECTIONS
1. Heat the oven to 425° F, then put the pan in to heat while you prepare the batter. A 10- or 12-inch cast-iron skillet is ideal, but you could use a comparably sized baking dish (Pyrex, say).
2. Now use a whisk to beat the eggs in a medium-sized bowl or a large measuring cup, then beat in the milk, then the flour and salt. The original recipe cautions against overbeating and recommends that you leave the batter a little lumpy, but we tend to beat it until it's just smooth.
3. By now your pan should be very hot. Add the butter to the pan and let it sit a few seconds, then remove the pan from the oven and swirl it so that the butter is melted and sizzling wildly. Quickly pour the batter into the buttery pan and return it to the oven. Set your timer for 15 minutes. You want it to be puffed and golden all over and brown in places; you will likely bake it another 5 minutes, but check it at 15.
Note: The original recipe has you sprinkle it with lemon juice and sieved powdered sugar, and it is delicious this way. But we usually eat it in big hand-held wedges, plain or spread with raspberry jam.