A Well-Seasoned Cast Iron for a Perfect Sear, and a Better Family Story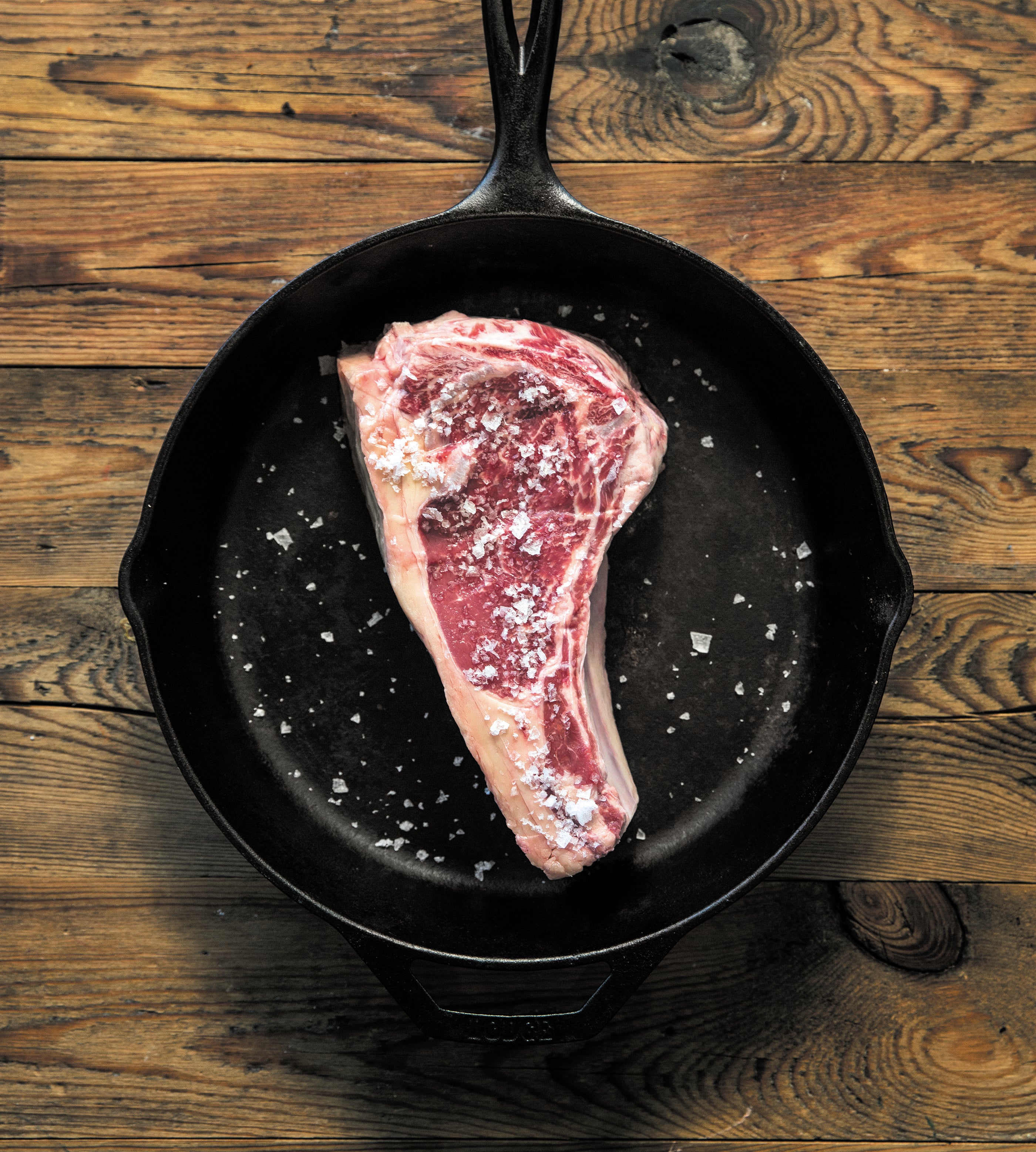 Sous vide machines, induction ovens, pressure cookers—technological gadgetry can be great, but for many chefs, there's nothing like classic, lo-fi cast iron.
If you want a perfect sear, turn to cast iron. If you want to bake tender sticky buns, turn to cast iron—it can tackle just about anything. Its ability to absorb and retain heat makes it an all-around kitchen workhorse, but the fact that it can last generations makes it beloved.
"It's one of the best pieces of cooking equipment you can have," says chef and cast-iron collector Joseph "JJ" Johnson of Minton's in Harlem. "Cast-iron pans aren't getting made at a rapid pace…we're not seeing them on shelves in stores. When you ask someone, 'Where did you get that?' it's usually 'From my grandmother.'"
That wasn't always the case, though, says Charlotte Druckman, the author of Stir, Sizzle, Bake: Recipes for Your Cast-Iron Skillet. During the first half of the 20th century, cast iron was "big business" in the U.S. (before steel usurped it), on par with the denim and auto industries; the largest manufacturers were Wagner, Griswold, and Lodge. In fact, Druckman used a new $15 Lodge skillet to test many recipes in her book. 
Personally, however, Druckman says she favors older, vintage skillets—which she seeks out on Etsy—because they're worn in and have a great patina, boasting a smoother finish than modern cast iron. "The models aren't sanded down the same, and they're preseasoned, so they have a sort of slightly gravelly texture," she says. (She's referring to the continuous oiling of vintage skillets, which is done in order to build up a layer of polymerized fat that's water repellent and protects the pan from both rust and food sticking to it.)
Johnson also searches for the more durable antique pieces when he goes to Vermont or upstate New York. He's had a pan for 10 years that he's incredibly attached to, despite his girlfriend's skepticism. "She laughed at me and brought out her stainless steel," he says, adding that he refused to give in. "I bought it new, seasoned it myself, and don't scrub it. I've cooked a lot of great meals in that pan and set off the fire alarm in my building a lot." Johnson says he cooks all of the fish at his restaurant in it, as well as cornbread and banana bread.
Last year, The New York Times ran a story by Julia Moskin headlined "Fashioning Cast Iron Pans for Today's Cooks," which described the trend thusly: "Well-seasoned cast-iron pans are the new broken-in jeans: proof of both good taste and hard use."
Anya Fernald, a sustainable-food expert and author of Home Cooked, agrees, saying there's been a quiet renaissance of cast iron because it's a forgiving way to cook and reflects the stripped-down way of cooking many chefs are returning to. "It's simple, heavy, handmade stuff," she says. "We're nostalgic for that kind of simplicity after years of being marketed layers and layers of different metals in our fancy, new engineered pans."
Her favorite cast-iron piece is a vintage chicken-fryer pan that she found at an antique shop. It's small and deep, with tall sides that help keep spattering to a minimum. "I love that there used to be a pot just for frying chicken, and in lard no less. There were a lot of downsides to life in the 1930s compared to now—that's not one of them."
Irvin Lin, author of Eat the Love: Sweets for the Mouth & Mind, is crazy about cast iron, too. He bought his first pan in college and has hauled it around the country with him for the last 20 years. He christened the pan by making cornbread and has since used it to perfect signature desserts such as pluot cardamom upside-down cake and apple blackberry tarte tatin. "It's well seasoned and just gets better and better with age. I can't imagine ever giving it up. It's an integral part of my kitchen," he says.
But perhaps the best story belongs to Genevieve Ko, author of Better Baking: Wholesome Ingredients, Delicious Desserts, who received her first cast-iron piece as a wedding present: an eight-inch, flame-colored Le Creuset enameled cast-iron skillet. "After our wedding and honeymoon, my husband and I spent a fun day opening our gifts, including this heavy little box with the skillet. I fell in love with it right away, but we couldn't figure out who sent it. We hadn't registered for it because it seemed like such an extravagance, and there was no note or receipt," she says. The company couldn't track down the sender and suggested the couple keep it. "I'm so glad we did. It's my daily workhorse. But it's also a reminder of a magical time, when we were crammed into our tiny first apartment, feeling so loved by all the family and friends who celebrated our wedding with us," Ko says, before adding: "The surface takes on a patina that seems to reflect the memories of breakfast eggs and steak dinners and blueberry crisps. Maybe I'm getting too sentimental, but that's how I feel about my little pan. It took me from my honeymoon to two babies, then three. Now they're almost in high school!"