Carbonara, But Make It Salad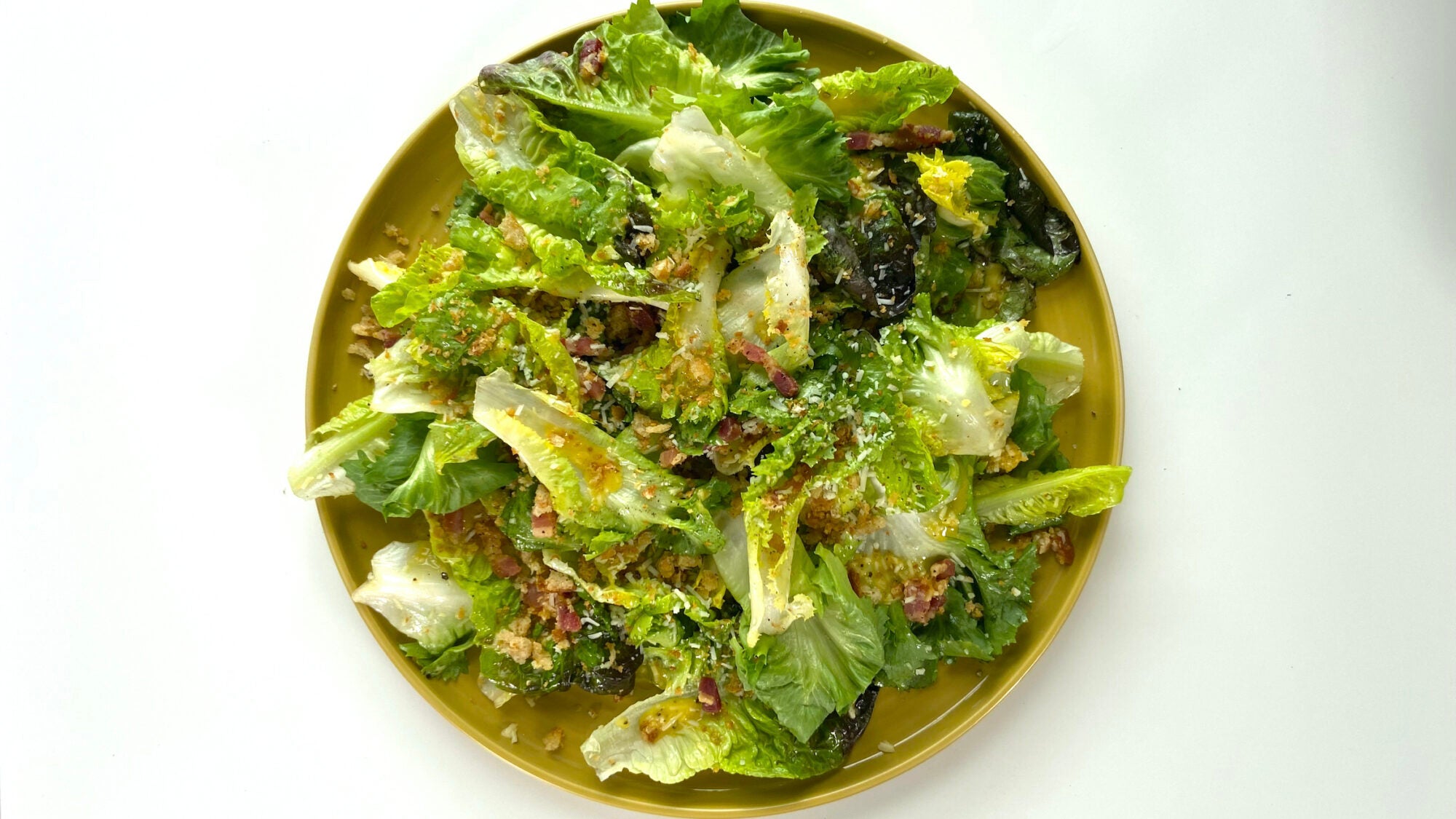 The Roman dream team of egg yolks, pecorino, and pancetta are here to gussy up your next head of romaine.
I feel I must begin by saying that traditional carbonara is a glorious food that needs no improvement. Please continue to coat al dente rigatoni or spaghetti in luscious guanciale fat and a saucy emulsion of egg yolks, grated Pecorino Romano, pasta water, and black pepper.
If I may go a step further, let me just say that I would never suggest that you eat salad instead of pasta. However, I would suggest that pasta shouldn't get to have all the carbonara fun, when cool and crunchy romaine leaves are such a great textural match for creamy egg yolks and salty bites of cured pork. This is not a low-carb, zoodle-esque take on a pasta dish. It is just a ridiculously delicious carbonara-inspired salad.
Perhaps defensively, I feel obligated to tell any Italian food purists or potential critics directly: I know. I know that this is not carbonara. If you'd like to keep reading, before you scroll down to the ingredient list and scoff at the presence of lemon and bread crumbs, you'll need to let your hair down, unbutton that top button, and maybe have a glass of wine.
Think of this as the Caesar salad's porky Roman cousin, or even the Caesar's love child with frisée aux lardons.
But a few touches make this salad special. Much like the pasta dish, its dressing gets richness from egg yolks, and seasoning and bite from lots of grated cheese and coarsely ground black pepper, while lemon juice lends freshness to balance all those elements.
You'll render the fat from pancetta (or guanciale, if you can find it), cook the cured pork until delightfully crisp-chewy, and then use that rendered fat to toast and flavor garlicky bread crumbs. I prefer the more rustic feel of homemade bread crumbs here (basically whatever bread I have around pulsed in the food processor to a coarse crumb), but you can absolutely use panko. I also happen to love the mild bitterness of escarole against the rich and savory elements of this salad, but romaine works beautifully, too.
While carbonara salad can stand alone for lunch, add it to your next dinner party spread as an appetizer or side to a protein or pasta (hell, carbonara two ways, anyone?). If you can't get behind the sheer lawlessness of a carbonara salad, feel free to instead think of this as the Caesar salad's porky Roman cousin, or even the Caesar's love child with frisée aux lardons.