Caraflex Is the Ultimate Cabbage Flex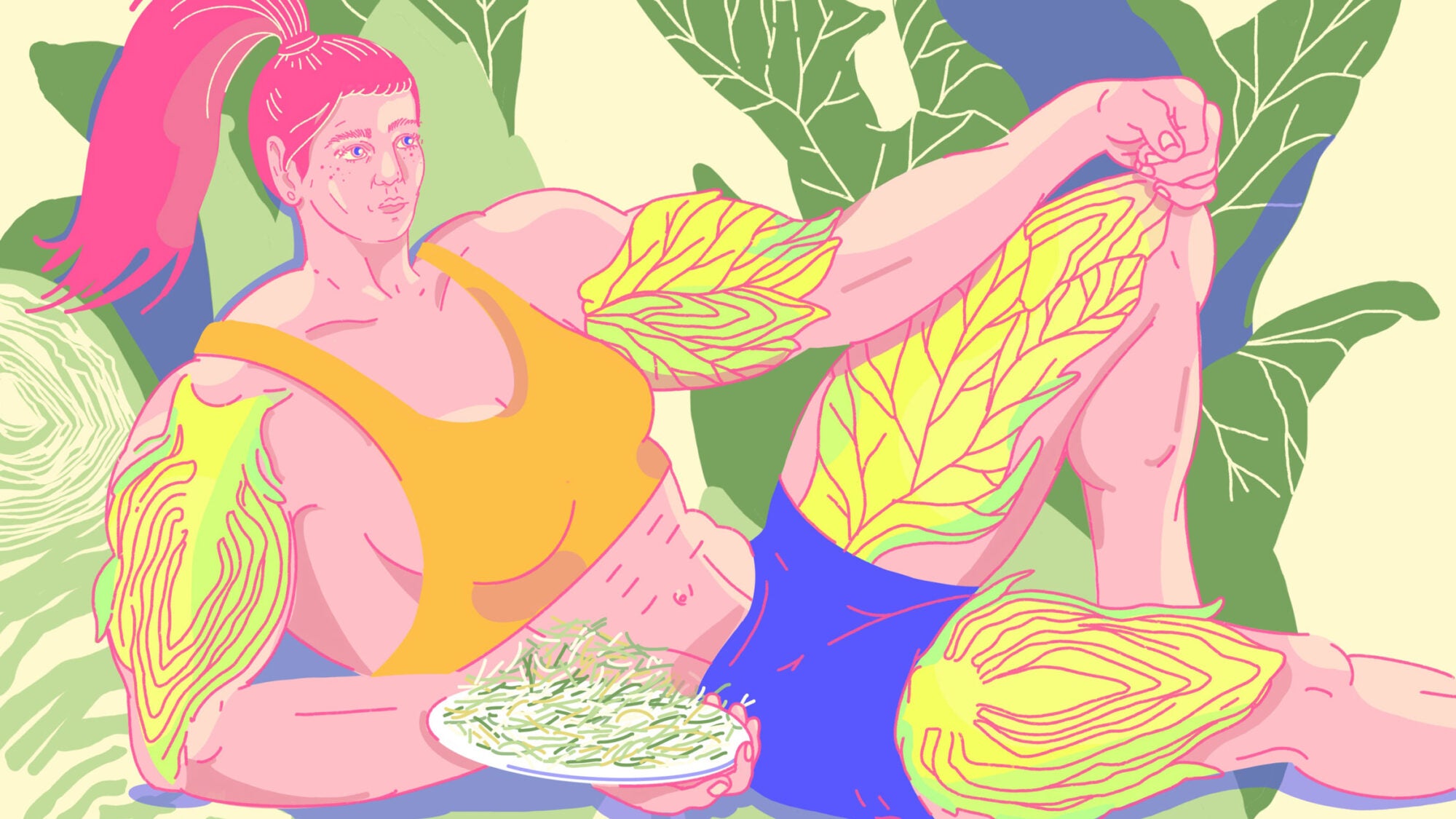 The clamor for this conical vegetable has reached a new high.
With its old-world applications and piercing sulfur smell, cabbage has a bit of a reputation to overcome. The hardy crop has long been the poster vegetable of austerity (case in point: the vats of sauerkraut that have ushered generations of Eastern Europeans through lean winters). Even now, when every little sprout and leaf seemingly has its 15 minutes in the spotlight, the possibility that cabbage is being recognized for its deliciousness, instead of its health benefits or affordability, is unexpected, to say the least.
But the Brassica of the moment isn't the same kind we're used to seeing in the patch. It's Caraflex cabbage, a sweeter Bantam variety with lettuce-like crunch that has recently found favor among chefs and farmers alike. The immediately recognizable coneheaded cabbage tends to be harvested at just a pound or so, though these narrow romaine-heart-size heads can easily grow much larger. With water-rich, white-green leaves loosely spiraling to a point, Caraflex is more perishable and delicate than the common green, red, and Savoy options, but it's also much less pungent. And it's being name-checked more and more on menus from Philadelphia's Vernick Fish to Senia in Honolulu.
Caraflex gets a serious close-up at Gramercy Tavern, the stalwart New York City restaurant known for seasonal American cooking, where it appeared on a recent lunch menu atop a Wagyu pastrami sandwich with Comté and Grenada pepper aioli; it's currently served on the dinner tasting menu alongside smoked Arctic char. Michael Anthony, the executive chef and author of V Is for Vegetables, says that "without exaggerating," Caraflex is "one of my favorite things to eat." An early adopter, Anthony has been working with it at the restaurant for years—even before the current frenzy began. He describes the vegetable as having a "depth of flavor, pronounced sweetness, great texture. It's so delicious on its own that it's great for making coleslaw." 
"This year, we tripled the previous year's planting because there was so much interest, and we sold out in October."
If you can imagine cold cabbage being an internationally renowned chef's favorite food, it's a testament to the farmers who believed in the plant to begin with. The ancient variety is well known in Northern Europe and the UK, especially in its native Germany, where the fall harvest of Filderkraut, as it's called, is celebrated every October with a festival (complete with drunk Germans riding communal bikes in pointy-cabbage costumes). But Caraflex remains something of an experimental crop on American farms. Greg Swartz of Willow Wisp Organic Farm in Damascus, Pennsylvania, has been growing and selling it at New York City greenmarkets for three years now. At first, he admits, "I grew it just because I thought it was interesting." But demand has increased every year since. "This year, we tripled the previous year's planting because there was so much interest, and we sold out in October, so I should have planted more." 
Bob Cat, an owner and farmer at Main Street Farms in Cortland, New York, says his favorite part about the cabbage is the diminutive size. "They're easy to grow, and as someone who likes to cook, they're actually easier to deal with as well, easier to cut into." Though he might only price Caraflex at $3 a head, it can be a harder sell in some farmers markets where people "don't like to pay lots of money for things that are small." Swartz harvests his Caraflex small, when they are about a pound, and sells them around NYC for $5 per head, the same price as his soccer-ball-size green cabbages, though the size hasn't affected their popularity.  
But the small size may be only part of the appeal. The Caraflex cabbage at LaLou, a natural-wine bar in Brooklyn that opened in June 2019, plays to the strengths of the compact cultivar in a dish that debuted on its menu in November. Chef Jay Wolman first steams the entire cabbage before slicing it in half and searing it in a hot skillet until charred. The cabbage halves are sparingly dressed with salty anchovy butter, raw garlic oil, wine-plumped raisins, and a sprinkle of toasted breadcrumbs, letting the radiating inner leaves of Caraflex become the visual focus of the dish as they transform from gold to brown to black. "Aesthetically, it's a beautiful ingredient," but it's also versatile, he says. "You can braise it, roast it, eat it raw." 
"As soon as I started working with it, I was hooked. It was more delicate, more tender, and less bitter than regular cabbage."
While Caraflex is easily swapped with regular green cabbage in most recipes, the difference it makes is one of finesse. Terry Walters, author of Eat Clean, Live Well, discovered the cabbage at her local organic farm while leading a fermentation demonstration. "As soon as I started working with it, I was hooked. It was more delicate, more tender, and less bitter than regular cabbage." It's now her go-to option for making sauerkraut. 
In addition to bringing an interesting flavor to an average dish like stir fry or salad, the specificity of a resurrected heirloom variety can add name recognition to what might otherwise be overlooked as just another vegetable. In the same way that many people swear by San Marzano tomatoes for pasta sauce, or Satsumas for their marmalade, it's a hot-ticket item to chase down when you can—and to covet when you can't. Caraflex is the shorthand that lets you know you're getting something special enough to be classified, something with a backstory, and something that just might sell out if you don't get to the market fast enough.