Cotton Candy, But With Pork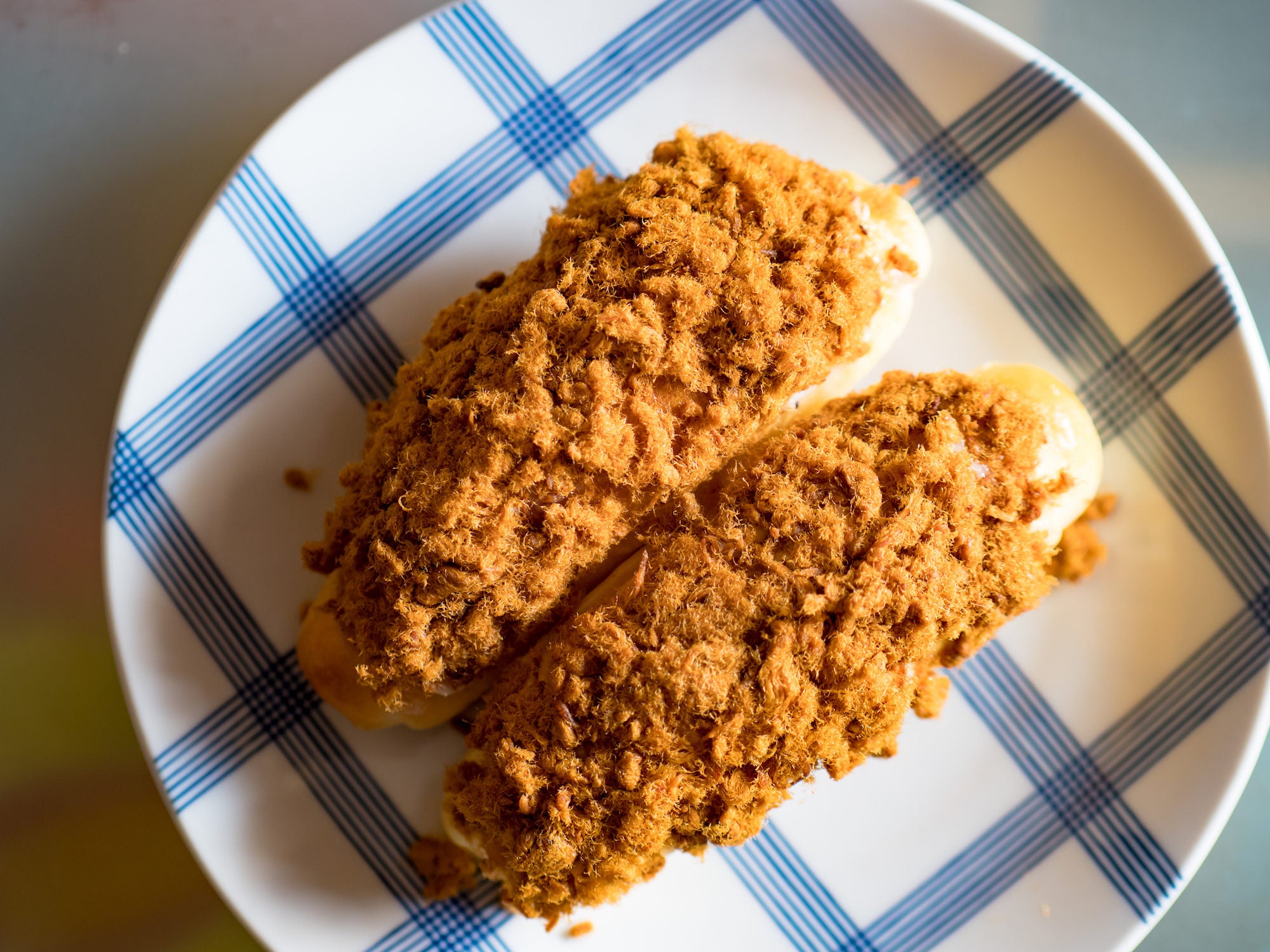 Pork floss pairs well with congee, omelets, sponge cakes, and Swiss rolls, but it's also perfect just straight out of the jar.
For most kids, cotton candy is the stuff of dreams. Sugar that disintegrates as soon as it touches the tongue, leaving a lingering soliloquy of sweetness that conjures up thoughts of carefree afternoons at the carnival playing skee-ball and ring tosses. But for me, it was all about pork floss—an ingredient that provides that same stringy melt-in-your-mouth texture, but with a whole new set of flavors. It's savory and spice-laden, with the flavor of carnitas-like stewed pork, and chock-full of meaty umami.
Called rousong or yuk sung (肉鬆) in China and throughout Chinese communities in Malaysia and Indonesia, pork floss falls somewhere between a snack and a condiment. It's made by braising lean cuts of pork in a sugared soy sauce broth until spoon-tender, then shredded and tossed in a dry wok for hours on end until it dries out and puffs up into feather-light tufts of meat fluff. Like its name suggests, it acts like candy floss, or a super airy mousse, dissolving with the mere touch of moisture, releasing all that intense, concentrated meatiness in your mouth.
The pantry staple has as many variants as there are flavors of jerky in American gas stations. There's the standard salty-sweet plain mix, a few variations with toasted sesame seeds and crispy seaweed tossed in for texture, and even spicy versions speckled with chile flakes to appease the heat-loving Southeast Asian palate. The flossy texture isn't exclusive to pork. Beef, fish, and even vegetable variations exist, and they are especially popular in Muslim-majority countries like Malaysia and Indonesia, where beef or chicken floss, called serunding, is regularly used to top rice bowls, herb salads, and even curries and fried chicken.
In its birthplace of China, the savory floss often takes on the role of a flavor-enhancing condiment, used to top a meal of plain congee or white rice, where its rich umami-ness is enough to make up for the stark bareness of the rice. In fact, to use pork floss, all you really need is a mild vessel of some kind. It can be sprinkled into mayo sandwiches, hidden within omelets or egg rolls, and even used to garnish lightly steamed Chinese greens, like gai lan and choy sum.
Though less common, pork floss has found its way into the realm of savory desserts in China as well, featuring in unexpectedly tasty monstrosities like pork floss croissants, sponge cakes, and Swiss rolls. Imagine buttery flakes of puff pastry, only instead of the typically sweet flavor pairings, each layer here conceals pillowy pops of umami that release as you bite through the pastry. Or think of a savory pastry like a Cornish pasty, only instead of that oily, food-coma-inducing heaviness, the meat here is light as a feather.
Personally, I'm a pork floss purist. As a kid, I could be found shoveling spoonfuls of the stuff straight from the tub into my mouth in lieu of looting cookies from the cookie jar. Or for a more substantial meal, I'd have it sandwiched between two slices of Gardenia—Malaysia's Wonder Bread—sans condiment or sauces, not allowing anything to take away from the porkiness of the floss melting in my mouth and engulfing my taste buds.