If You Can Boil Water, You Can Make Kitchadi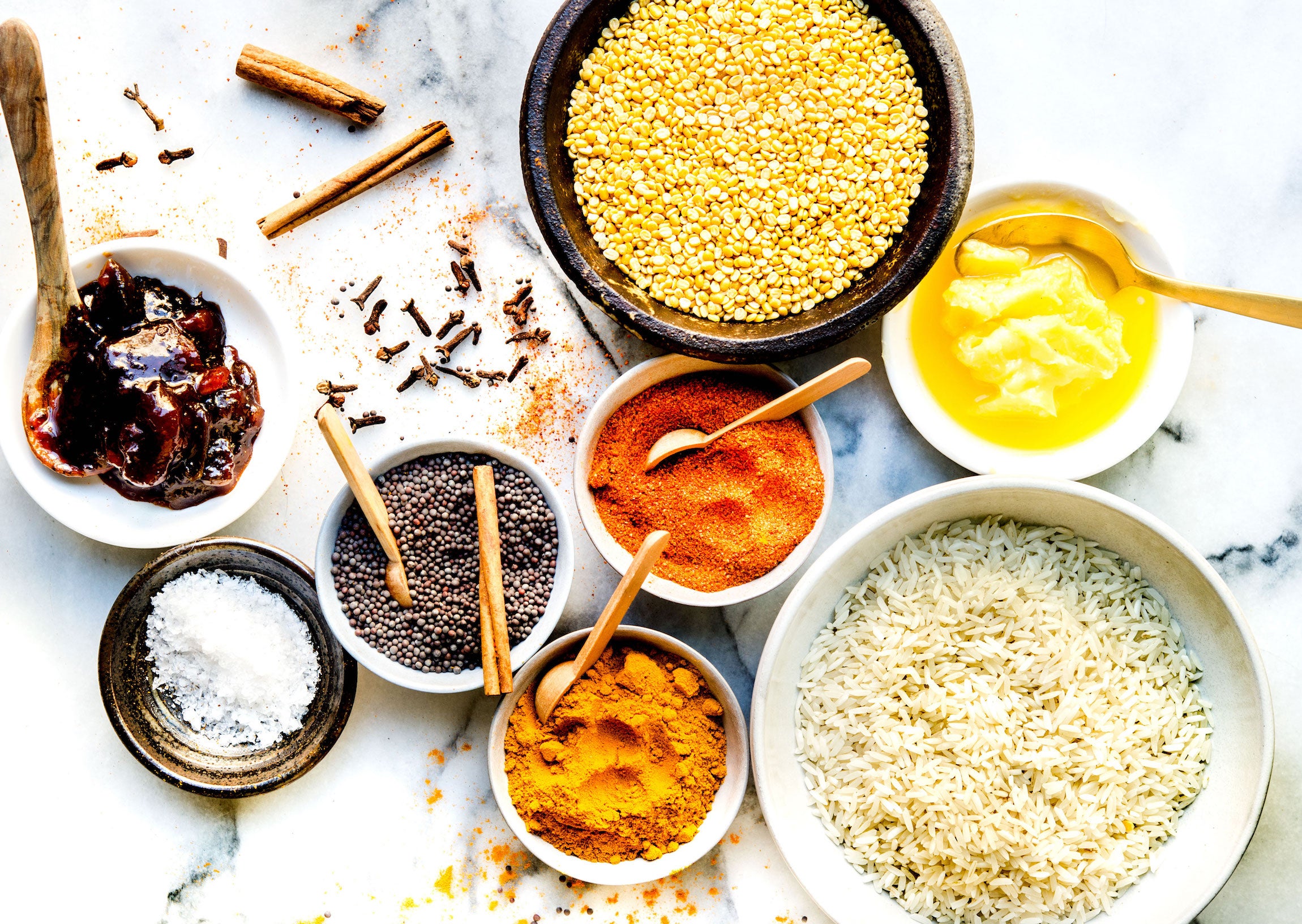 There's a reason everyone from Deepak Chopra to Jean-Georges Vongerichten is making this fragrant and fortifying rice and mung bean dish.
I have a confession to make: I am deeply fascinated with casseroles. Yes, those canned-soup-meets-frozen-vegetables-and-tater-tots casseroles. Though casseroles are a staple of the Midwest, where I grew up, they never quite made it to my family's dinner table. After all, casseroles are the ultimate one-pot meal, a concept that is hard to find in Indian cooking. If anything, Indian food is often the polar opposite, requiring someone to unleash their entire arsenal of dishes—even the most basic of dinners includes a dal, rice, roti, and a vegetable—for a single meal. But there are a handful of exceptions. My favorite super-simple Indian dish? Kitchadi. It's my go-to meal on days when washing more than one pot and one spoon seems like a Sisyphean task.
Made from a simple mixture of rice, moong dal, and a handful of spices like cloves and mustard seeds, kitchadi is one of the humblest and most popular dishes in the Indian recipe canon. It's a simple comfort food through and through: You eat it when you're sick, you eat it when you're cold, you eat it after funerals, you eat it if you're rich, and you eat it if you're poor—it manages to transcend most boundaries. But you'll rarely find kitchadi (which is sometimes referred to as kitchari) at a restaurant. It's one of India's many magical dishes that tend to fall squarely in the domain of home cooks. Which is why I did a triple take when I first saw the menu of Jean-Georges Vongerichten's new hip vegetarian restaurant, abcV. There it was, under a section called "warm and sustaining," a $9 bowl of kitchadi. The French chef—who makes his version with the atypical addition of fermented carrots—admits he took the recipe directly from spiritual guru Deepak Chopra.
Then again, maybe I shouldn't have been so surprised to see kitchadi pop up on a restaurant menu. As far as trendy qualifying dishes go, it checks all the boxes. The dish is naturally gluten-free and vegetarian (or vegan if you sub ghee for oil!), and it gets its vibrant yellow hue from turmeric, a staple Indian spice that is currently a health-world darling people can't help putting into tonics. And on top of it all, kitchadi also happens to be incredibly healthy.
In Ayurveda, the Indian holistic approach to medicine, there are few foods more nutritionally potent than kitchadi. The dish is said to be easy on the digestive system, great for detoxing the body, and even allegedly useful for "de-aging" cells. While that last item has never been proven, I can vouch for the first two claims. Kitchadi is a light dish that is the best way to end a particularly indulgent week. While some people turn to bottles of green juice after the holidays, I tend to go on what you could call a kitchadi cleanse. (Maybe I should trademark this?)
But what has always drawn me to the dish is how easy it is to make. If you are capable of boiling water, you are capable of making kitchadi. My favorite cooking method involves simply combining rice, dal, and water in a pot, along with spices that have been fried in oil until fragrant, bringing that to a boil, and then chucking the pot into an oven to finish cooking. Sure, you could finish it on the stove, or whip it up in a pressure cooker (I do this when I'm short on time), but the oven makes cooking hands-off and lets you focus on another task while you're waiting for the kitchadi to cook.
I like to use that time to figure out what I'm going to eat with my kitchadi. Depending on my mood, I'll top my bowl with a dollop of ghee, a spoonful of spicy mango pickle, or a heaping of cool, creamy plain yogurt. If I'm feeling indecisive, I'll go for all three at once, or skip them altogether in favor of a glass of chaas—buttermilk spiked with tempered cumin seeds and salt. With kitchadi, as with casseroles, whatever you decide is not wrong. Except maybe the tater tot crust.