Calabrian Chiles on Everything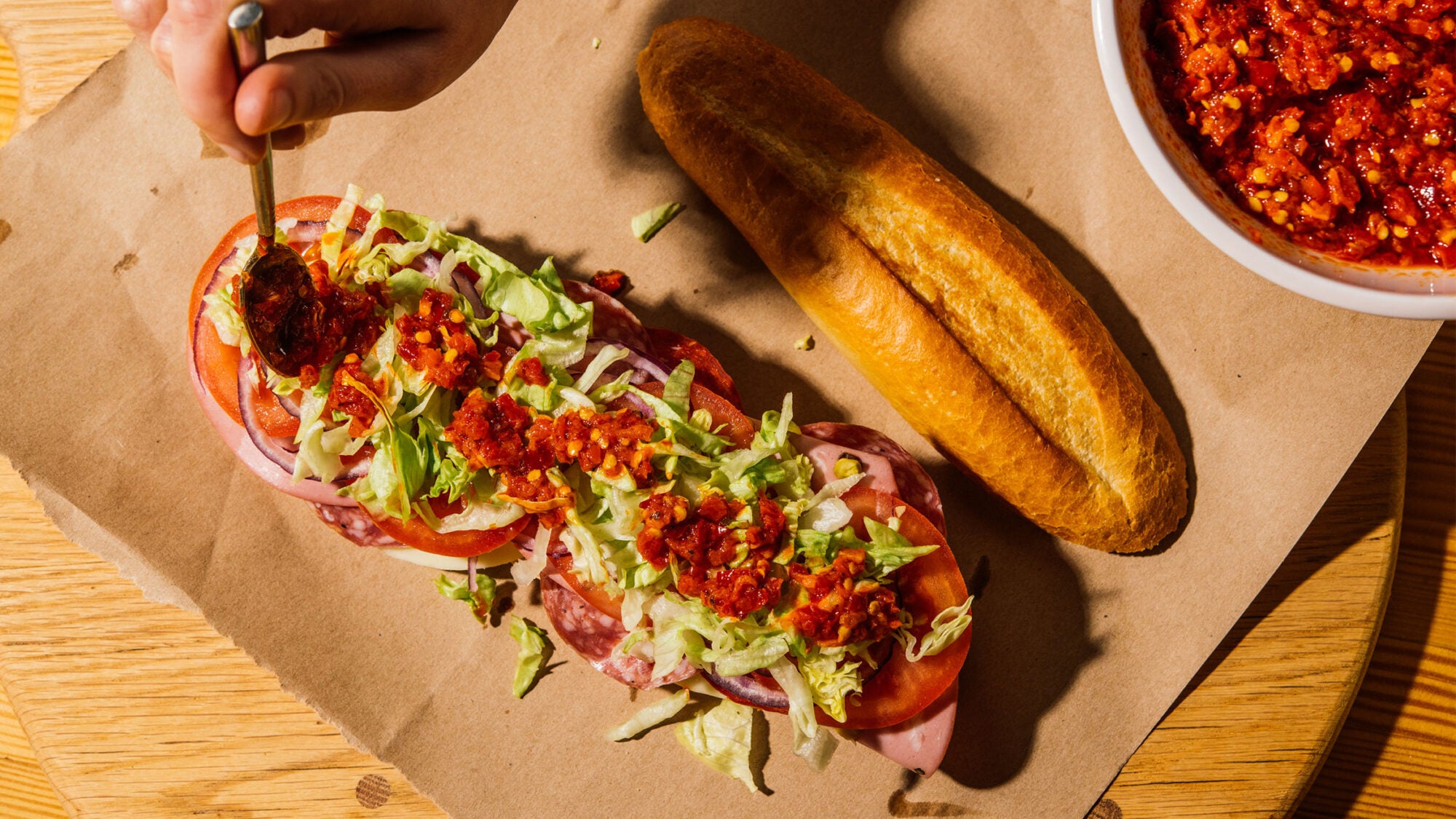 Infused in oil or blended into spreads, the subtly sweet, spicy Southern Italian peppers are prime for sandwich condiments, tomato sauce mix-ins, or topping tuna loin.
Calabria is the toe of the Italian boot, and—with respect to historic invaders like the Hapsburgs, Bourbons, Aragonese, and Saracens—it has never been a major travel destination. But for today's modern cook, there is a Calabrian moment afoot, led by the region's agricultural calling card: the flavorful, subtly spicy, wonderfully low-key Calabrian pepper.
A good number of chiles grow in Calabria, including varieties like Naso di Cane and Sigaretta, to name just two celebrated at the annual Festival del Peperoncino in the town of Diamante each September. It's fair to say that these are moderately hot peppers, but it's that very characteristic—a push toward the middle—that makes them special: hot enough to enhance a spread or a sandwich, but never so hot as to scorch, overpower, or rudely rend asunder the other flavors in a given dish.
This makes the Calabrian chile pepper, typically sold crushed, with a few seeds, and packed in oil, wonderfully malleable, and it helps explain its current vogue for home cooks, not to mention on contemporary bistro menus around America. The oil of the Calabrian chile pepper pairs beautifully when infused into honey, then drizzled over many sorts of fried things (Taleggio cheese quickly pan-crisped in bread crumbs, or a restaurant-style fried mix of octopus tentacles). It is an incredibly good idea to puree these chiles with San Marzano tomatoes for a spicy pasta sauce. You can mix the paste or oil with mayo for a warm, peppery base spread for any sandwich, but particularly a sandwich incorporating Italian-style cheeses and meats (provolone and coppa, please).
I love a bit of Calabrian chile condiment mixed in a bowl of hummus, or blended with melted cheese in place of RO-TEL for a complex, spicy queso dip, or atop a beef burger beneath a layer of goat cheese, or mixed up with a generous amount of oregano, basil, and rosemary for a batch of sheet pan chicken.
Many brands in the Calabria region incorporate the local chiles into all sorts of prepared sauces, condiments, and spice rubs. My favorite is Tutto Calabria, who make around 60 different products, from simple dried chiles to complex spreads and sauces, jars of 'nduja, and peppers stuffed with Quartirolo cheese. The family-owned, multigenerational brand is based in the commune of Marcellinara, just outside the city of Catanzaro, in a narrow strip of Calabrian land bordered by the Tyrrhenian and Ionian seas. "The Calabrian region has a long, long relationship with the chile," says Paolo Celli, descendent of Tutto Calabria founder Antonio Celli. "The climate and the soil here are perfect to grow the chile, and the Calabrian people love to eat the chile! It is our passion."
At home, I like to cook with Calabrian chiles using dead-simple recipes, and both involve my very favorite form of the pepper, which is Tutto Calabria's Miscela Esplosiva, or "hot spread sauce" (sometimes also translated as "Calabrian chile condiment"). It's a base of sunflower oil and Calabrian chile peppers, along with a fine mince of carrot, eggplant, mushroom, artichoke, and dried tomatoes.
Each of the following recipes—for spicy tuna loin and a vegan Italian hoagie—involve adding Calabrian chiles to a pan-seared protein, then enhancing the dish by reusing the lovely, spicy oil left from cooking. About the only way I've yet to try Calabrian chiles are on the dessert table, although, to be honest, some chile oil brownies do sound pretty good. If you take on the challenge, send samples.