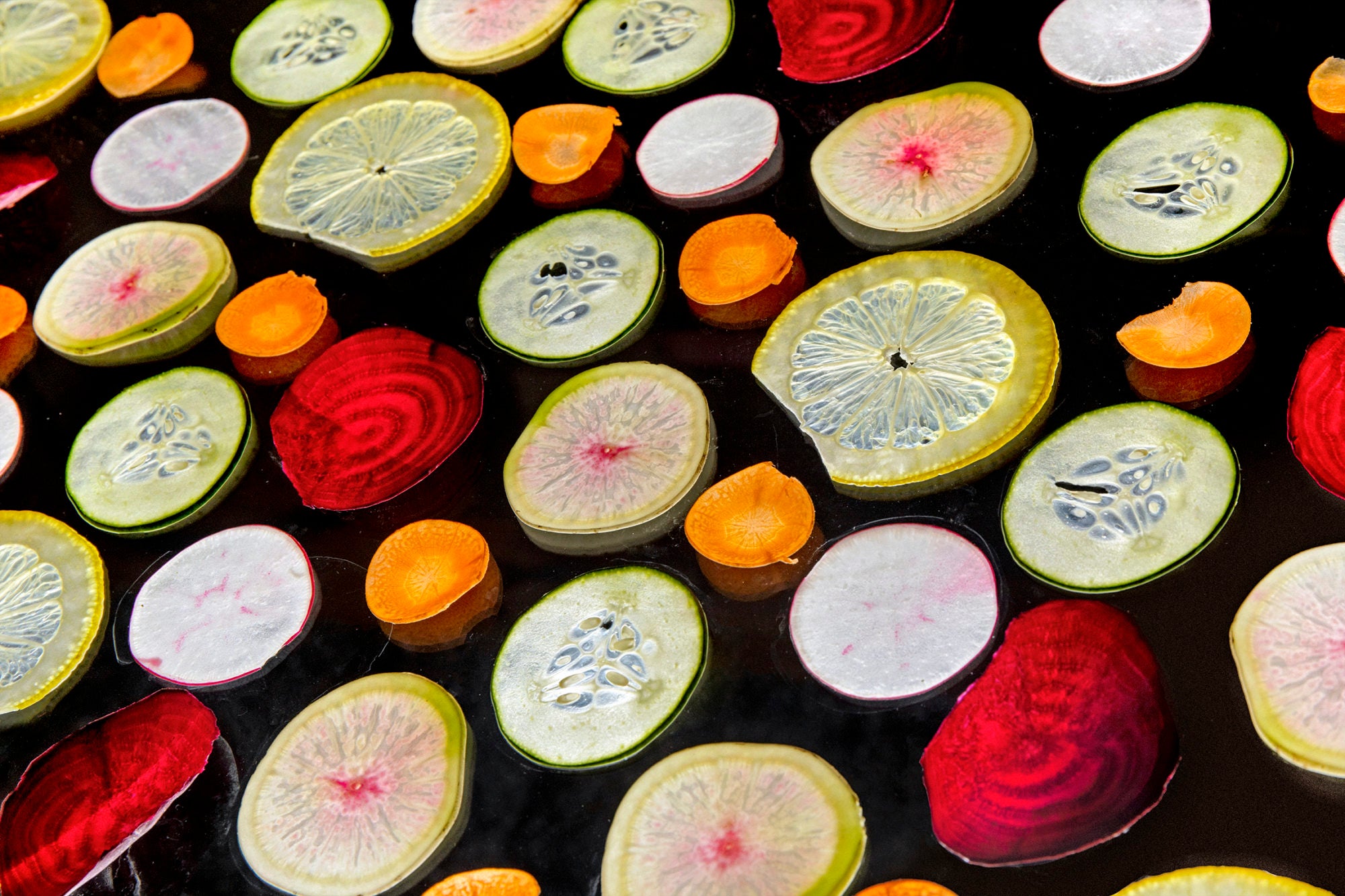 There's a lot to love about the chef's favorite kitchen cutting tool—no knife or cutting board necessary.
While I don't have razor-sharp knife skills, I do have a mandoline, and that's almost the same thing. Thanks to this handy (and honestly really cheap) slicing tool, dishes like scalloped potatoes, fennel salads, and lotus root chips can be prepped with great efficiency. At its simplest, a $15 mandoline might consist of a single-blade slicer. More advanced models, costing between $20 and $40, include interchangeable blades, allowing you to grate, julienne, or shred just about anything that will hold up—think matchsticks of carrots, crinkle-cut fries, or thin discs of roasted beets.
In restaurant kitchens, where prep cooks are often racing against the clock to decorate fruit tarts with lemon wheels or to arrange watermelon radish garnishes, mandolines are a godsend. At Clay, a New American restaurant in Harlem, chef Gustavo Lopez relies on the tool every day. Its usefulness ranges "from slicing radishes, pears, or apples for the salads to preparing some of the garnishes for the pastas, like the garlic chips, since they need to be cut precisely in order to cook evenly," he tells me.
Similarly, at Olmsted in Prospect Heights, Brooklyn, many vegetables hit the blade, but potatoes are a favorite for chef Greg Baxtrom. That consistency is key for dishes like potato latkes. "The sliced potatoes all come out the same size, so they all cook in the same way," he says. "This way your finished product is all perfectly crisp with no soggy larger pieces."
While ribbons of zucchini and translucent slivers of cucumber have their own impressive visual appeal, the mandoline also brings an unexpected softness to firm, crunchy vegetables like these. To make Clay's kohlrabi salad with apples, Lopez explains that the main ingredients let the mandoline do the heavy lifting, getting the julienne and thin-sliced treatment—no knife or cutting board necessary. Plus, thinly shaved vegetables are easier to coat evenly with dressing, resulting in a better distribution of flavor.
But mandolines aren't exclusive to professional kitchens, or even advanced home cooks, for that matter. Stainless steel restaurant-grade versions reflecting the traditional French style with a straight blade tend to be bulky (with a countertop stand) and pricey (over $100), but there are a slew of options scaled down for the at-home slicer. Japanese-style mandolines have popularized a more practical version—a lighter-weight form that's handheld, plus a diagonal blade that yields smoother cuts. Both Lopez and Baxtrom are partial to Benrier, a handheld Japanese mandoline prized for its superior craftsmanship and super sharp blade.
With a few quick swipes across the cutting plane, a whole red onion transforms into a small mountain of shavings ready to get quick-pickled in apple cider vinegar. (The idea of an exposed blade may make some home cooks wary about safety. But gripping hand guards or cut-resistant gloves are designed to protect from hand slips and cut grazes.) It's not as common of an occurrence as you'd think—as long as you use the same amount of caution as you would cutting with a knife.
Once I added a mandoline to my own kitchen a year ago, I was hooked. I began to slice everything from nickel-sized radish slivers to top clouds of ricotta on toasted sourdough to the persimmons that starred in an upside-down cake. The mandoline is an indispensable kitchen sidekick, no matter how you slice it.