Buttermilk Beyond Baking: Use Up That Full Carton!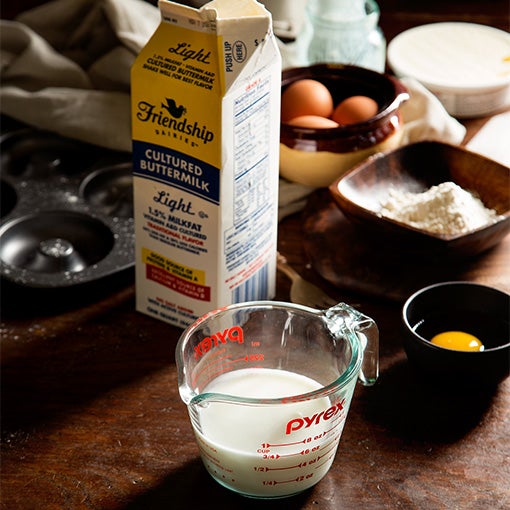 For many cooks, buttermilk is one of those ingredients you only reach for when baking. You pour out that meager quarter cup, bake your heart out, and then you're left with a mostly unused carton that, after weeks of neglect as you debate its bracing tanginess, sours and ends up in the trash. No more! Buttermilk is one of the most versatile ingredients going. It can be used as a brine, whisked into a salad dressing, blended into a cool drink, or swirled into soup.
Southerners seem astonished when confronted by the fact that most Northerners are stumped about what to do with extra buttermilk.
Anna Olson, author of Bake With Anna Olson: More Than 125 Simple, Scrumptious and Sensational Recipes to Make You a Better Baker (Appetite by Random House), is a huge fan. "I love baking with buttermilk—it adds richness and zip to baked goods without adding fat," she says. "If I have any left after baking something like buttermilk biscuits (recipe below), I use the remainder as a base for a salad dressing that's low-fat yet creamy, or as a marinade for chicken that I then coat in breadcrumbs and bake." Olson's favorite buttermilk secret? You can freeze it. "Once thawed, just give it a good shake and it's ready for your next baking adventure," she says. (We recommend freezing the buttermilk in an ice cube tray; once frozen, remove from the tray and store the cubes in a ziplock bag for up to three months.)
Cynthia Wong, the executive pastry chef at Butcher & Bee in Charleston, South Carolina, and Nashville, Tennessee, loves to use leftover buttermilk in donuts—within the batter and as part of a tart, lemony glaze (recipe below). "I love baking with buttermilk because it adds tenderness and a nice, light, lactic tang," she says.
Southerners seem astonished when confronted by the fact that most Northerners are stumped about what to do with extra buttermilk. Their answer, nearly uniformly, is either to drink it cold, straight from the carton on a hot day, or to dunk pieces of cornbread into it and slurp it with a spoon. That's what cookbook author Debbie Moose remembers from her childhood in North Carolina. "Buttermilk has such an iconic position in Southern history and cooking," says Moose, who is the author of six cookbooks, including Buttermilk: A Savor the South Cookbook (The University of North Carolina Press), which features 50 recipes using buttermilk.
Moose favors it for salad dressings—mixed with lemon juice and blue cheese to pour over an iceberg wedge, or blended with avocado and herbs for a riff on green goddess dressing. She also loves it in quiche, in cold soups, and in ice cream or panna cotta. Naturally, her pound cake recipe also uses buttermilk (recipe below). "The tanginess really balances out the sweetness," she says. But one of Moose's most interesting ideas for buttermilk is to use it as a poaching liquid. "In researching this book, I discovered that buttermilk is actually terrific for poaching fish," she says. "It really takes away that fishy taste and makes it very tender and flaky because of that high acidity." Moose says it works well for any white-fleshed fish, such as cod, snapper, flounder, or halibut (so avoid tuna and salmon). "Just bring it to a simmer for a couple minutes, then turn them over until they are done," she advises. You can also use leftover buttermilk to brine chicken. "I always soak chicken overnight in buttermilk before frying it the next day," Moose says. "It makes the chicken very tender."
Buttermilk is also highly prized in Indian cooking. "Buttermilk is our original fermented milk in India and is referred to as lassi in Hindi and Punjabi," explains Meeru Dhalwala, co-owner of Vancouver's celebrated Vij's Indian restaurant and the author of Vij's Indian: Our Stories, Spices and Cherished Recipes (Penguin Canada). "We either drink it very cold, with some ice added to it and a bit of salt and pepper stirred in, or we add it to many of our curries for a slightly sour, yet lovely and velvety taste." Dhalwala suggests using it in savory cooking as you would with other dairy.
Whatever you decide to do, don't just toss it. As Moose reminds us: "A quart of buttermilk is a goldmine."