Butter Mochi Stands Plain and Proud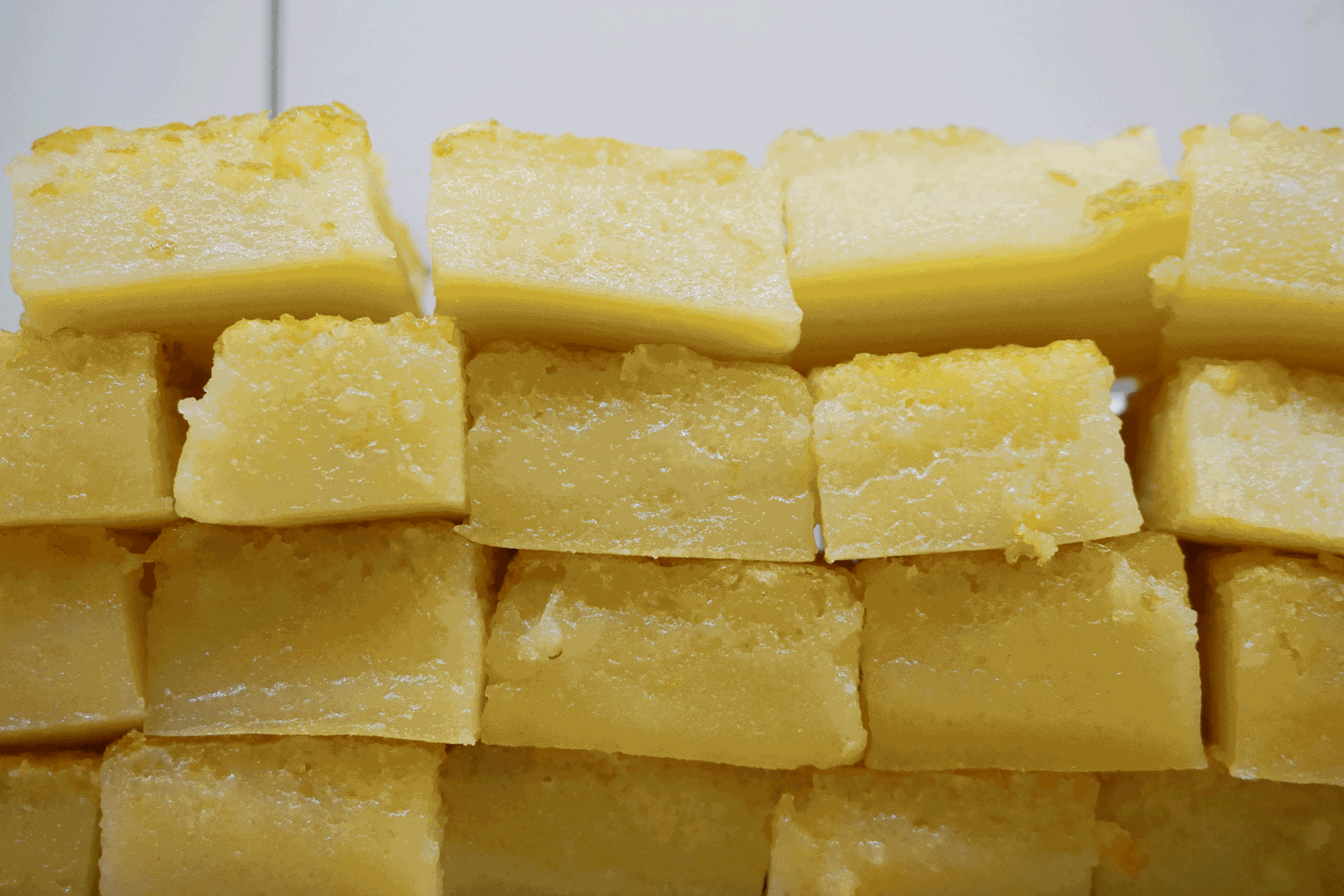 The Hawaiian dessert may not look like much on the outside, but simplicity—and ridiculous richness—is at the heart of each butter mochi.
My first bite of butter mochi was a freebie that came with the dinner bill at a Malaysian crab restaurant. At the time, I didn't know what I was eating. Was it pound cake? Bite-size, square, and in the familiar yellowish hue, it was squishy between my fingers, instead of the typically light and airy desserts I subscribed to. I was expecting that same crumble when I bit into pound cake, and its gooey, glutinous texture was delightful—but slightly perplexing. The inside revealed a much denser, chewier cake, leaving a creaminess from what I suspected had to be coconut and butter. I started at the oily sheen the butter left behind on my fingers and wondered, What exactly was this thing?
I later learned that this was butter mochi, a Hawaiian dessert made with butter and glutinous rice flour—the same ingredient used to make a multitude of similarly chewy Asian sweets like dango, a Japanese dumpling often served on skewers, and tang yuan, a Chinese variation sometimes filled with black sesame or red bean paste. Butter mochi is yet another example of Hawaii's hybridized cuisine and the state's heavy Asian influence.
Butter mochi recipes are famously—almost shockingly—dead simple, with hardly any measurements required: one stick of butter, a box of glutinous rice flour, a can of evaporated milk, a can of coconut milk, and some sugar. Countless cookbook authors and pastry chefs preach the importance of precision and urge home bakers to swap their measuring spoons for a digital scale (TASTE is guilty, of course).
With all of that in mind, making butter mochi ignores that rule—pretty much every recipe will tell you to dump an entire box of Mochiko flour into a mixing bowl with full cans of evaporated milk and coconut milk. And you could mix it all with a rubber spatula, no KitchenAid required.  For a dessert that's so easy to make, I was in awe of how it encompassed so many dichotomies: It was spongy but not airy, chewy but not gummy. It had a crackly golden crust on top, while the cake underneath was smooth and springy.
While butter mochi doesn't have the same visual charm of chocolate truffles, pies oozing with fresh berries, or peaks of buttercream on towering layer cakes, it succeeds with its rich simplicity. When you take it out of the oven, you could mistake it for an unfrosted yellow birthday cake, but it doesn't need any extra toppings or fillings. You'll find recipes that add matcha powder to give it an earthy green tone or coconut flakes encrusted at the top for additional crunch. But it's best enjoyed in its natural state—simply sliced into tiny squares and served to the unsuspecting public (like a girl sitting at a restaurant about to have her mind blown). Butter mochi doesn't need bells and whistles to amp it up. It's perfectly plain and should stay that way.