The Key to a Very Good Brunch Pizza: 'Nduja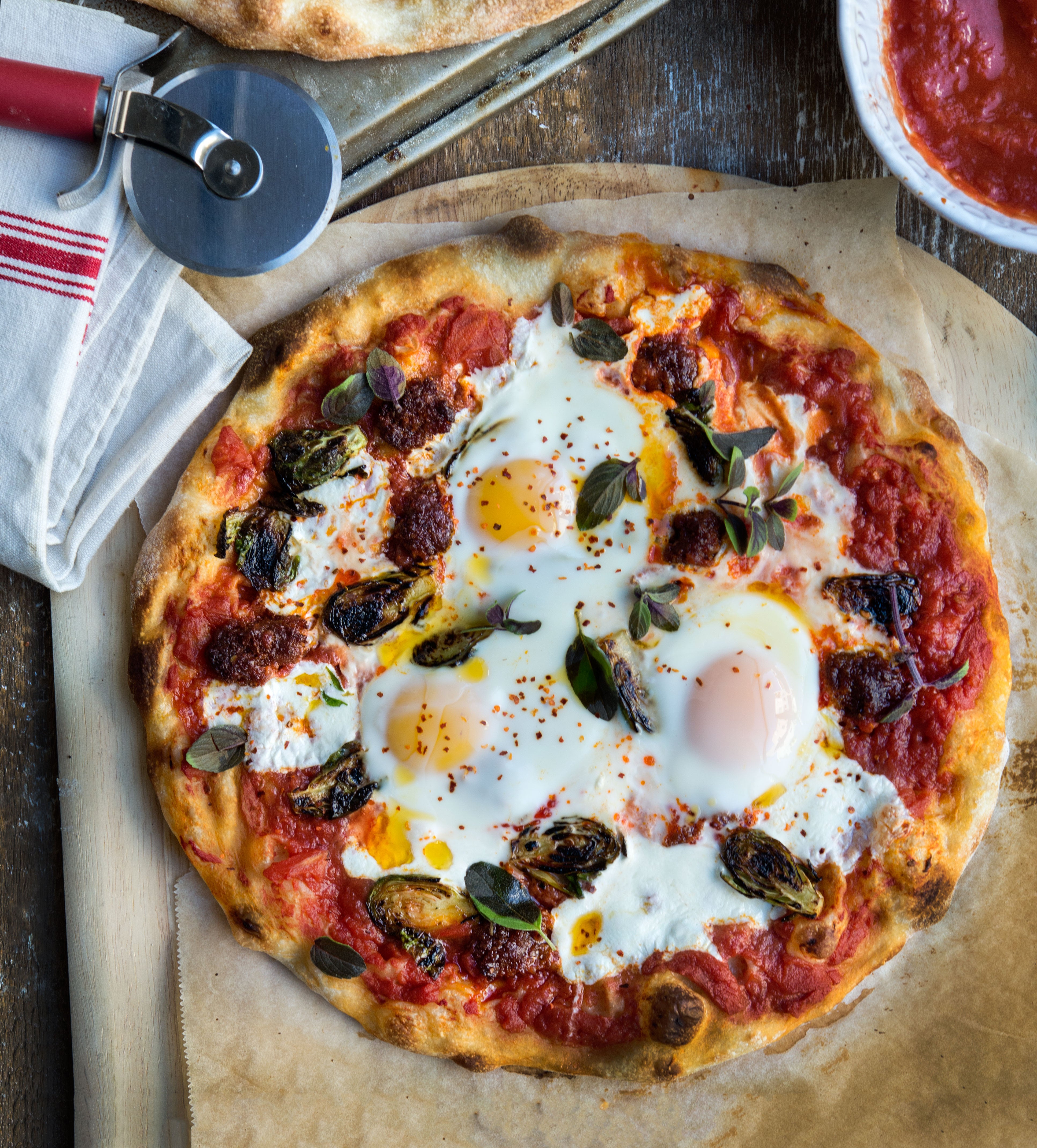 Chicago deep dish or New York thin crust? Neapolitan or Roman style? Simple margherita or piled with toppings? These are questions that can tear apart families, but they are questions that must be answered. Here is my attempt.
Some of the best pizza I've had was in New York City—Brooklyn to be precise—at Lucali, Paulie Gee's, Franny's, Motorino, and Di Fara, although when I lived in Chicago, I did enjoy a pizza or two. Coal Fire in West Town, with its wonderfully charred crust, was my go-to spot. (But, hush hush, they don't serve deep dish pizza.)
Oh, and then there's Gabriele Bonci of Rome's famed Pizzarium, a tiny, unassuming storefront near the Vatican. I fondly recall sitting outside his shop (seating is limited) on a bench drinking great Sicilian red wine from Mt. Etna out of a plastic cup with a couple squares of pizza in hand. On any given day, Bonci will offer 20 different pizzas to choose from—perhaps the sublimely simple rosso (tomatoes with a thick layer of olive oil) or more unusual toppings such as aged goat's cheese with guanciale, Taleggio with zucchini blossoms and sesame seeds, or pumpkin, speck and caciocavallo cheese. All cut to order by the kilogram, the crust just as important as the toppings, thick with airy bubbles and perfectly crispy. It was hands down one of my most memorable food experiences.
While your typical home oven won't get anywhere near as hot as a wood-burning oven (which is key to that nicely charred crust), you can still make pretty great pizza en casa. Little things such as seeking out fresh mozzarella (over preshredded, packaged cheese) can make a world of difference. As far as the sauce, all you need is a can of high-quality whole tomatoes—no sugar or other ingredients added. Just pulse the whole tomatoes in a food processor or mash them by hand until blended. Season with salt. That's it.
At breakfast, lunch, or dinner, pizza is fair game. As for brunch? Yes! Of course you can make pizza for brunch. First things first: Any respectable brunch pizza must be topped with eggs—that is, runny, sunny-side-up, oozing-all-over-your-pizza eggs. And what goes well with eggs? Some type of sausage or tasty cured meat, of course.
According to a 2016 Harris survey—yes, there are actually polls on people's favorite pizza toppings—pepperoni is America's favorite. But I'm here to sway your opinion. Enter 'nduja (pronounced eN-doo-ya), a cured, spicy, spreadable salumi that originated in Calabria, way down on the tip of Italy's boot. It's completely unique in that it's a spreadable mixture of pork, salt, and Calabrian chile that is encased and then slightly smoked. 'Nduja is pleasantly spicy, but not overwhelmingly so.
'Nduja is irresistible when simply spread on toasted bread. It also works really well with fried or poached eggs (think eggs in purgatory or shakshuka). A couple tablespoons of 'nduja livens up a pot of simmering pasta sauce, and you can incorporate it into your favorite hamburger or meatloaf or braised meat or bean soup recipe. You need not travel all the way to Italy to track down 'nduja. There are U.S.-based companies, such as La Quercia (based in Iowa), that produce a very good product from pigs that are raised humanely and sustainably. Look for 'nduja at Whole Foods as well as at Italian and specialty food shops such as Murray's or Zingerman's.
For this brunch pizza, I find Brussels sprouts to be a nice addition. They pair exceptionally well with cured pork products. For me, the key to Brussels sprouts is to find ones that are small, so they cook fast and all the way through, and to char the heck out of them in a hot skillet.
The following recipe makes three 12-inch pizzas, which I happily devoured in the name of culinary research.
BRUNCH PIZZA WITH 'NDUJA, CHARRED BRUSSELS SPROUTS, AND EGGS
Makes 3 (12-inch) pies


INGREDIENTS
1 (28-ounce) can San Marzano whole peeled tomatoes
1 tablespoon olive oil
1 pint Brussels sprouts, trimmed and sliced in half
Sea salt
Semolina flour for dusting the pizza peel
Pizza dough (see recipe below)
1 large ball fresh mozzarella, sliced
5 ounces 'nduja
9 eggs (3 eggs per pizza), cracked individually into small bowls
A bunch of fresh basil
Chile oil or extra-virgin olive oil for drizzling over the finished pizza
DIRECTIONS
1. Preheat the oven (with a pizza/baking stone if you have one) to 500° to 550°F for at least 1 hour.
2. Place the tomatoes and their juices in a food processor, and pulse until fairly smooth.
3. Heat a skillet with olive oil over medium-high heat. When hot, add the Brussels sprouts (cut side down), season with salt, and cook until nicely charred. Don't be tempted to move the Brussels sprouts around. Just allow them to cook for several minutes undisturbed until they have a hard char and are caramelized. Then give them a quick sauté on the flip side, another minute or two until tender-crisp. Remove from the heat and set aside.
4. Generously dust the pizza paddle with semolina flour. If you don't have a pizza paddle, you can use the back of a baking sheet.
5. Remove one portion of pizza dough (keep the rest covered). Dust with flour. Using your hands, stretch and shape dough into an approximately 12-inch circle. Transfer the dough to your lined pizza peel.
6. Spoon tomato sauce on top, leaving a 1-inch border. Season with salt. Arrange mozzarella slices evenly over the pizza. Scatter pieces of 'nduja around the pie. Top with charred Brussels sprouts.
7. Using a pizza paddle, transfer the pizza to the hot stone. Bake for 2 minutes, then evenly distribute the eggs on top of the pizza. Continue to cook until the crust is golden brown and the eggs whites are set, but the yolks are still runny. Use the pizza paddle to remove the pizza from the oven.
8. Top with basil, drizzle with extra-virgin olive oil (or chile oil), and slice. Repeat with remaining dough and toppings.
HOMEMADE PIZZA DOUGH
Makes 3 (12-inch) pies
To ensure best results, we recommend weighing your ingredients.
INGREDIENTS
4 cups (500 grams) 00 flour
3/4 teaspoon active dry or instant yeast
1½ cups plus 2 tablespoons (325 grams) water
1 tablespoon olive oil, plus extra for coating
2 teaspoons (10 grams) salt
DIRECTIONS
1. Combine the flour, yeast, water, olive oil, and salt in a mixing bowl. Mix and knead everything together, either by hand or using a stand mixer with the dough hook, until the dough is soft and smooth. If you're using a stand mixer, it should take 4-5 minutes on the second speed. By hand, knead the dough until springy and soft, about 7 to 10 minutes.
2. Cover the dough and let it rise for 90 to 120 minutes or until it doubles in size (time will vary depending on the temperature in your kitchen). Punch it down and push out the air bubbles. Divide into three equal pieces (250 to 270 grams each).
3. Form each piece into a round ball. Lightly coat each ball with olive oil. Place on a lightly floured work surface or baking sheet. Cover with plastic wrap and let the dough rise at room temperature until it doubles in size, about one hour (or, ideally, at this point, allow the dough to slowly ferment in the refrigerator).
4. For a slow, cold fermentation, transfer the dough to the refrigerator for 24 to 72 hours. Remove the dough from the refrigerator at least two hours before making the pizza so the dough comes up to room temperature.