Broth, Eggs, and Stale Bread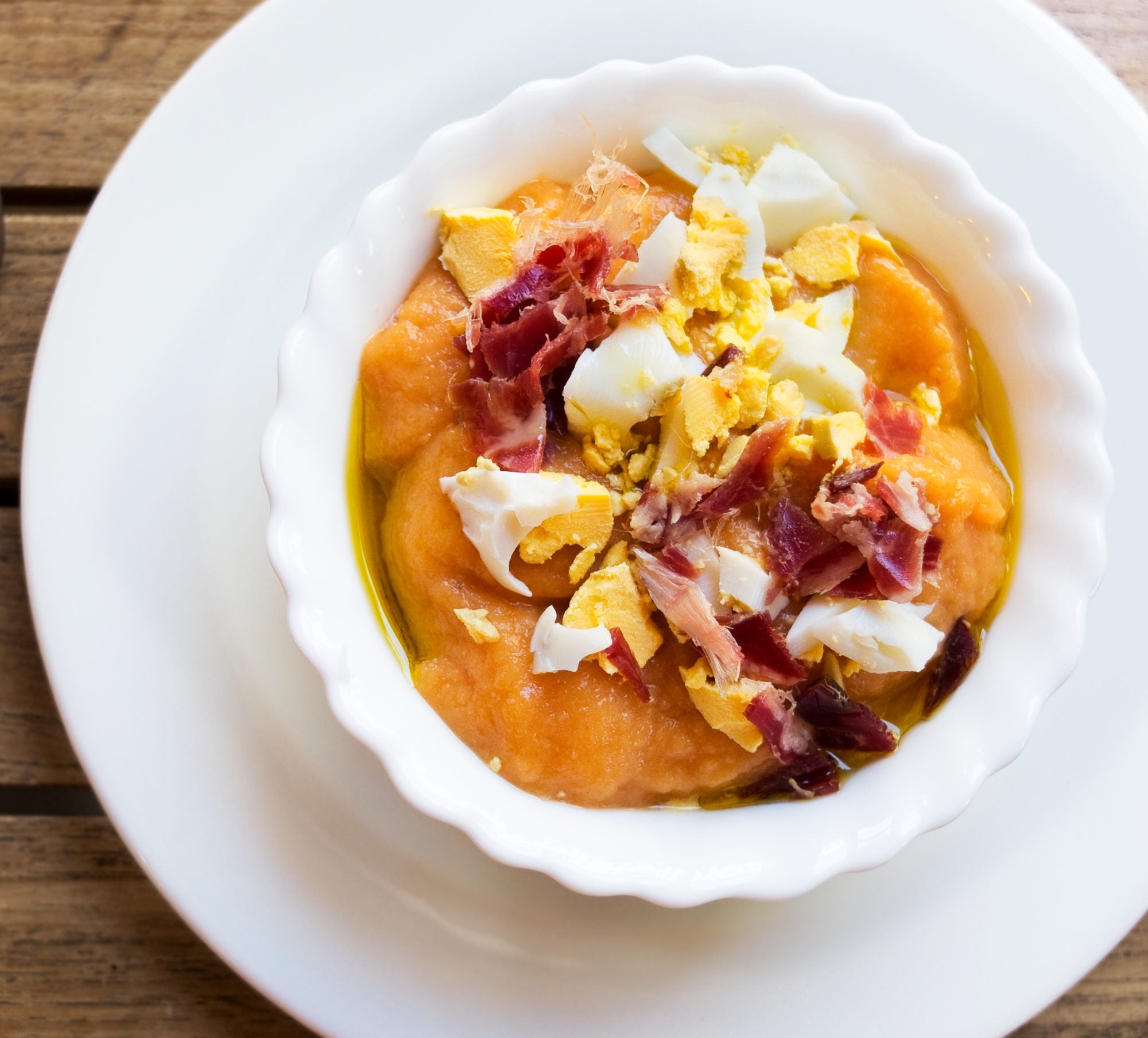 In dishes like ribollita, açorda, and mille fanti, a little bit of week-old bread becomes a comforting porridge that will put you to sleep—in a good way.
There's nothing particularly memorable about 1 de Maio, an unpretentious restaurant situated on a winding side street of Lisbon's Bairro Alto neighborhood. The tables are dressed with homely green gingham cloths and white butcher paper; the waiters are polite; the scene is animated. But if you, like me on my first visit to Portugal 10 years ago, had never eaten açorda de gambas before, the restaurant would imprint itself on your memory forever. For the thrill of having eaten something so delightfully comforting as wet mashed bread, you'd never forget 1 de Maio for as long as you live.
To the Portuguese, this would be a strange detail to fixate on, as açorda, a type of Portuguese bread soup (or pudding, or stew, depending on how you look at it), has long been a poor man's meal, a dish that signifies austere times. Though preparations vary widely, açorda's foundational ingredients are simple: garlic, fresh or ground coriander leaves, and stale bread. Açorda de gambas (also called açorda de camarão) is made of those ingredients with the additions of shrimp, fish stock, olive oil, and an egg that is beaten in at the last minute as the soup is served, rendering it thick and sodden, like porridge.
Imagine the consistency and comfort of mashed potatoes or congee—but bread.
Açorda is the perfect dish for coming home in cold weather, or coming home to an empty fridge, or both. In Portuguese cooking, there is even "blind açorda," so-called for times when olive oil was so scarce you could barely see it. Açorda has its nutritional limits, but it's filling, comforting, and approachable.
Bread and soup have had a love affair for as long as we have known how to cook. In fact, they effectively began as one and the same: The word "soup" is derived from the Latin verb "suppare," which means to soak (it's also the root of "sup," as in supper), because soup began as simply bread soaked in broth. Soup only developed into its own dish with bread served on the side in the early 18th century, when the word "soup" became synonymous with the broth part of the meal.
Bread soups like açorda, and its perhaps better-known Italian cousin ribollita, are minor adaptations of the earliest soups humans ever made. Most cultures have a version of their own: Bread and broth are both cheap and easily repurposed. Whatever vegetables, meat, or fish one has on hand can enhance the dish, or it can be served in its simplest form. The açorda I ate in Lisbon had little in the way of deluxe ingredients except for five or six tiny blushing shrimp and one egg. Ribollita is made from stale bread, beans (most commonly cannellini beans), and whatever vegetables the cook has to spare. "Ribollita" literally translates to reboiled in Italian because peasants in the Middle Ages hoped to extend the life of dishes they had made in the days before.
There is also mille fanti, a thin French soup consisting of pureed bread, Parmesan, chicken broth, and eggs. The Spanish have salmorejo, a creamy, rich blend of tomatoes and bread that is topped with serrano ham. In German culture, hessische brotsuppe is ham, chives, cheese, cream, and bread, a characteristically heavy soup in both consistency and content. Even matzo ball soup is not so far off, albeit with a more deliberate structure. Some bread soups are pureed, others depend on giant chunks of torn bread, and others still, like the açorda from 1 de Maio, are thick heaps of gelatinized carbs.
Likely introduced to Portugal during the country's Arab occupation over 1,000 years ago, açorda is a dish with as many ways to make then as there are now: An Arab cookbook dating back to the 13th century held over 25 recipes for "panades," broth-and-bread soups that were made with pig, pigeon, and lamb, among other things. Even the word "açorda" is believed to have derived from the Arabic "ath turdâ," found in 13th-century texts, which translates to "bread soup." Now, there are legion açordas in Portugal, most of which are seafood based—and none of which taste as good as my memory tells me it did at 1 de Maio.
There have always been and will always be tricks for cooking a lot from a little. But when it comes to austerity fare, açorda is in a league of its own: It not only quells relentless hunger pangs; even the act of making it feels primitively magical. Our medieval ancestors figured something out long before we did: When you pour broth over bread, the bread grows and grows and grows like a dinosaur toy in a bathtub. A few heels of stale bread steeped in broth and garlic and seasoning become plump and flavorful and fortifying. They'll put you to sleep, sure. But in a good way.