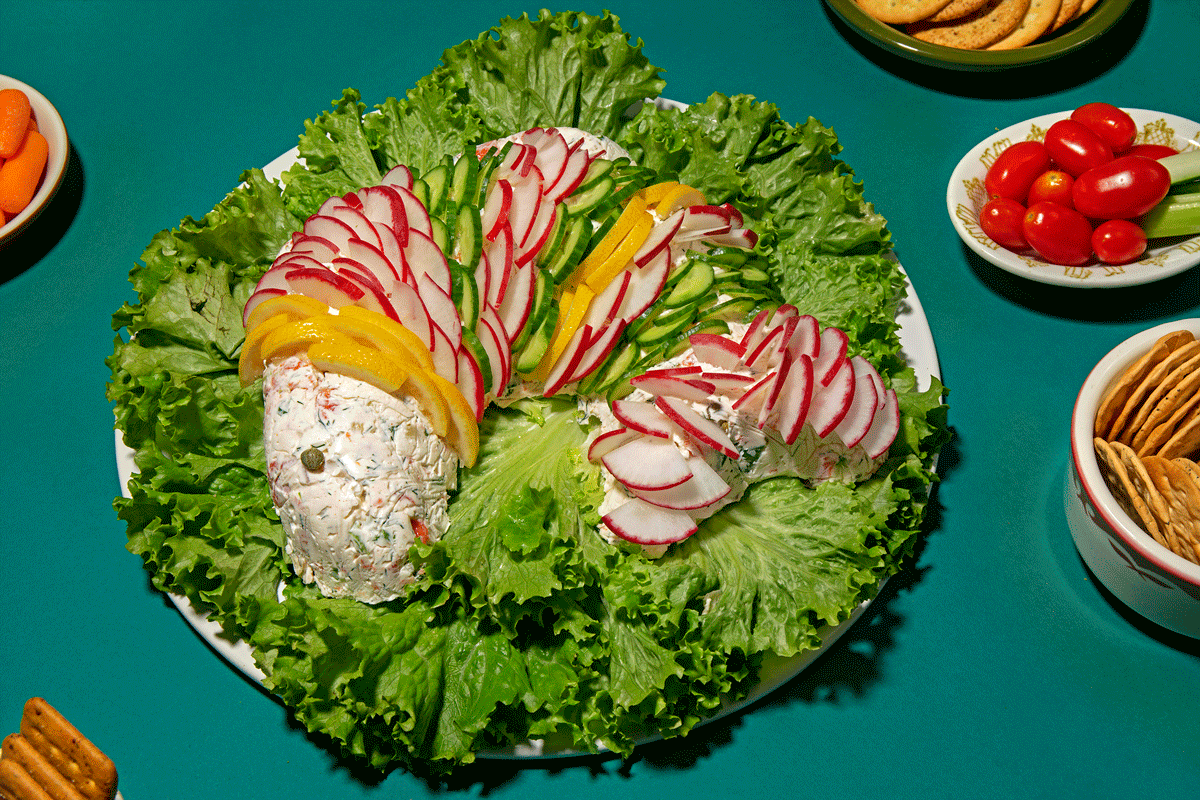 The smoky, creamy, cucumber- and-radish-scaled dip is here to stay.
If you thought that salmon mousse died in the '70s, I'm here to share the good news that everything great about the pale-pink party dip is still alive and well now, in the 21st century. I'd like to enter into the record an updated molded fish dip that is smoky and full of flavor, requires no liquefying of fish, and, yes—is still formed into the shape of a fish, with delicate scales made from cucumber slices and radishes. Kitsch cranked to 11.
In spite of its midcentury associations, the genre of fish-shaped-fish goes back much further; throughout the 15th century, fish jellies were often eaten by meat-abstaining Catholics on Fridays. As refrigeration technology advanced and gelatin molds became an even more common feature in the homes of 1950s-era American housewives, the pureed fish mousse—a jiggly pastel centerpiece—became a staple of dinner parties through the next several decades, heavily promoted in advertisements for Miracle Whip and Knox featuring tuna, salmon, and shrimp "meals-in-a-mold."
The technique was a nod to mousseline, the French way of binding pureed protein with cream, egg, or gelatin (or all of the above) and lightening it with whipped cream. The Silver Palate Cookbook, published in 1979, included a salmon mousse made with freshly poached or canned fish, gelatin, and softly whipped cream; a 1996 issue of Gourmet ran a similar recipe for smoked trout mousse, which included a layer of salmon roe and was sliced into pieces and dipped in black sesame seeds before serving. The French chef Pierre Franey was also quite the whipped fish fan, running recipes for smoked salmon mousse, sole mousse, and salt-cod-and-potato mousse in his long-running New York Times column "60-Minute Gourmet." Franey considered them "almost embarrassingly easy," with their 20-minute (or less!) prep time, yet praised them for giving the appearance of "that extra touch of special effort."
Franey's cod-and-potato mousse is reminiscent of a popular dish served in Italy in the twentieth century (and still today). Pesce finto, or "fake fish," is a common holiday appetizer most often found in the northern regions of Genoa, Puglia, Tuscany, and Piedmont; instead of relying on gelatin or setting in the oven, the dish is a thick paste of canned tuna or another chopped cooked whitefish, mashed potatoes or hard-boiled eggs, and mayonnaise sculpted into the shape of a fish.
No shade to the American mold's pureed fish and cream, nor to pesce finto's mashed tuna-egg-potato situation, but in order to get people excited in the year 2019, changes had to be made.
Danielle Callegari, lecturer in Italian studies at UC Berkeley and cohost of the Italian food podcast Gola, believes these dishes originated for the liturgical calendar's lean days like Christmas Eve, where avoiding meat and supplemental fat is customary. Still, "the version that's popular now, with canned tuna and potatoes shaped into a cute little fish, probably was more or less defined in the fascist war years," she tells me.
No shade to the American mold's pureed fish and cream, nor to pesce finto's mashed tuna-egg-potato situation, but in order to get people excited in the year 2019, changes had to be made. Out with the massive quantity of gelatin. Out with the cold, overcooked fish base, and perhaps we'll pass on room-temperature, canned fish-and-potato mixture, thank you so much.
On the other hand, there are plenty of elements to the original fish mold and pesce finto that are worth excavating. The concept of an appetizer that smiles back—one that's rich, creamy, and ready for crackers—is timeless. And there are types of fish that lend themselves perfectly to being incorporated into dips. Generally served cold with some kind of creamy cheese, smoked salmon is an obvious choice, but smoked trout or sable would be great, too.
Both cold-smoked and hot-smoked salmon are valid options in this fish mousse. Cold-smoked salmon is silky in texture and mild in flavor—like the lox you pile on a bagel. Hot-smoked salmon is flakier, like fully cooked salmon, and has a deeper, smokier flavor. Either will technically work in this fish mold, as the fish is cut to be bite-size, not pureed. It ultimately depends on what you prefer flavor-wise and are able to find in the grocery store. The half tablespoon of unflavored gelatin that gets folded into the mixture isn't enough to turn your fish quite as jiggly as the average Jell-O mold, but it will help the dip hold its shape. Dill, scallions, and preserved lemon keep the whole mixture bright and fresh.
After chilling and unmolding your fish comes the fun part: decoration. You can certainly use any veggies you'd like to decorate it—I like to use cucumber, lemon, radishes of all colors (watermelon, daikon, breakfast), and capers. This is also the time to embrace the ostentatious goofiness of a fish mold. Whip out the food tweezers, don your highest-waist wide-leg pants, and spend 25 minutes tiling cucumber scales on your fish mold.