Breaking In Candy Is Magic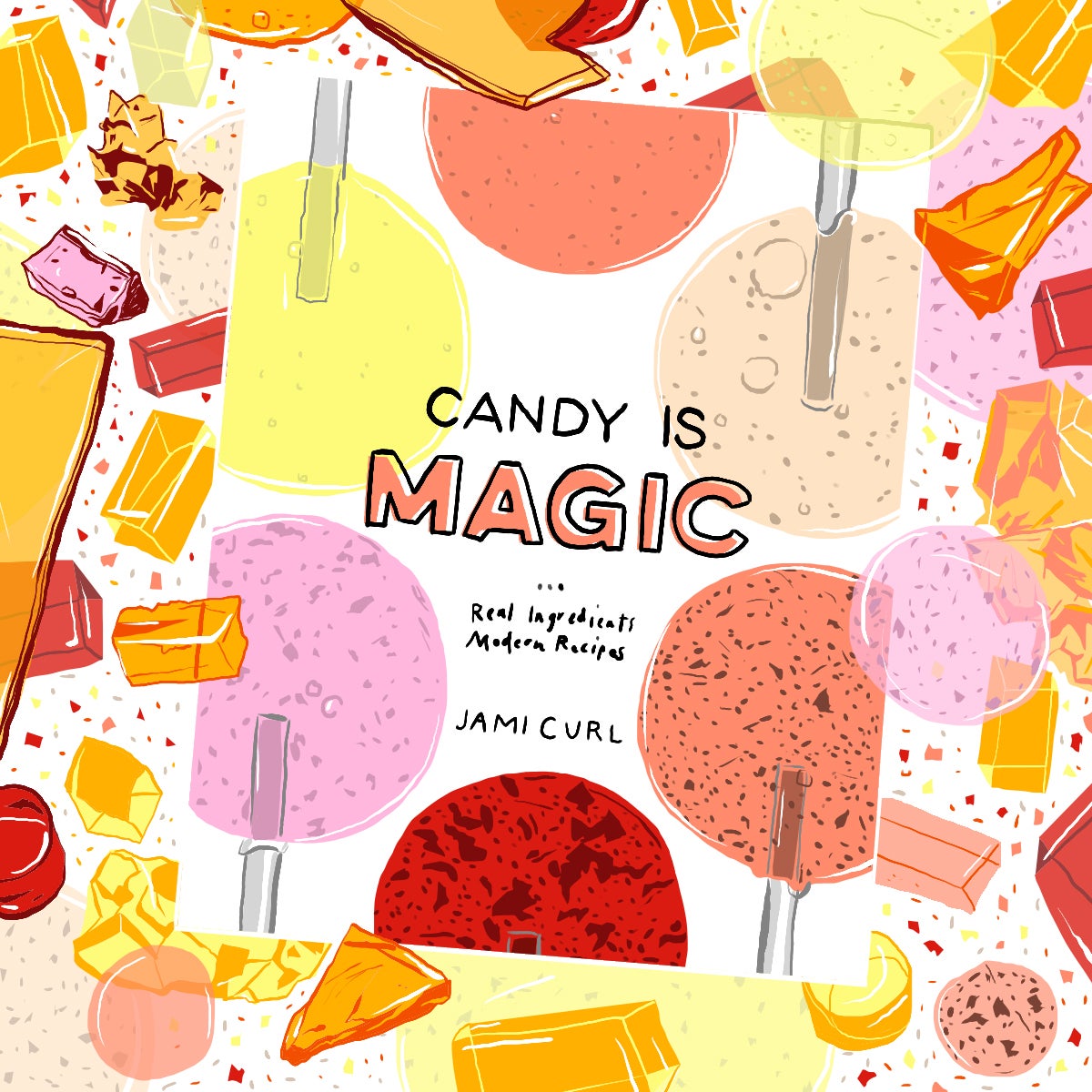 Crack open any cookbook and you are confronted with a dizzying collection of recipes. If you are actually going to make something for dinner (and it's OK if you're not!), choices need to be made. In BREAKING IN, we prepare a few interesting recipes to get a feel for the book. This is not a review, but rather a firsthand experience of cracking the spine of a new cookbook.
I want candy. Sure. But until the adorably named Jami Curl's adorably named cookbook, Candy Is Magic, came into my life, I had survived deep into middle age without a kitchen scale or a candy thermometer. I had somehow lived a life free of glucose syrup, vanilla bean powder, and silver leaf gelatin. I had survived. But had I thrived? Was candy-making crucially missing from my life?
Candy-making frightened me: It struck me as an art best left to the pros. To them, the specialty equipment—beyond scales and thermometers—that Curl advises us to purchase: "food-safe acrylic bars" to make our own "candy frames" (she allows that we may use 9-by-13 pans instead). To them, the ominous "hard ball stage" and veritable hot springs of molten sugar. To them, too, the obvious peril of having all that sweet stuff around once you've cooked it up.
Curl, proprietor of Portland, Oregon, candy company Quin, is not like me. She characterizes herself as fearless and entreats her readers to follow suit: "Forget about your fear of cooking sugar," she writes. "It's true that melted sugar is hot and sticky. Accept and respect it. Understand it. Take care." Oh, okay! This cavalier pep talk did little to ease my anxiety.
"Real candy requires real ingredients," Curl tells us encouragingly. Her favorite things include many of my own: butter, chocolate, fresh fruit, heavy cream. But glucose syrup (which helps to prevent sugar from recrystallizing and is essential to many of Curl's recipes) felt pretty unreal to me: a clear, sticky goo "made from starches, most commonly corn, potato, or wheat." It is also expensive: a 2.2-pound tub set me back more than $20. Candy-making, it turns out, requires not only fearlessness; it requires cash money. The silver leaf gelatin sheets Curl favors? A package of 20 sheets—exactly enough to execute one recipe for marshmallows—cost almost $13. A little goes a long way, but the vanilla bean powder called for in two of the confections I made ran nearly $18 for two ounces, the smallest quantity I could find to buy. And remember, I'd already added a kitchen scale and candy thermometer to my batterie de cuisine.
It's a handsome book—colorful and cheery, but not cutesy—and I suspect I'd happily eat anything in it, from unusually elegant-looking lollipops (some sweet, some sour, some fruity, some chewy) to an array of shimmering gumdrops. But actually cooking things in it was another matter. I shied away from the hard candies—they intimidate me most of all—and gummies, and stuck with the things I like best and that didn't seem too scary to take on. I invited my friend Bird, who is less leery of, and more experienced in, candy-making to join me in my kitchen, more as supervisor than sous chef. We made three sweet treats from the book.
CHOCOLATE MAGIC DUST
Curl calls Magic Dust her "favorite ingredient of all time," and deploys it in recipes ranging from sauces to cakes. It's also diabolically easy to make. There are a few different dusts, but I opted for Chocolate Magic Dust, a mixture of granulated sugar, cocoa powder (I could not find the Felchlin brand Curl recommends, and used the trusty Dutch cocoa I always have on hand), kosher salt, vanilla bean powder, and cinnamon. Do some sifting. Do some whisking. That's it. I can't explain what accounts for this, but the stuff really is magic. It must be the proportions, which are exactly right (I was skeptical about the cinnamon, and I was wrong). It made for what was unquestionably the best hot chocolate I've ever had.
MAKE IT AGAIN? Absolutely. It's so simple and versatile and good, it might become a pantry staple.
MAPLE + CRACKED BLACK PEPPER CARAMELS
This was my first time making caramel, and the sight of a mess of glucose syrup doused with granulated sugar melting on my stove top was disturbing: a roiling, primordial ooze, a potentially pernicious panful of sugar shock waiting to happen. But the results were persuasive: The caramel was beautiful in color, pleasing in texture, and as tasty as a whole bunch of sugar mixed with vanilla and butter and pepper ought to be. Bird and I agreed that instructions could have been clearer: I'd want to know to leave the heat on under the glucose/sugar mixture and allow it to continue cooking before moving on to heating the cream mixture. To my palate, the maple syrup was overpowered by all the other sugar; its flavor did not announce itself. The black pepper, on the other hand, came through loud and clear. I cut the caramel into 1-inch-square candies, per Curl's instructions, but I didn't have the patience to wrap each piece individually in sheets of cellophane. Instead, I just ate a lot of it, and much too quickly.
MAKE IT AGAIN? Not likely. It was good, but I would have liked more maple flavor. I did get a decent introduction to basic caramel-making technique, but if there's a next time, I'd try a different caramel recipe from the book—maybe sea salt or popcorn.
VANILLA BEAN MARSHMALLOWS
I can't imagine undertaking marshmallows alone in my kitchen: Having a friend around to supervise was invaluable for this recipe, which requires three different vessels for preparing, produces tremendous heat and steam, and demands frequent temperature-taking. But if you've never had anything but commercial marshmallows, you're in for a delight. I made the marshmallows to complement the Chocolate Magic Dust in hot chocolate, and they did the job brilliantly: They are light and airy and exquisitely fluffy.
MAKE IT AGAIN? This is the kind of thing I'd make once a year—as long as Bird is still willing to assist—to give as winter holiday gifts with little parcels of the Chocolate Magic Dust. I'd reduce the quantity of vanilla bean powder ever so slightly: It's as potent as it is pricey.
I doubt I'll ever use more than a few recipes from Candy Is Magic, but that's true of many cookbooks, including ones I love. For an anxious, amateur confectioner like myself, Curl's book is more aspirational than practical; this is also true of many—maybe even most—cookbooks, including ones I love. I'm glad I challenged myself to cope with hot sugar and made a respectable batch of caramels—all without burning it or myself!—and I might do it again someday. But I suspect that people who already love making candy (and are already equipped with the gear needed to do it) will get the most from this book, from Curl's creative flavor combinations and her playful but not kitschy sensibility. I'm satisfied just knowing that I can now make the greatest hot chocolate with marshmallows ever.