Break the Rules, Blend the Lamb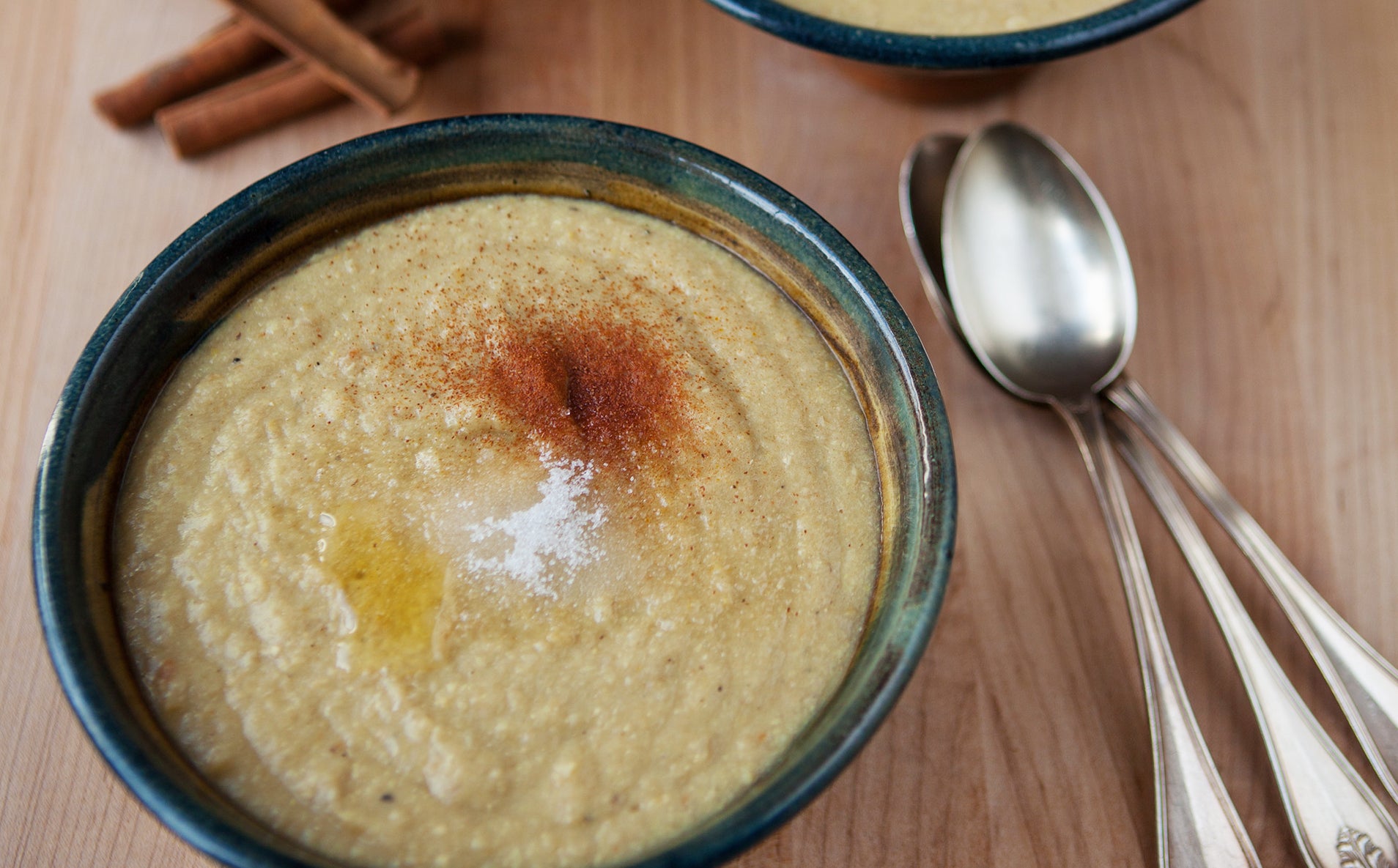 Wheat, meat, and time: Halim matches your favorite oatmeal toppings with a savory lamb base.
So many of the tenets of Iranian cooking fly in the face of what we think we know: Burn the rice (the crispy glory of tahdig); braise the herbs normally used as a garnish (the sour-meatiness of the stew ghormeh sabzi) or eat them as a salad instead (the "eating herbs" of sabzi khordan). Enter halim, a lamb-and-wheat breakfast porridge garnished with butter, cinnamon, and sugar—think of it as a cousin to savory oatmeal, congee, or polenta. Halim gives us two new broken rules: Puree the meat, and develop the heck out of the gluten.
There are dozens of variations on halim prepared throughout Asia, from Turkey to the Indian subcontinent, although it always takes the form of a wheat or lentil puree (in Cooking in Iran, the latest book by the queen of Iranian cooking, Najmieh Batmangij, she adds chickpeas to the mix for a new twist). The Iranian version is eaten at breakfast in the winter for a real stick-to-your-ribs start to the day. The ingredients are wheat, meat, and time, so most Iranians outsource the making of halim to restaurants, lining up the night before to buy their breakfast (come morning, it reheats like a charm). Although halim looks like an unassuming beige puree, it is wholly suffused with the flavor of lamb and the nuttiness of wheat, laced with bursts of stirred-in cinnamon and sugar and with a spoon-clinging elasticity almost akin to the French cheese-and-potato dish aligot.
The best halim I've had came from a restaurant not in Tehran, where my family is from, but at Taste of Persia on West 18th Street in New York, where owner Saeed Pourkay operates a stall selling Iranian soups, stews, and rice out of the front of an unassuming pizza shop. Because of the work involved, he only makes halim once or twice a year; I visited his shop after seeing the halim bat signal on his Instagram. I ordered a bowl, confessing to Pourkay that I hadn't cared for halim as a kid, and hedged my bet by covering it with cinnamon and sugar. I also ordered a bowl of his signature dish, the herb and noodle soup ash reshteh—I love ash reshteh more than many things in this life, but it sat and grew cold as I inhaled the halim.
Turning wheat and meat into a puree is a multistep process. As in many Iranian recipes, the lamb shanks are braised very simply in water, perhaps with some sliced onion, until they're fully tender. (Turkey is another popular option, but with less fat and flavor—I've never quite seen the point.) Halim calls for pelted (also called pearled) wheat, since the absence of the outer layer of bran makes it possible to smoothly puree the cooked grains. Middle Eastern specialty stores are your best bet for finding pelted wheat, but if all you can find is wheat berries in their whole-grain form, cook them extra-long (a slow cooker makes this easy), then pass them through a food mill to separate the fibrous skins.
Here's where we get to those broken rules. You might be able to imagine a version of halim with tender pulled lamb swimming in a sea of wheat grains. But the hallmark of a perfect Iranian dish is that it is ja oftadeh: "fallen into place," the flavors truly married. When you think about it, if the lamb is fully tender, is it that big of a deal to go the extra step and break it apart entirely so its flavor permeates every bite? And while it feels strange to puree wheat, which develops the stretchy gluten that any cake or cookie recipe tells us to studiously avoid, in this format it's essentially homemade Cream of Wheat, but with a lot more personality.
In a time before kitchen electronics, this meant furiously whipping the lamb-and-wheat mixture with a wooden spoon as it bubbled in order to break it all down and get that signature elastic texture (this could take all night—you'd really need a hearty breakfast like halim after all that work). Today, a food processor or handheld immersion blender does the job nicely.
It all falls into place after a final simmer, and then it's a matter of keeping the halim warm (I love halim, but cold, elasticized porridge is very different from hot) and garnishing it. Butter, cinnamon, and sugar are magic on toast, and they work here too, combining the cinnamon's hit of bitterness with a redemptive glow of sweetness to enliven what is pretty straightforwardly a savory bowl of mush. (Mixing sweet and savory is common in Iranian stews—the reason the meat is cooked separately at first is to keep the final balance of flavors from getting muddied.)
Back at Taste of Persia, overjoyed at this dish I'd previously written off, I scraped my bowl clean as another Iranian man walked in off the street. His face lit up when he saw Pourkay's menu, and he said in Farsi that he hadn't eaten halim in years. Was it part of the menu regularly? Just once a year, Pourkay said. The man answered in wonder, Che shans avordam!
What luck!
Lead photo from Cooking in Iran: Regional Recipes and Kitchen Secrets by Najmieh Batmanglij © 2018 Mage Publishers. Other photos by Antonis Achilleos.