Black Sesame > White Sesame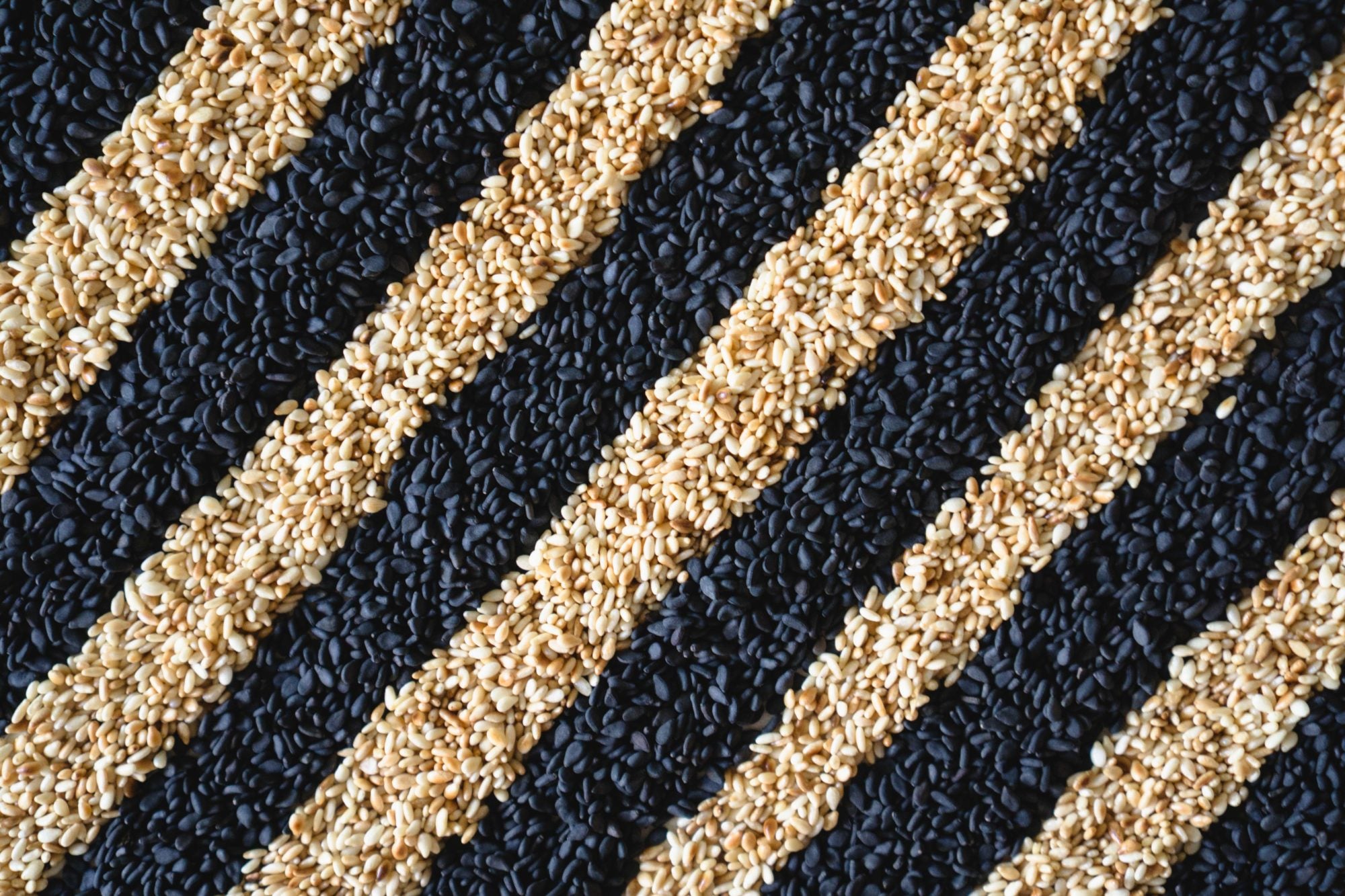 Nutty, aromatic, and more flavorful than white sesame, there's a lot more to black sesame besides its cool inky appearance. 
When you think of sesame seeds, what comes to mind may be creamy swirls of tahini, nutty halvas, or dots on top of burger buns. Those tear-shaped little beige seeds, gloriously nutty with a rich, toasty fragrance, have a cousin that while markedly less common in certain parts of the world, is no less impressive. Enter black sesame.
White sesame seeds are usually sold with their tan, brownish hulls removed, revealing the off-white embryo within, whereas black sesame often have their hulls still intact. But aside from color, there's also a subtle difference in taste. Black sesame seeds have a slightly nuttier, more bitter flavor compared to their sweeter white equivalent. When used in large quantities, the richer, more pungent earthiness of black sesame seeds becomes apparent, making a world of difference in desserts like Japanese kurogoma ice cream or zi maa gyun, black sesame jelly-like rolls popular in Hong Kong.
Across Asia, black sesame makes an appearance in all types of food. It is a common component in furikake (a Japanese spice mix made with dried fish, seaweed, and sesame seeds) and in Indian sweets like chikki and laddu (crunchy brittles and dessert balls made of nuts and spices). Ground into a powder, it works as a nutty coating on mochi and injeolmi (Japanese and Korean sweet rice cakes). In its spreadable form, black sesame paste is often used as a filling for steamed dessert bao or Chinese tang yuan (glutinous rice balls). For a truly indulgent breakfast, try spreading some black sesame paste on toast in lieu of peanut butter, then drizzle a generous dose of honey and coconut milk over it. The nutty, slightly bitter paste is often paired with sweet flavors like matcha or red bean in Japan, and jaggery in India.
But in the realm of black-sesame-laden desserts, hakzimaawu (黑芝麻糊) reigns supreme. This traditional Cantonese dessert soup is made of black sesame seeds, rice, sugar, and water blended together and simmered into a hot, viscous, inky gloop. While the concept of soup for dessert might sound odd, its ubiquity in Cantonese meals is so great that it even has its own category—tong sui, literally meaning sugar water, as it brings a sweet, lingering end to the meal while serving as a tonic to invigorate or soothe the body, according to the tenets of Chinese medicine.
As far as tong suis go, hakzimaawu is one of the more uncommon ones, compared to tofu pudding or red bean soup. At first glance, hakzimaawu might resemble a potent witch's brew or a squid ink concoction about to be mixed into pasta. Its mud-like viscosity doesn't allow it to compete with the more photogenic black sesame desserts, like swirly soft serves and shiny tarts. But take a deep slurp and you'll unlock a whole new world of pure, unbridled sesame nuttiness that you never knew existed.
The first place I ever had hakzimaawu, which also happens to be the only place I know of that still serves it, is at one of the vestiges of old-school Cantonese cooking in Malaysia—Ming Court in Ipoh. They've served traditional dim sum for decades, with timeless recipes from generations of Cantonese diaspora. Of all their authentic dim sums, their hakzimaawu is one that has a special place in my heart, bringing up childhood memories of satisfying, lip-staining slurps and black-toothed grins each time I have it. But since it'd be near madness to make a two-hour drive to Ipoh every time I have a hakzimaawu craving, I've resorted to making my own version at home.
So sure, the next time you chance upon some black sesame, you could sprinkle it over a dessert or treat it like a jam. But to truly harness the dark magic of black sesame and bring it to its fullest, purest potential, stir up a pot of hakzimaawu.