Big Ideas for the Smallest Eggplants
Glazed, grilled, or simmered adobo-style, it's time to get excited about cooking with eggplant.
There's a simple pleasure in roasted eggplant—knowing that, with a bit of patience, you'll be rewarded with a silky interior encased by charred (and super flavorful) skin. One of my favorite dishes—that I have yet to replicate at home but often dream about—comes straight out of a Chinese street food setup. It typically involves grilling a Chinese eggplant, whole, until it is deeply browned all over and squishy to the touch, then splitting it down the middle and heavily brushing soy sauce and a mountain of minced garlic, chiles, and scallions all over. That umami-laden, allium-packed sauce seeps into every layer of fleshy eggplant, which easily splits from its scorched skin when a chopstick is dragged through.
To achieve that level of melting tenderness in my everyday cooking, I opt for smaller varietals of eggplant, which cook faster and are less bitter, since they have less seeds. Along with other common types like larger American (also known as globe) and Italian eggplant, slender Japanese and Chinese eggplant (which can be used interchangeably) are readily available year-round, but summer and early fall are the best times to scope out the farmers' market selection—when stalls are filled with heirloom varieties like tiny Fairy Tale (which are great roasted and served with cashew butter), striated graffiti, and shallot-hued Rosa Bianca. With no shortage of ways to prepare eggplant and its many varieties, you can unlock its full potential to be rich, creamy, charred, crispy, or caramelized.
Japanese eggplant quickly became a grocery staple for me after making Namiko Chen's donburi recipe for the first time—and by now, it's a recipe I've returned to at least 20 times. When thinly sliced lengthwise and coated in potato starch, each sliver of eggplant browns and crisps up in a skillet before being doused in soy sauce, mirin, and ginger. As the liquid meets the hot pan and the starch-coated flesh, it bubbles and thickens on contact, clinging to every nook and cranny. The result is a crispy, slightly charred exterior with a tender center. With each piece shingled over a steaming bowl of rice, there's a perfect balance of bold, savory flavor soaked into every bite.
Lately, I've been excited about recipes that swap animal protein with eggplant—namely adobo and "unagi". To me, it's less like the eggplant is trying to mimic meat, and more that it's playing to its strengths of being a superb vehicle for sponging up punchy vinegar and garlic or sweet kabayaki sauce.
If you're able to track down light green Thai eggplant at a well-stocked Asian grocery or specialty market, you'll be rewarded with sweeter flesh and light bitterness. Even without cooking, those qualities make it an incredible sidekick to plates of sliced heirloom tomatoes and juicy plums when quick-pickled with salt and champagne vinegar.
In Leela Punyaratabandhu's recipe for yam ma-khuea yao, she adapts the Thai grilled eggplant salad to use the more commonly found Asian eggplants, like Japanese or Chinese. "They require little preparation, don't need to be salted to extract bitterness, and don't even need to be peeled," she writes. "Just throw them on the grill whole and cook them until they are charred on the outside and soft and sweet on the inside—a perfect canvas on which to paint a colorful combination of flavors and textures."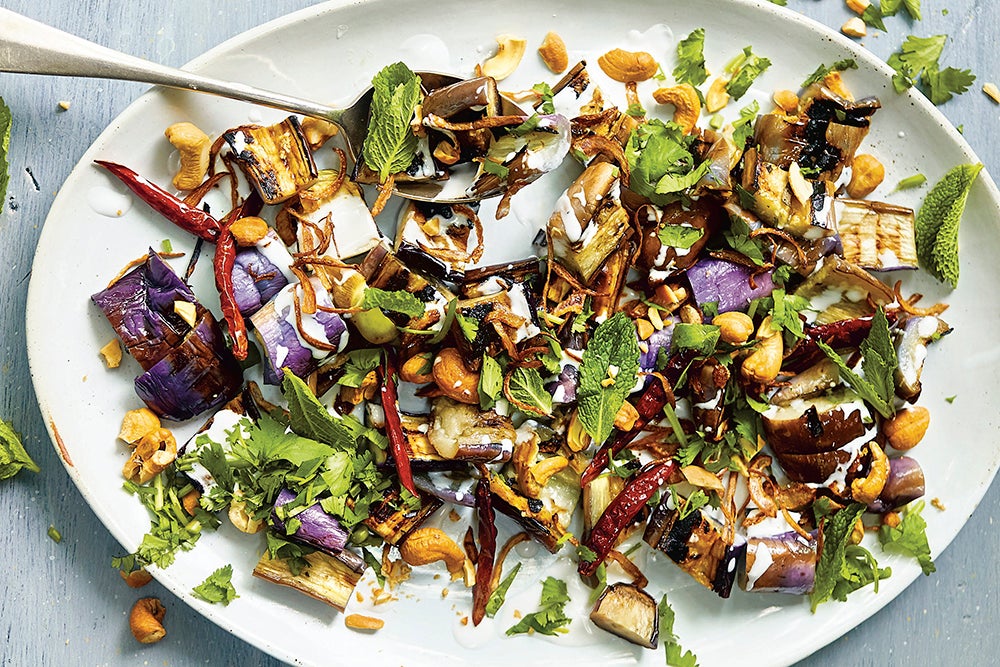 More Ideas for Thinking Big About Little Eggplant:
Inline photo by David Loftus