For Better Butter, Just Add Shrimp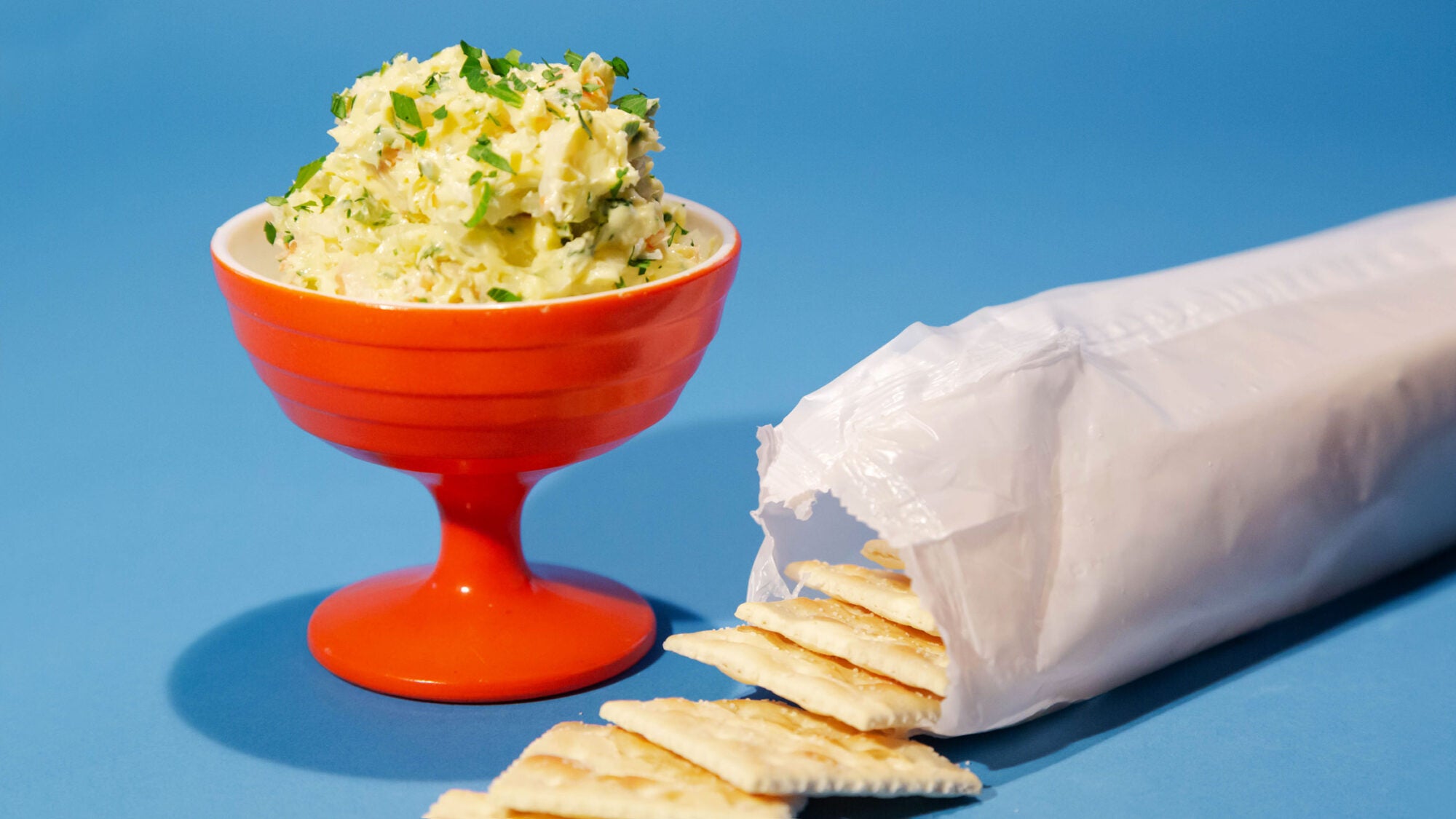 Put it on a sandwich, stir it into pasta, eat it with a sleeve of saltines.
One of James Beard's most famous dishes is a small tea sandwich made with fluffy white bread, cold butter, and thin slices of raw white onion. Simple and solid. Like most recipes that center around sweet though oftentimes abrasive raw onion, the sandwich is an unlikely contender for virality, yet it's been served, written about, and reimagined by chefs like Naomi Pomeroy, Jacques Pépin, and Gabrielle Hamilton, to much delight.
Beard was a master of writing recipes that provide excuses to eat cold butter in generous quantities. This was the instant allure a few years ago when I stumbled upon the recipe for shrimp butter in his 1972 book, James Beard's American Cookery. The recipe takes some roughly chopped boiled shrimp, butter (as fancy as you can find), raw white onion, and parsley, and turns them into a luxurious, textured spread that begs to be tucked into sandwiches, piled onto crackers, melted into pasta, and so much more.
John Birdsall, the author of a forthcoming biography of Beard, tells me that the shrimp butter recipe evolved over the course of the pioneering cook's 50-year career. A version flavored only with lemon juice, salt, and pepper made its debut in his 1940 book, Hors D'Oeuvre and Canapés, while morphing into Potted Shrimp Paste in his 1965 book, James Beard's Menus for Entertaining. As Birdsall says of a third version, published in 1972 and made with onion and parsley, "It's all more relaxed and easygoing"—designed to be stationed on a generous buffet for casual snacking to go along with copious drinking.
In this same buttery spirit of the midcentury, Julia Child's 1961 classic Mastering the Art of French Cooking includes a recipe for shellfish butter that calls for either cooked shrimp or "shellfish debris"—meaning the discarded shells, tails, and heads. The recipe involves blending the meat or debris with melted butter, passing it through a sieve, and letting it solidify. Child recommends using it to doctor up delicate tea sandwiches (it would be great with a few slices of hard-boiled egg or some delicate greens) or deviled eggs, or to spoon richness into seafood bisques.
It's a luxurious end result for debris, but even if you have a handful of poached shrimp leftover after making shrimp cocktail, they can become shrimp butter. Just cut them into a rough chop, and mix them with soft butter, some minced onion, and parsley. The finished product straddles the line between a compound butter, which you might use for finishing a hot dish, and a spread, which you can slather generously onto crackers or bread and eat with abandon.