Better Bread Means Better Bread Crumbs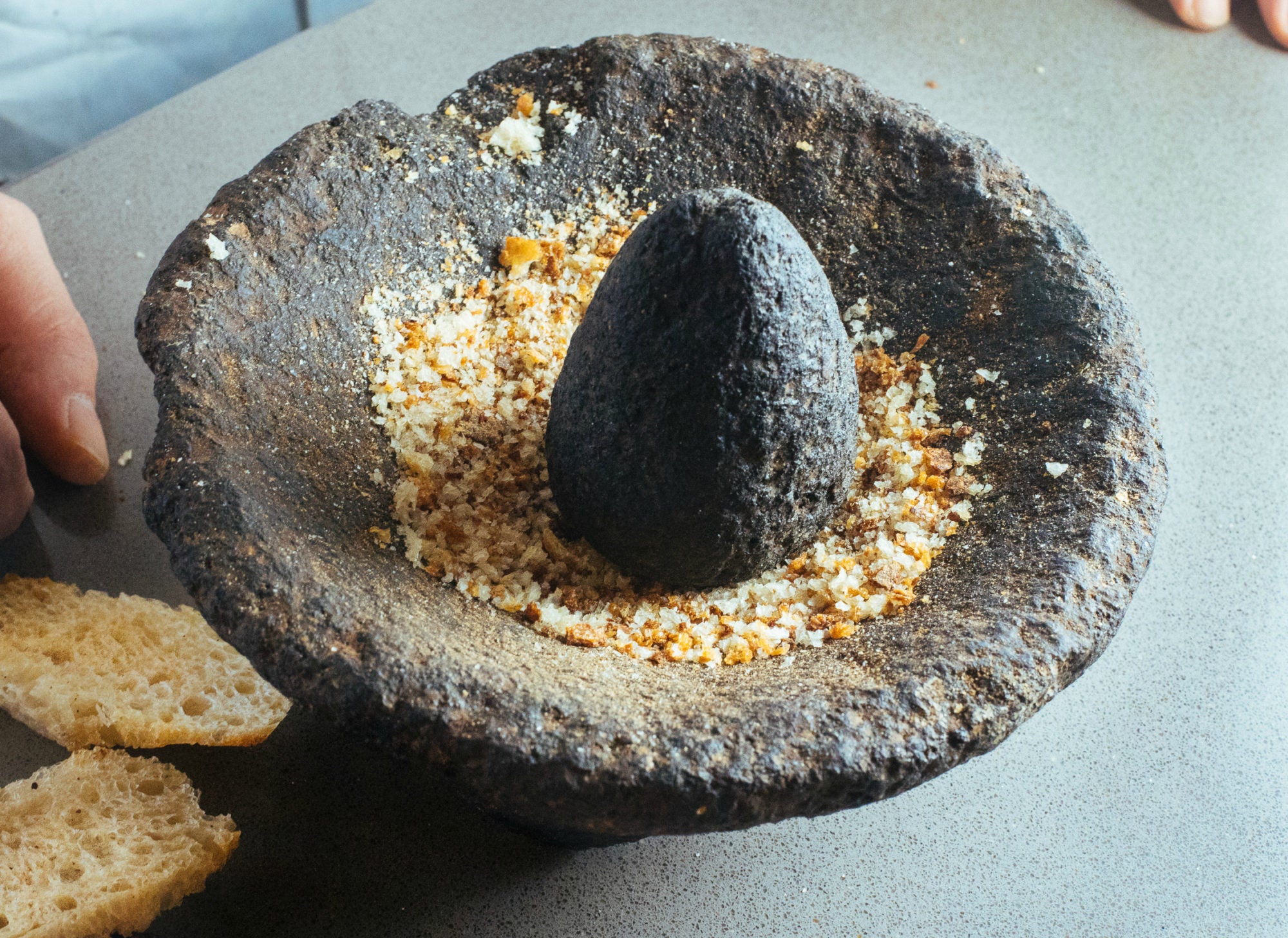 It's about time that more home cooks realized good bread is a gift that keeps giving.
Bread crumbs may seem like an end-of-days ingredient to horde in anticipation of the rich getting richer and the bottoming out of the middle class. At face value, they have a seduction quotient right up there with turnips and tuna fish. But they can actually be luxurious.
I realized this during a recent dinner party at my house when a couple guests were gobsmacked over humble chicken cutlets—pounded thin, breaded and fried, served with a lemon wedge. Reader, that's it.
A guest who had lasered in on the cutlets' deliciousness asked if there was something special about the chicken that made it so good. Nope, said the cook—my partner, Rick Easton, who's a bread baker by profession. It's just bread crumbs: They weren't even toasted or seasoned.
That you can make better cutlets, better eggplant Parmesan, better mac' n cheese, better anything-that-requires-bread-crumbs makes sense with the rise of artisanal bread and the proliferation of bread bakers across the country: people like Paula Oland, who's been overseeing artisanal bread baking for Balthazar Bakery since the '90s; Dave Bauer, who mills his own grain for the bread he bakes at Farm and Sparrow in Asheville; and Avery Ruzicka, co-owner of California's Manresa Bread, the spinoff of three-Michelin-starred Manresa.
You can rationalize paying more for good bread not just because you'll be using it to make more-delicious sandwiches, French toast, or panzanella. You're buying it so you can turn the heels into bread crumbs that keep forever when they're stored properly in a cool, dry place.
The Sicilian rice ball effect
Archestratus Books + Foods in Greenpoint is one of New York's few cookbook stores and the only one in Brooklyn.
Paige Lipari's shop is the kind of place to get lost in as you peruse the cherry-picked collection, with gems like A Treasury of Great Recipes from the voice of horror, Vincent Price, and his wife, Mary, or Rose Levy Beranbaum's The Cake Bible.
Lipari has also set up a cafe in the back of the shop framed with Italian tile work, where she offers pour-over coffee, natural wines, Italian beers, and bites like spinach frittata, mortadella sandwiches, and pistachio-lace cookies.
My favorite item is her weekend arancini, Sicilian rice balls fried to a golden bronze: Enter bread crumbs. She calls them #birreballz, served with a brew or a glass of wine. On the shop's Instagram, you'll see half-moon close-ups of rice-ball innards stuffed with roasted onions or eggplant Parm.
Lipari opened Archestratus nearly three years ago, and much of her cooking style was shaped by Sunday suppers at her Sicilian grandmother's house in Ozone Park, Queens. "She lived in the only place I knew that had an Italian garden, let alone one that was in the flight path of planes landing at JFK," she recalls.
Through those dinners and a growing fascination with cookbooks, she became literate in Sicilian cuisine. She's also learned to appreciate the vast genre of cookbooks, from weighty tomes like Clifford Wright's Mediterranean Feast to collections of self-published family recipes.
A bread crumb revival
In her shop, Lipari says she's been seeing more bread crumbs appearing in vegetable recipes in cookbooks like Alison Roman's Dining In, Joshua McFadden's Six Seasons: A New Way With Vegetables, and Elisabeth Prueitt's Tartine All Day. "They fit into the mix of Mediterranean-Sicilian-Provencal-style sheet pan cooking we're seeing right now," she says.
"I use breadcrumbs for extra texture and flavor," writes McFadden. The widely traveled chef, who's a partner at Portland's Ava Gene's, says home cooks should make a big batch and "store them in your pantry, ready to finish a pasta, salad, gratin. . . anything that wants a toasty crunch." In short, they should be thought of not as something you need for a recipe but as an impromptu addition: Think of how much better toasted, salted bread crumbs would make a bowl of mac'n cheese.
For McFadden, the quality of bread matters, too: "The better the bread, the better the crumbs." He likes to make crumbs with whole-grain, crust-on bread.
Bread crumbs are also part of Prueitt's romanesco salad with quartered eggs, pine nuts, capers, and herbs, for which making fresh toasted bread crumbs is part of the recipe. It's an essential for a dish that's an intersection of textures: the richness of egg, the silky steamed romanesco, and the crunch of the bread crumb garnish.
Back at Archestratus, Lipari has considered bread crumbs an essential ingredient for as long as she's been an avid home cook. She'll use them as a simple garnish for breakfast, sprinkling bread crumbs over eggs or across frittatas. She'll also use them for something a little more elaborate, like as a spread on a sandwich with mortadella, caciocavallo, and roasted red peppers on focaccia. That spread is comprised of a toasted, then pulverized, mix of cheese, tomato paste, onion, parsley, and the namesake ingredient.
Easton, who's a big fan of Lipari, has a more Spartan aesthetic. But one of many things they'd agree on: Though bread crumbs have in the past been associated with misery vegetables and cucina povera, a make-your-own version can deliver understated decadence.