The Best Thing About Going Vegan? This Date Snack.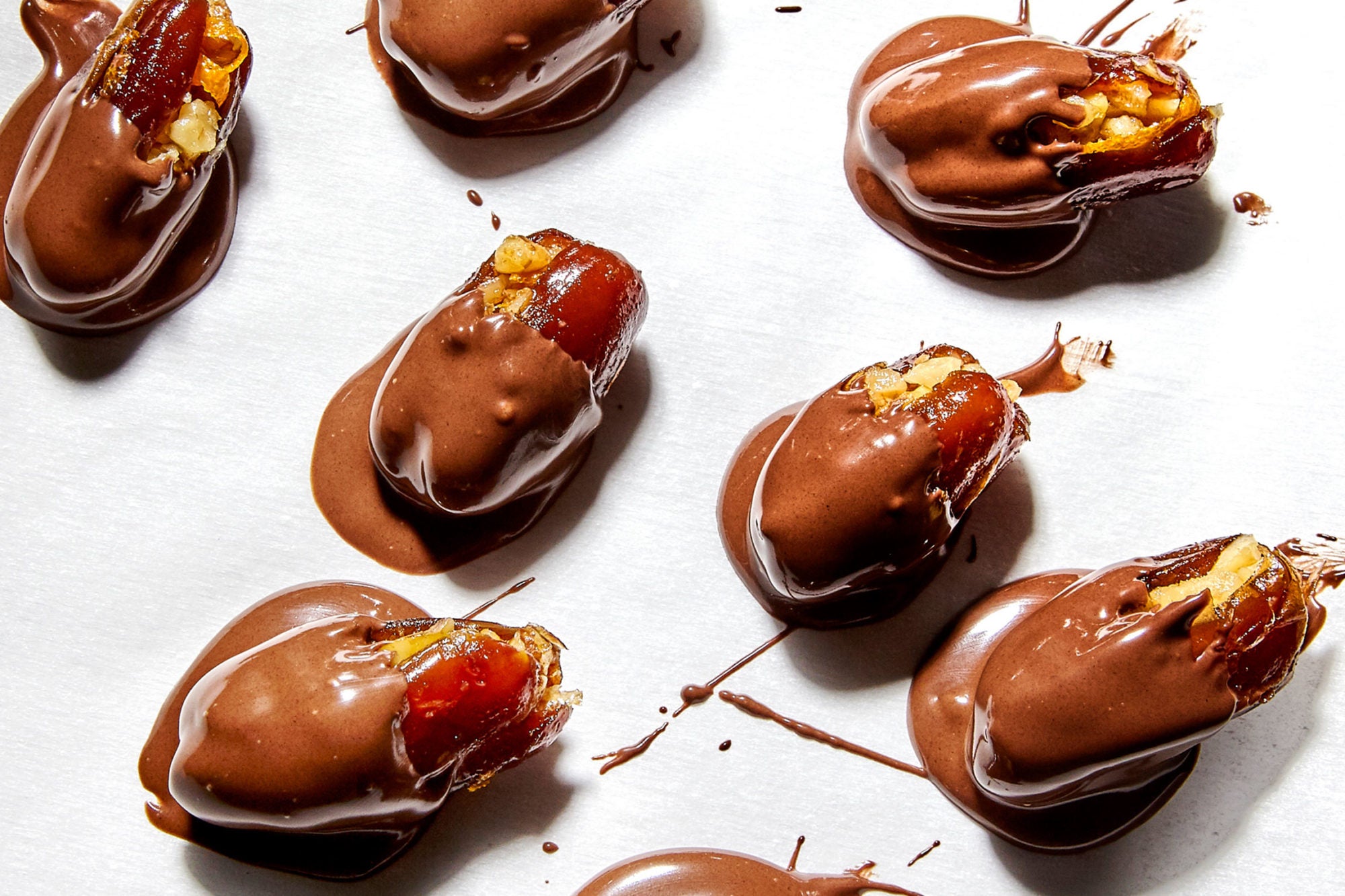 For three months I lived in a stack of cookbooks. And then I took matters into my own hands.
I never thought of myself as someone who might "go vegan." I still don't, even though I've been pretty much living like a vegan for the better part of six months, save for one regretful drunken fried chicken slip-up, the less about which is said, the better. In my mind I still connect veganism with a lot of processed soy meat substitutes and cheeky technicalities. (You know Oreos are vegan, right?) But at the start of 2019, I embarked on veganism as a kind of grand experiment, a change-up from the admittedly indulgent eating habits I'd enjoyed (and then some) for the bulk of my adult life.
I'm not going to be one of those Tofurky vegans, I told myself. And that meant cooking at home—lots of it.
Fortunately, we live in the golden age of both the vegan cookbook and the cookbook store as an American cultural institution. This is something I'm a minor authority on: I spent much of the fall months of 2018 touring cookbook stores and coffee bars as part of the promotional rigmarole for The New Rules of Coffee, a book I coauthored. Along the way I quietly, even sheepishly, asked the staff and proprietors at shops like Now Serving in Los Angeles, Book Larder in Seattle, and Omnivore Books in San Francisco for their favorite vegan cookbook titles.
"I'm not a vegan yet," I'd say, my plan secret for now. "But show me something cool."
I came home from that book tour positively awash in titles. Timothy Pakron's Mississippi Vegan, Isa Does It by Isa Chandra Moskovitz, Bryant Terry's glorious Afro-Vegan, and far too many more to name here. I tore through my own collection of Ottolenghi and contemporary Korean and Thai cookbooks, as well, which aren't exclusively vegan per se but instead offer a kind of roadmap to the dietary approach I hoped to forge. I could still eat well and be vegan, dammit. It didn't have to be a binary either/or.
I survived the perilous (and unexpectedly gaseous) first three months of veganism by living in these cookbooks, developing favorite recipes along the way, and eventually tuning my own riffs focused on quality ingredients presented with minimal fuckery. And to me this recipe for a chocolate-dipped, walnut-stuffed medjool date—adapted from Ruth Fox and Vicky Cohen's Tahini and Turmeric—is really the perfect expression of that.
It's not a "vegan recipe"—just one that happens to be vegan, and plant based, and even arguably raw, although I would not consider myself any sort of grand arbiter on what is or isn't raw cooking, so please don't bite my head off. I've made this for friends and family on a recurring loop over the last six months, served it to colleagues and guests, and it remains my very favorite dessert now, vegan or not. Here's how you make it, with a couple of potential diversions along the way.