Caviar, Cookies, Chicago Deep Dish to Your Door: 13 Holiday Gifts To Eat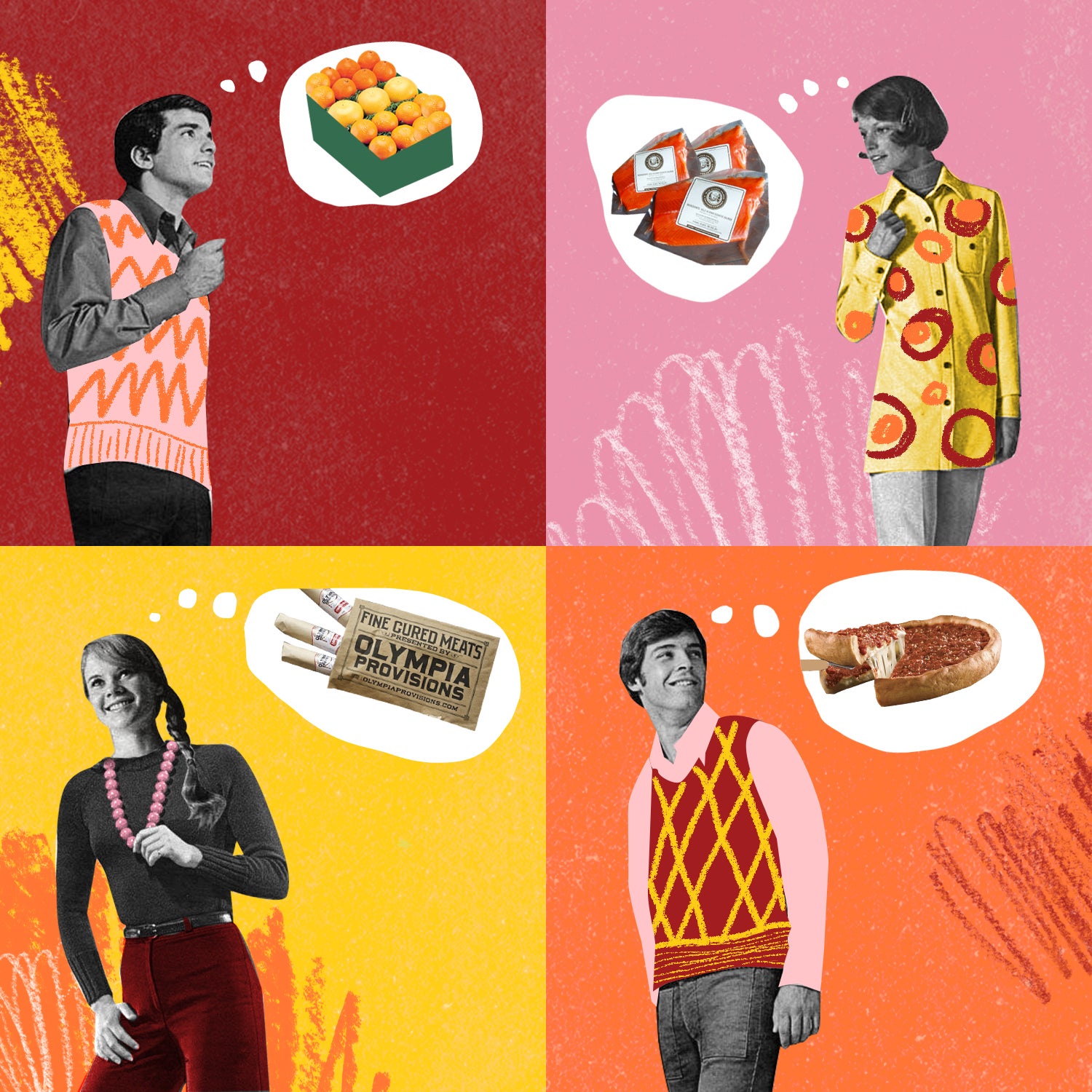 Without getting too doomsday-ish, I have a feeling that a lot of us are going to be stress-eating during the holidays and into next year. Either way, the holiday season is probably when some of us take stock and resolve to do more virtuous things like support independent small businesses and their delicious creations.
Or, at the very least, we can vow to not give friends and family food items that suck. Here's a baker's dozen of edible gifts (but not any actual edibles, which I realize is what some of you think you really need right now) to satisfy even the most discerning food people on your shopping list. Also, it's completely understandable if you buy extra to eat yourself.
Lou Malnati's Pizza
Deep thought: Everybody should try Lou Malnati's deep-dish pies at least once. There are many reasons why regional pizza can be so great and so distinctive. It's about the water supply and the cooking technique and the ingredients. But it's also about the unwavering belief that your style of pizza is the correct one and that every other city has no idea what they're doing. Lou Malnati's is Chicago-style pizza at its finest. Starting at $61.99 for a two-pack
ROE Caviar
Great caviar isn't just for ultra-rich ballers and celebrity chefs who do bumps off their fists. (We see you, José Andrés.) ROE Caviar sells sustainably sourced, single-origin American white sturgeon eggs at a price point that means you don't have to save it for special occasions. So add it to pasta, scrambled eggs, or, hell, avocado toast (there's actually a recipe for this). The gold-rimmed black tin in a wood box adds a touch of elegance to this accessible gift. Starting at $100 for 30 grams
Salt & Straw Seasonal Pints Club
So, the Washington Post thinks Portland, Oregon, is the best food city in America. This seems a bit crazy, but we'll concede that Portland might have the best ice cream. Salt & Straw head churner Tyler Malek is known for devising all sorts of wild flavors that bring savory notes and funk into your cup or cone. He's also worked with chefs on ice cream concoctions like Michael Voltaggio's loaded baked potato flavor and Roy Choi's Korean fluffernutter. (Salt & Straw, as you might have guessed, has successfully expanded into Los Angeles.) Join the seasonal pints club for a monthly five-pints dose that could include holiday classics like peppermint cocoa, honey buttered tarts, and fennel five-spiced eggnog. $65 a month
Olympia Provisions Salami of the Month Club
We'll also concede, re: Portland, that the city's charcuterie is on point. You'll find the excellent cured meats from Olympia Provisions at fine food stores on both coasts. But even better, the salami of the month club offers a year's worth of Pacific Northwest pork bliss. $150
Knead & Co. Pasta of the Month Club
Chef Bruce Kalman's Knead & Co. at Grand Central Market in downtown Los Angeles is a pasta wonderland where the handmade noodles are crafted daily. Members of its pasta club get a pound of one of Knead's signature dried pastas and a pound of seasonal pasta each month, along with recipe cards and suggested pairings from Kalman, who also runs the critically acclaimed Union restaurant. Starting at $75 for three months
Artisanal Turrones of Catalonia Gift Box
You want old-school? Torrons Vicens has been making candy since 1775. You want modernist? This gift box includes turrónes, the beloved Spanish holiday candy traditionally created with almonds and honey, from avant-garde wizard Albert Adrià (brother of El Bulli mastermind Ferran Adrià). Along with five other kinds of turrónes from famed pastry chef Angel Velasco, the box features Adrià's arroz con leche and gin and tonic flavors. $99.95
Hedy Goldsmith Junk in da Trunk Cookie Gift Box
Whatcha gonna do with all that junk, all that junk inside your trunk? Related question: How fantastic of a life does apl.de.ap have? He's rich, famous, and respected in his industry, and he can walk into a CVS and buy toilet paper unnoticed while Fergie and Will.i.am shoo off the paparazzi. Anyway, pastry boss Hedy Goldsmith, the woman who made her rarefied versions of Pop-Tarts for the legendary Michael's Genuine brunch in Miami, is now in L.A. (because everybody moves there eventually) and baking cookies to order for the holidays. Her Junk in da Trunk gift boxes are gooey-salty-sweet bliss. Every batch of a dozen cookies is a little different, with ingredients like classic candy bars, crushed potato chips, and pretzels stuffed with peanut butter in play, depending on how Goldsmith feels that day. And need it be said that when you have these cookies, you might have a feeling that tonight's gonna be a good night? (Do you think we've extended this write-up past its breaking point? C'mon, where is the love?) $90, two-box minimum
Bristol Bay Wild Alaska Salmon Sampler Pack
Is there a salmon aficionado in your life, the kind of person who will only eat wild fish, makes their own gravlax, and knows how to poach a fillet in the dishwasher? This is the perfect gift for them. But it also works well for the more casual seafood eaters who don't know the difference between keta, sockeye, and king salmon, because it will give them the chance to try all three. Starting at $267.50 for 15 pounds
Panther Coffee East Coast and West Coast Espresso Blends
Panther Coffee, which started as a cart on a bicycle that parked alongside food trucks, has become one of the coolest hangouts in Miami, where scenester creatives meet up in Wynwood near the Design District. It's also a place that's beloved by food-world insiders for its premium, small-batch roasting and its espresso blends. The ultra-creamy East Coast version and the fruitier West Coast version both offer nice notes of chocolate along with the requisite jolt. Starting at $10
Rancho Gordo Heirloom Beans
Beans are the perfect cold-weather food: hearty plant protein for vegetarians but also a great way to add depth to the meatiest soups and stews. Rancho Gordo heirloom beans, a favorite of L.A. chef Josef Centeno at his produce-forward P.Y.T. restaurant, include great options for cassoulet, chili, and casseroles. But beans as a gift? Trust. These are some special beans. Starting at $5.95
Hanukkah Gelt
Here's the perfect gift for those horrible parents who keep taking candy from their children. These dark-chocolate treats really do look like Judean coins and, with a sprinkling of sea salt in each one, offer adults a savory edge to their daily holiday indulgence. $30
Honeybell Oranges from Harvey's Groves
Honeybell oranges are some of the juiciest fruit you'll ever try, shots of pure citrus to remind you that the Sunshine State is about a lot more than Florida Man headlines and high-priced real estate that might fall into the sea someday. It's also about the most delicious way to load up on vitamin C. Starting at $39.95
The Fare Trade Chef-Curated Boxes
One difference between how you cook and how the best professional chefs cook (well, besides the knife skills, the plating precision, and the discipline) is probably the quality of ingredients. With the chef-curated boxes from the Fare Trade, home cooks get a selection of what's in the best-stocked pantries in the country, as well as recipe cards and access to online video tutorials with the chefs. The box from James Beard Award–winning Denver chef Alex Seidel, for example, has dried chanterelle mushrooms from Napa Valley as well as Colorado products like quinoa, Mexican dark chocolate, holiday pumpkin spread, and rose honey. Other chefs with boxes include L.A.'s Eddie Ruiz and New York's Leah Cohen. $65