Potstickers, Cornbread, and Spam Musubi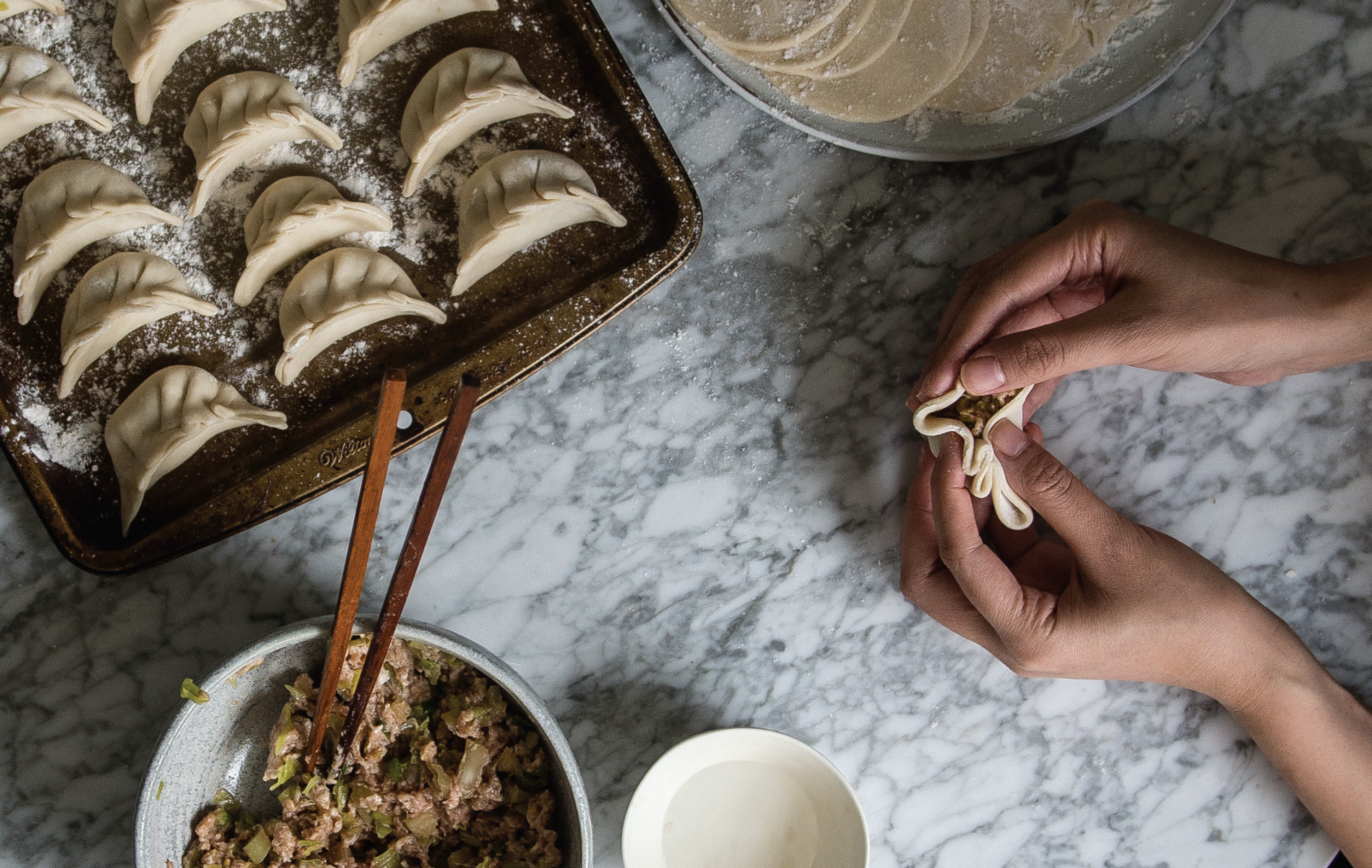 For cookbook author Cynthia Chen McTernan, there's no such thing as an unconventional pairing.
It's not uncommon to find kimchi chicken quesadillas, collard green wontons, and Shanghainese red cooked pork on Cynthia Chen McTernan's dinner table. For the popular blogger behind Two Red Bowls, these disparate foods embody the multiculturalism of her family, taking influence from her own Chinese-American upbringing in Greenville, South Carolina, and her Hawaii-born husband's Korean-Irish background. Her new cookbook, A Common Table, serves as a representation of the many Venn diagrams that make up her home cooking. It's not fully Chinese, not quite Southern, nor entirely Korean, but rather the embodiment of a multihyphenate.
"I guess Asian-American is the best way to describe it, because it's a little bit of everything," McTernan tells me. But in her mind, it's less about clinging to that label. "When people ask, I just tell them it's just things that I like to eat. Everything in this book is a reflection of my favorite foods, which are all influenced by my background."
As she began to conceptualize the cookbook, McTernan instantly drew parallels across recipes. "There are flat Southern chicken and dumplings [sometimes called slicks], which I realized are really similar to Korean sujebi," she says, referring to the dough flakes found bobbing in chicken broth at traditional Korean restaurants. The recipes utilize the same hand-tearing technique and all-purpose dumpling dough—it's as simple as combining flour, salt, and boiling water. And that same dough recipe works for potstickers, too.
Throughout the book, McTernan employs classic techniques that appear in every cuisine in varying iterations. With a hunk of lamb shank, she chooses to make a ragù to go with eggy pappardelle pasta—but also pays homage to her mother's version, which is braised with radishes and ginger root and served over cellophane noodles. At its core, the bare bones of the process remain the same, and it's just a matter of a few tweaks, like swapping out red wine for Shaoxing wine, that make the difference.
But while her recipes are deeply personal and particularly rooted in her own family—like her Shanghainese great-grandmother's lion's-head meatballs, or spam musubi, which represents the beginning of her relationship with her husband—they speak to how home-cooking styles continue to evolve. Upholding tradition while weaving in varied influences creates a wholly new identity, which flourishes in its own fluidity and lack of adherence to one category.
"If the traditional dishes in this book represent where we come from—my family, my husband's family, and the traditions that were passed down to us," the introduction reads, "I like to think of these 'new' dishes as the quirky emblem of where we are going."