There's More Than One Way to Pasta and Bean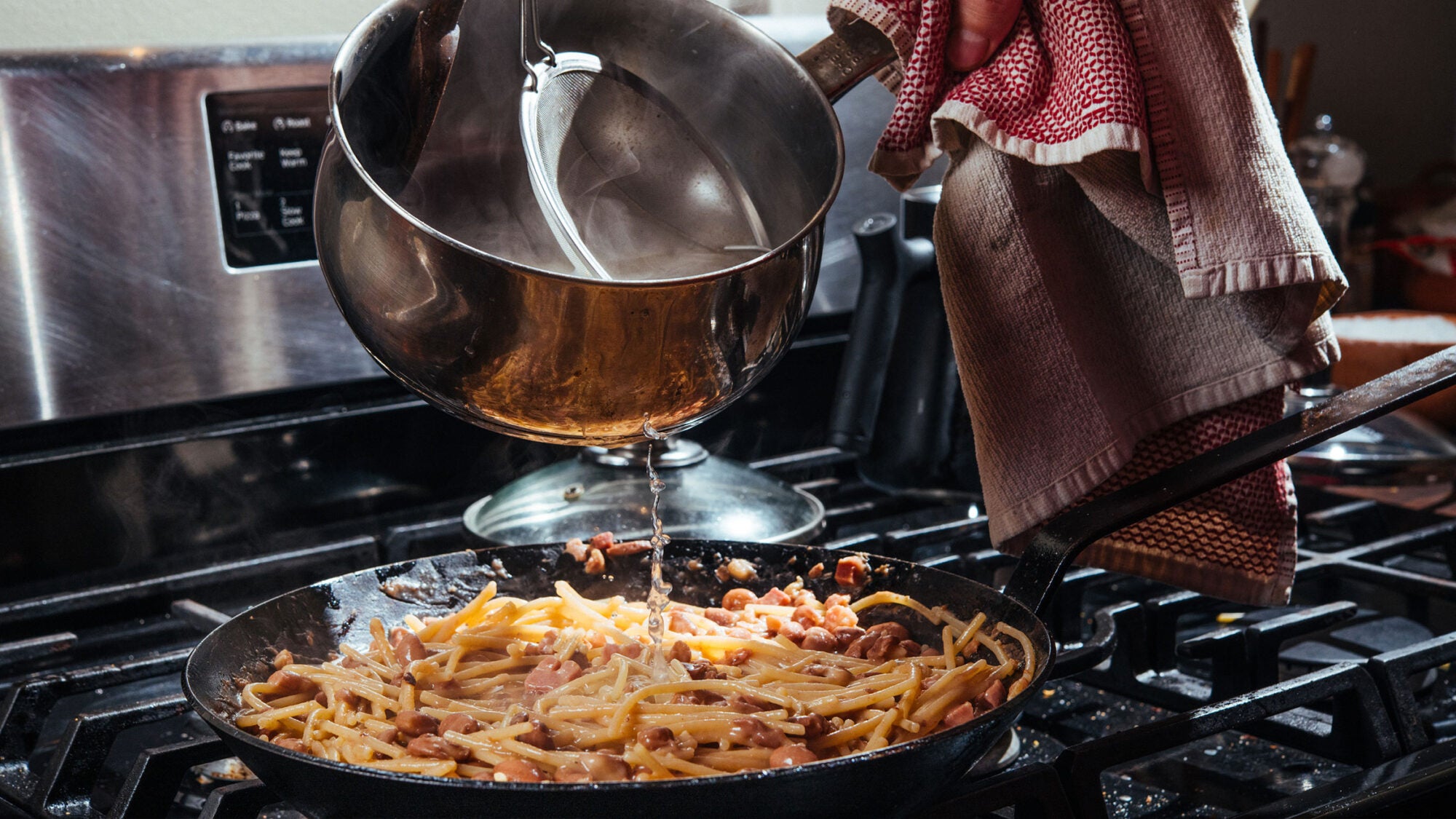 On the many ways to appreciate a carb dream team.
Pasta was one of the first foods I tried to master when I was learning how to feed myself. My European noodle exploration began, as it often does in the United States, with tearing open a box of dried spaghetti, boiling it, and then drowning it in jarred tomato sauce. In time, I began seasoning the cooking water well with salt, undercooking the pasta just less than al dente (as directed by some cooks who know far better than me), and finishing cooking the pasta in a skillet, along with some of its cooking water and a judicious amount of sauce. The pasta, not the sauce, became the crux: a well-tailored blazer that accentuates the torso of its wearer rather than engulfing it.
Soon after, I began preparing beans at home. Canned black beans, seasoned with green bell pepper, onion, garlic, and cumin, in the Cuban style. Chickpeas, released from their tin home, and served with coriander seed, tomato paste, and Swiss chard from a Paula Wolfert recipe. Now, I have graduated to cooking double batches of dried beans so that there is always a spare in the freezer.
Then, one fateful day, I read about bean pasta. And the clouds parted. And the angels rejoiced. And I gasped. To us dimwits who too often assess before we experience, bean pasta sounds redundant at best, and misguided at worst. I do not remember where I first discovered the double-starch conjoining of legume and extruded pasta, but I have been plumbing the transformative options ever since. Lately, my source for ongoing inspiration is Judith Barrett's 2004 book Fagioli: The Bean Cuisine of Italy.
Barrett comes at Italianate beans in a variety of ways: in soups, in side dishes, in main courses. A chunky soup of lentils and chestnuts; sweet-sour fagiolo di lamon, in the Venetian style; a guazzetto (stew) of cannellini beans with white wine, cherry tomatoes, and monkfish from Cremona. My pet chapter, of course, is "pasta e fagioli." It includes recipes for pasta-centric bean applications like rotini with mashed cannellini beans and rosemary; and millecosedde dalla Calabria, an admixture of five—yes, five—kinds of beans with dried porcini, Savoy cabbage, and strands of spaghetti broken into pieces.
A few recipes in Fagioli take the idea of pantry pasta to an economical, resourceful endgame: a means by which you enlist the dribs and drabs of dried pasta loitering in the pantry. A scooch of linguine, a smidge of bucatini, a shadow of spaghettini. Each broken into thirds and dressed with some kind of rough-edged bean sauce, like one made with red beans that have been fortified with sautéed pancetta, red onion, and celery, and finished with chopped Italian parsley and Parmigiano-Reggiano.
I have combined Barrett's sage thinking with my standard approach for making pasta with beans. Start by cooking the beans to your liking. I have used cranberry beans seasoned with classic Italian flavors such as garlic, rosemary, and red chile flakes; I have used leftover dal steeled with cumin, turmeric, and bird's eye chiles. The versatility of the bean base is staggering.
While the beans are cooking or reheating, cook the pasta pieces in well-salted water until they are very barely cooked. You want to prepare the pasta on the unpalatable side of al dente. While the pasta is cooking, heat a wallop of good olive oil in a skillet large enough to hold the pasta. A clove of garlic, sliced thinly, is a congenial addition. Add a large scoop of beans, along with a bit of their cooking liquid, if there is any. I often mash some of the intact beans with a spoon or the backside of tongs. If there is no cooking liquid in, say, a bean puree like dal, add enough so that the beans are loose in the skillet.
When the pasta is ready, use a spider or a slotted spoon to transfer it to the skillet, along with more of the pasta cooking water. Get the sauce to a perky simmer, and cook, stirring or tossing incessantly, until the liquid mostly evaporates. Keep adding pasta water and reducing until the pasta has achieved al dente status. A final stir with more olive oil, a blob of butter, and a mist of lemon juice is wise. A grating of Parmigiano is, too.
Pasta and beans: a faultless match that proves improbability is merely the lazy thinking of a negligent disbeliever.
A Kitchen in New Orleans. Many years of eating, cooking, and writing about food have left Scott Hocker with many stories to tell. In this occasional column, he re-creates a dish tied to a distant, or sometimes recent, food memory.