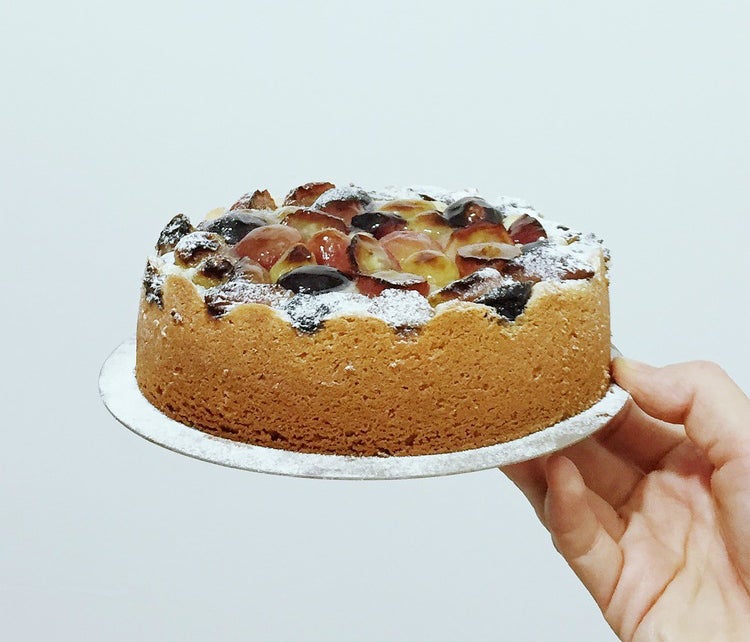 Classically plain Jane, the gâteau Basque continues to pop up at some of the more interesting restaurants and bakeries.
On a recent visit to Clear Flour Bread in Brookline, Massachusetts, I made an impulse purchase of a piece of cake that, admittedly, looked rather plain. The low-rise, unadorned slice looked more like a glorified sugar cookie than a cake cake. There was no frosting. It was beige in color with a shiny egg wash and scoring on top, with little to hint at what was inside. When I bit into it, my instincts were confirmed in spades. The firm yet sandy top crust gave way to a filling that the French might call moelleux—soft, luscious custard with a juicy cherry in every other bite. This, the gâteau Basque, was a perfect pastry.
The beauty of the gâteau Basque is its simplicity. In its most classic form, the homey dessert is a two-crusted tart—i.e., a tart with both a bottom and a top crust—with a cherry jam or custard filling that's often flavored with rum. The cake gets its name from the mountainous region that straddles France and Spain, where it's called pastel vasco, and the choice of fruit reflects pride for Itxassou cherries, a local heirloom variety. The crust, a sweet sablé dough, is baked until it's deep brown and has solidified into a sturdy case for the filling. Though the exterior is crunchy and fine-crumbed, as your teeth make their way to the center, the texture of the pastry gets moister, and, well, more cakelike. It's a delightfully nuanced sensation for such a straightforward dessert.
David Lebovitz, the author of several baking books, first fell in love with the cake when he was the pastry chef at Chez Panisse. He introduced gâteau Basque to the menu, inspired by a recipe he had seen in Paula Wolfert's The Cooking of Southwest France. It was a hit. "It was freshly made, it was still warm—I don't know if we served it with anything or just some whipped cream, but it was always popular," recalls Lebovitz.
While gâteau Basque might never gain the notoriety of say, kouign amann, the regional French pastry continues to pop up at some of the more interesting restaurants and bakeries. Recently, Lebovitz had what he deemed the best gâteau Basque of his life, served with huckleberry sauce and toasted almond ice cream, at Tartine Manufactory in San Francisco. "Gâteau Basque is not showy and it's not photogenic—it's not a sexy dessert," Lebovitz asserts. "That's not meant as a criticism, because when I had it at Tartine it stopped me in my tracks."
Gâteau Basque is a baker's baked good. When I approached Ayako Kurokawa, the pastry chef who runs Burrow, a tiny shop in the lobby of an office building in Brooklyn's Dumbo neighborhood, she confided that she was delighted that I had inquired about that cake in particular. "Few customers have an understanding of what it is," says Kurokawa, who specializes in classic French desserts, among them lemony madeleines and a far Breton that made me weak in the knees. "I love it. It's cakey and moist, like a cookie. Some customers really love it, but it's not as popular as chocolate chip cookies."
Ayako makes her gâteau Basque (see top photo) with a rum-flavored dough ("When it bakes, the aroma of rum is unbelievable") and pipes it directly into the mold because it's that soft. Her gâteaux are usually two-crusted, homemade cherry-jam numbers, but if she's running low on batter, she'll make a single-crust cake filled with pastry cream and topped with fruit—sometimes grapes, pears, apricots, or other stone fruit in place of the usual cherries, which get melty when they bake.
Alex Raij, chef-owner of Txikito, a Basque restaurant in New York City, and author of The Basque Cookbook, where her recipe for gâteau Basque appears, first fell in love with the dessert at Honey Bear Bakery in Seattle, Washington. "It was next level, almost too refined," says Raij, who recalls a seamless crust that was so perfect you couldn't even see the traces of piping. "They had a ton of custard inside, and it was like, how did they do this?" At Txikito, she makes her cake with custard, too, which she flavors with mahrab, a powder made from ground cherry pits that gives the cream a bitter almond flavor that plays well with cherries.
But gâteau Basque is not limited to the kitchens of professionals. "French people don't bake at home like we do, which always shocks Americans," says Lebovitz. "But I think gâteau Basque is something people bake at home because it's simple. Basically make a dough, buy a jar of jam, and you put it together."
Just like that, Lebovitz emboldened me to try his recipe from Ready for Dessert, which incorporates almonds into the crust and doctors the cherry jam with brandy, rum, and anise liqueur. It's exactly the type of recipe I like—unfussy, not too many ingredients, delicious results. The dough came together easily in the food processor and, as Leibovitz warned in the book, was extremely soft, but forgiving. Though my top and bottom crusts tore when I transferred them from the counter to the springform pan, the oven all but erased my rudimentary patchwork. But I didn't sweat it. It is a rustic cake, after all.