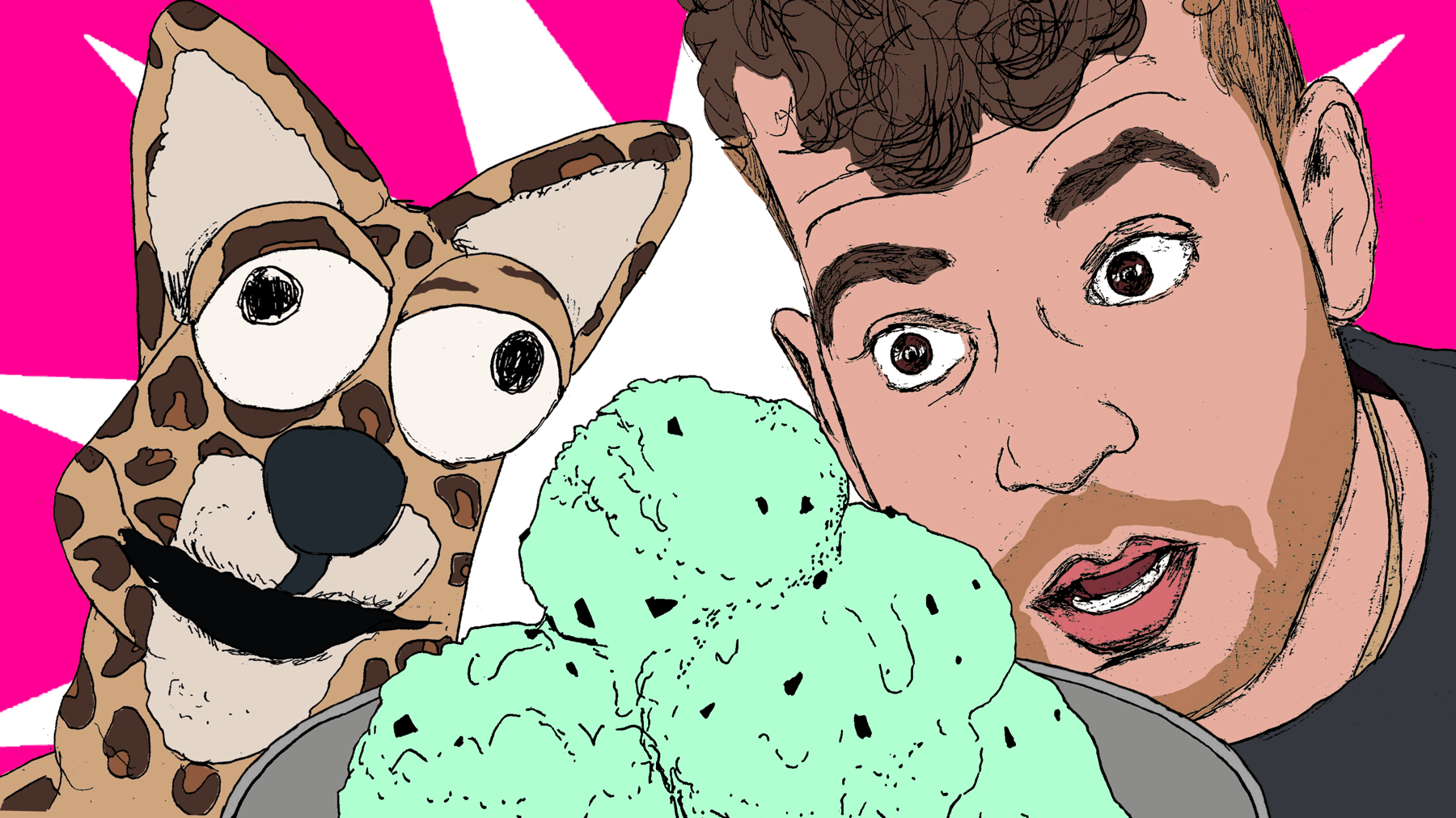 Noah Morayniss is behind the rapping, cooking, occasionally foul-mouthed cheetah that is legitimately the freshest voice in food media.
One ignores the rapid rise of TikTok food instructionals at their own peril: this short, highly addictive format is increasingly where the discourse (and the fun) around food culture happens. A new generation of on-camera stars is reaching a staggeringly large and perpetually online global audience. Some 40,000 people and counting have more than a million followers on the platform, many of these incorporating everything from recipe development to restaurant reviews into their online purview. It raises the question: amid all the light pollution, with as many TikTok stars as there are heavenly bodies in the sky, how do you manage to shine bright? 
For Noah Morayniss—known as goodboy noah on all social media platforms—the answer was found in the form of a rapping, cooking, occasionally foul-mouthed cheetah puppet. 
Morayniss, age 30 ("a young 30," he says), boasts 1.6 million followers on TikTok and another 805,000 on Instagram. The account's hook is immediate: a series of one-minute original musical compositions in which Morayniss and his partner—a puppet named Cheetah, more on him shortly—cook recipes like Granny Smith apple pie and challah from scratch in a small home kitchen. The dishes they make are accessible and fun, from homemade bagels to chocolate chip banana bread, built on a none-too-serious approach to online cooking that eschews formality and traditional recipes in favor of beats, rhymes, and punch lines.
Noah sings the hooks in a blue-eyed soul falsetto; Cheetah raps the verse in a confident, PG-13 baritone. Attempting to describe the spectacle is akin to writing a paragraph on the red-tinged wobble of Mars visible on a cool, clear night, which is to say, you can talk about it all you want, but there's nothing quite like taking a look for yourself.
Like many content creators who find themselves in possession of a vast social media following, this was not the original plan for Morayniss. He was born in Toronto, grew up in West LA (his father is the entertainment executive John Morayniss), and spent much of his twenties trying to make a name for himself as a recording artist. "I knew I wanted to do music, and I love R&B," he tells me, "but I was just kind of floating a little bit. The promotion side of the business made me miserable. But then I started talking to Cheetah, and we agreed to make some funny cooking videos where we sing and rap."
This point in the story requires some clarity. Although visibly a puppet—Cheetah looks a bit like a spotted version of Shari Lewis's Lamb Chop—Morayniss insists throughout our interview on referring to Cheetah as a living being and, indeed, a full and equal partner in both content production and performance. When asked, for example, what first inspired him to make cooking videos with a puppet, Morayniss's reaction was swift: "What do you mean, 'puppet'?" The rhetorical gambit was painstakingly maintained throughout the interview, and by the end proved surprisingly effective—I began referring to Cheetah as his colleague and stopped just short of asking for a breakdown of rights and licensing attribution. 
Noah and Cheetah's success was immediate from the first video, with 240,000 likes and more than 3,000 comments on their debut collaboration in early 2022, a breezy omelet instructional with rhymes like "just crack three eggs in the bowl, put a little butter on the pan, heat medium-low." The video has now been viewed more than one million times, bested by follow-ups on homemade sushi, steak, and miso-glazed salmon. "Justin Bieber shared the salmon video on TikTok," Morayniss remembers, "and Snoop Dogg shared the banana bread video on his Instagram page." That particular clip represents something of an inflection point for the growth of Noah and Cheetah, a staggering 1.8 million likes for a one-minute video containing lines such as "we need some flour, my dude, then you mix the batter up till it's silky smooth." 
The duo's embrace by the music community has been impressive—Raekwon (a Wu-Tang Clan rapper also known as "the Chef") is dropping fire emojis in the comments—but it's these videos' approach to home cooking that I find particularly engaging. Humor, levity, and the ability to make your audience smile are underrated tools in the food content arsenal; we forget such things in the fog of history, but some of the earliest famous food personalities, from Julia Child to Martin Yan and James Beard, were often riotously funny, expressing themselves through their cooking in often unexpected ways. "I'm actually a bad cook," Morayniss says, leaning back into the concept, "but Cheetah is a great cook—he's the master chef." 
The recipes provided on @goodboy.noah are free from much of the trappings of traditional food tutorials (like how much flour to use for the bagels), which Morayniss sees as being in conflict with the constraints of TikTok as a platform. "Sometimes it's just hard to fit all that stuff in the lyrics," he says, laughing. "It's hard to keep it under a minute and have it all flow when you have to measure everything out. You can't include every little thing in the lyrics." 
This doesn't stop fans from cooking along with Noah and Cheetah at home, and tagging the account in their attempts to re-create dishes like lasagna, macaroni and cheese, and churros—"the dishes with lots of carbs are the most popular," Noah says. Our modern world being what it is, it didn't take long for brands to come calling, and the account has now featured sponsored content collaborations with the likes of Tillamook, Maruchan Ramen, Sweetgreen, and Cravings by Chrissy Teigen. "We approach that stuff the same way we do any video," says Morayniss, speaking on behalf of his creative partner. "Our relationship is pretty unintentionally perfect for ads, because Cheetah is teaching me everything and recommending stuff, and I'm just like, 'Yeah, that's cool!'" 
Creating content for the platform is now Noah Morayniss's full-time job, and he's represented by 3 Arts Entertainment, a talent management and production company based in Beverly Hills. The account offers merchandise for sale (including shirts, hoodies, mugs, and a Cheetah-branded hot sauce available in Hickory Smoked or Classic Chipotle), plus full-length songs that stretch beyond the time limits of TikTok. (The first of these, titled "Ayo," dropped in late February.) The duo have met with literary agents to discuss a cookbook and are developing a TV show concept. 
But the question everyone keeps asking—from Questlove to untold thousands of individual comments across dozens of videos—is a simple one, and I had to ask it myself toward the end of our conversation, even though it made me feel a little bit guilty, like I was knowingly ruining the bit. Who is the voice of Cheetah? 
"Why do people keep asking me this question?!" You can feel the conversational temperature rising, a note of barely contained outrage in Noah Morayniss's reply. "That's like asking who does the voice for me! Why do people think we dub his voice?"
I approach my follow-up gingerly—I don't want to besmirch Cheetah—but people have always been interested in this sort of thing. Frank Oz and Jim Henson famously performed Bert and Ernie as an extension of their lifelong creative collaboration; Paul Reubens drew on LA-area comedians in the 1980s for the multimedia coterie of Pee-wee's Playhouse; the puppets on Crank Yankers were voiced by everyone from Biz Markie to Sarah Silverman. It's a pretty natural question to ask—there's a reason people want to know, especially once we become invested in the content.  
"I get all that," says Morayniss, thinking for a moment. "But those are all just puppets. What's that got to do with my man Cheetah?"