The Art of Norway's Sit-Down Breakfast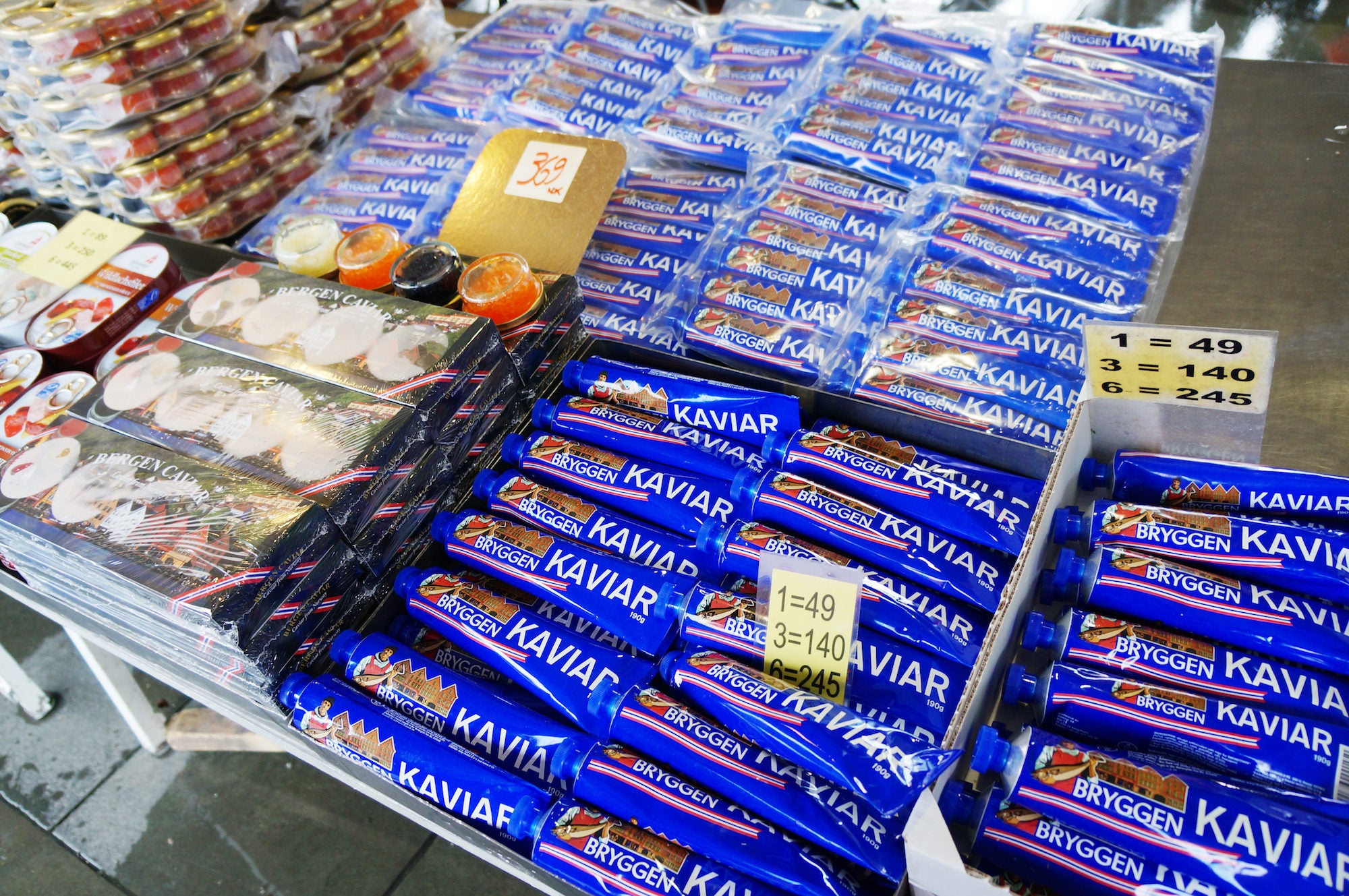 Breakfast is often rushed, over-ritualized on the weekend, or skipped altogether. In Norway, it's not.
Waking up before sunrise to make breakfast sounds like something straight out of a "10 Habits of Highly Successful People" listicle, but in Oppdal, a skiing town tucked below Norway's most famous peaks, that's actually an attainable goal during the winter—since the sun rises at 10 a.m.
My first morning there, staying at the home of a college friend, I woke up to a dining room table filled with a Norwegian bounty: tubes of mayonnaise, tubes of caviar, tubes of bacon cheese—all that could be mistaken for the Colgate in my toiletry bag—freshly baked bread, homemade pickled herring and raspberry jam in Mason jars, a stack of knekkebrød (a cracker-like flatbread), cans of leverpostej (liver paste), a package of brunost (a sweet and savory brown whey cheese), a tub of Sjokade (Norway's answer to Nutella), and leftover Christmas ham.
For someone who reserves involved setups like this for dinner parties, I figured the grandiosity was a chance to showcase classic Norwegian food for the visiting Americans. But as I soon learned from the Norwegian friend I stayed with, that's just how breakfast—and by extension lunch—is customarily eaten in the country. "Sit-down breakfasts are a big thing here," my host announced before we ate. "It's so normal that we don't even have a name for this type of breakfast spread." As much as coffee and Cracklin' Oat Bran is synonymous with breakfast in the States, it's not a Norwegian breakfast without liver and pickled herring.
Many Americans are familiar with the idea of smörgåsbord, a Swedish term referring to a hot and cold buffet-style meal, but smorgasbord is not quite what we're talking about here at breakfast. Americans have adapted the word to describe any type of spread, but an actual smörgåsbord (pronounced "smer-ghas-bord") refers to an elaborate buffet of sandwich toppings (charcuterie meats and cheeses, pâtés, and fish) reserved for special occasions, typically organized by catering companies or hotels, and it's not tied to a specific mealtime. As for Norwegian breakfasts, it's more of a casual, everyday occurrence on a much smaller scale, perhaps with muesli or porridge making an appearance on the table, too.
As someone whose dinner parties are typically bogged down with multistep pork roasts and staggering stovetop space within the bounds of a tiny New York City kitchen, this effortless approach to feasting felt novel. Freshly baked rolls were ready after just eight minutes in the oven, thanks to the par-baked bread sold at the grocery store. For bread straight out of the package, it was a far cry from Pillsbury crescents as far as premade rolls go. A jumbo-sized Mason jar of pickled herring my friend's mom made ahead of time lasted us the entire week, packed with zesty acidity and a punch of saltiness. And anything else you spread on top of bread, known categorically as pålegg in Norwegian, was already premade; from the caviar spread to the brunost to the homemade raspberry jam. No major meal prep required.
Between to-go coffee workdays and spending the better part of the weekend waiting on line for brunch back at home, taking the time to sit down and actually eat a full breakfast without distraction was a simple pleasure, albeit glaringly obvious. It wasn't something I realized I had been missing out on because it was never really a part of my routine. Every morning as a sliver of the sun began to peek out of the snowy skies, my friends and I sipped coffee while assembling our own pålegg combinations, ranging from brunost and jam for a savory yet sweet bite to a hefty helping of leverpostej beneath soft scrambled eggs. We took our time because, well, when you're in a tiny town in the middle of Norway, that's all you can do…besides go skiing.
I brought my own tube of caviar spread back home with me, safely placed on my refrigerator shelf, with a package of knekkebrød in the pantry waiting for it. And while I won't have the rest of the Norwegian accompaniments with it, nor the charming scenery of freshly snow-dusted cabins, they're reserved for leisurely breakfasts only, serving as a reminder that mealtime isn't just about nourishment and convenience—it should be fully savored without interference on even the most mundane days.
Lead image from Flickr: RosieTulips