Aretha, Le Bernardin, and a Side of Ranch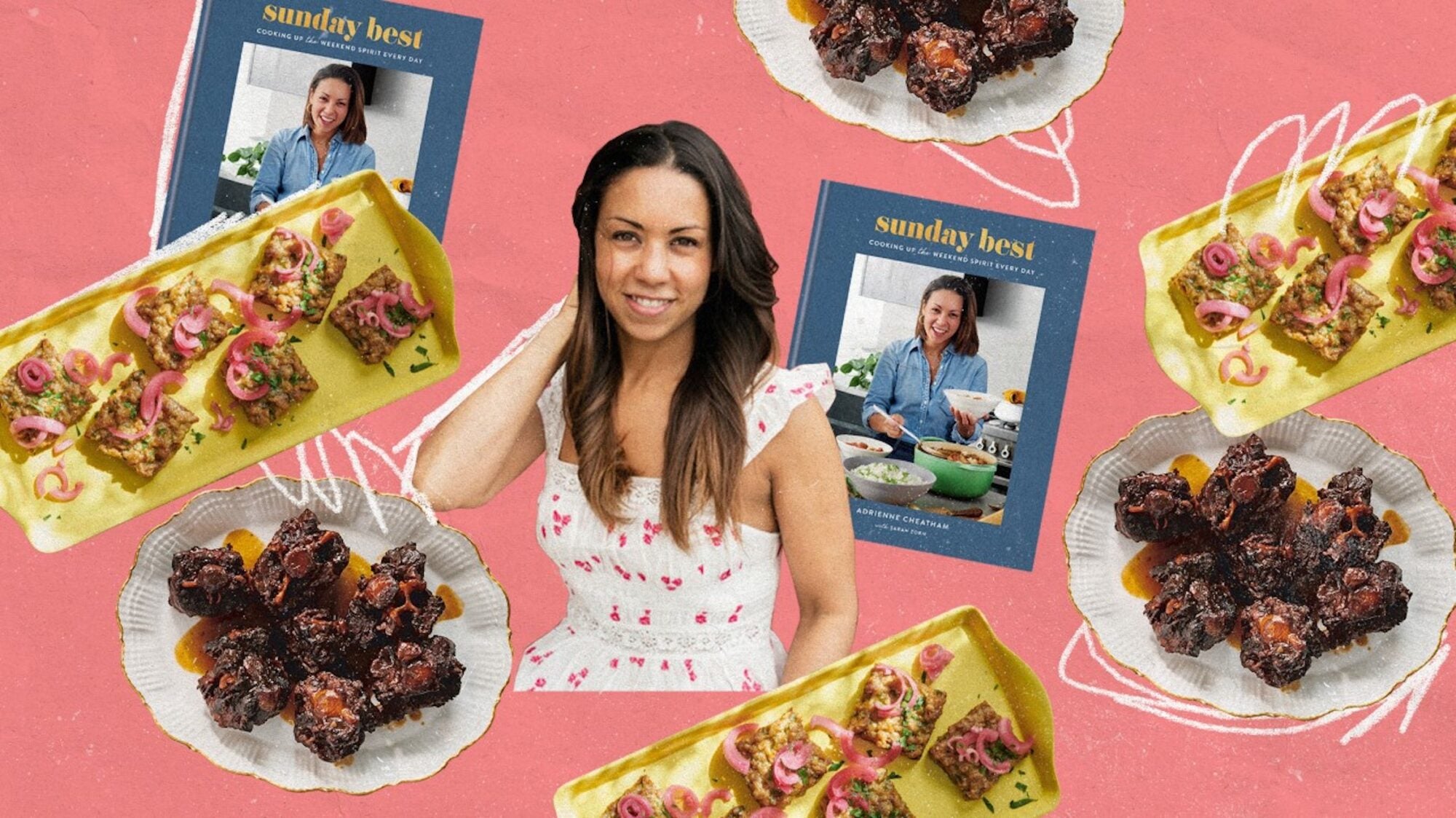 In her new cookbook, Sunday Best, Adrienne Cheatham chronicles a career in fine dining—and a love of Cheerwine and American cheese.
There are plenty of talented chefs out there who have cooked at three-Michelin-star restaurants, but Adrienne Cheatham may be the only one of them who can say that she perfected her ranch dressing technique while cooking for the legendary singer Aretha Franklin. Her new cookbook, Sunday Best, brings together a whole career's worth of fine-dining techniques (like the brioche-crusted salmon fillet that was inspired by chef Laurent Gras) and childhood hits that have stood the test of time (like toasted American cheese on white bread).
Cheatham has competed on Top Chef and cooked for chefs like Marcus Samuelsson and Éric Ripert, and she's the founder of SundayBest, a Harlem-based dinner pop-up doing monthly ticketed dinners at various venues around the New York City. I asked her what she's most excited about in New York's current dining climate—and why we should be braising more meats in the Southern soda Cheerwine.
You tell a story in the book about Aretha Franklin celebrating her birthday at Le Bernardin every year and ordering completely off-menu. What was her typical order like?
It was always a large group of people. It would be 10, 12, 14 people. They would sit at the largest table in the dining room. At Le Bernardin, that's table number 14, right in the middle of the floor and near the floral decorations, so it's in the center of everything. Some people would order stuff from the menu, but for the most part, Aretha Franklin just had her things that she wanted, starting with carrot salad with ranch dressing. Usually a fish, and she would ask for it to be crispy-skinned—not fried but just a nice crispy skin, with some veggies. It was like, "Could I get this garnish from this dish, but with this fish or with this sauce?" It was always fun for the cooks to put together, because everyone was always so excited to cook for her.
I love that you included a classed-up version of hanky pankies, this sort of classic, semi-homemade party snack that consists of sausage and cheese on little toasts. What were the hanky pankies like that you grew up with? And where do you think these came from?
There are a lot of different stories about where they came from. Some people say it was during the Great Depression, when you had certain rations, and my grandfather grew up during the Depression. It was about turning cheap, rationed food into something more. In my family, it was really just Jimmy Dean spicy breakfast sausage and Velveeta cheese. And they would brown up the sausage and sometimes put chopped onions in. We would go through trays of these at any family gathering. People would crush them before dinnertime even got close.
Let's talk about those Cheerwine-braised oxtails. Why does Cheerwine work for braising, and what made you decide to pair it with oxtail?
Cheerwine is a Southern soda. It can be really sweet, and it's like a cross between Dr Pepper and Cherry Coke. The flavor reminded me of this Bordelaise I had one time that was sort of red and coated with this kind of sauce, and it gets that heaviness from the bone marrow in Bordelaise sauce. And something about it just reminded me of Cheerwine—that and eating Chinese takeout spareribs that have that red, sticky sauce on them. It kind of cuts back on that sweetness, because you have the red wine and the aromatics, but it still gives you that cross between Chinese takeout spareribs and a French Bordelaise.
Tell me about your pop-up series, SundayBest.
I started the pop-up right when my season of Top Chef finished airing. I came in second, and I had already planned on starting this pop-up.
It was really cool to see so many people show love and support who were really interested in the food and interested in finding out about the cuisine of the South and what people know as soul food or African American cuisine—realizing all of the connections that we have. People were really excited about that. I got to do research and find out about all of these cultural connections that have come through the South over the years of immigration and through slavery. There are so many other groups—German, Irish, Filipino, Korean, Japanese, Chinese, Italian, French—who all came to the South, and you can see that reflected in a lot of the food.
How different has it been cooking for a pop-up series of dinners, compared to cooking in restaurants?
It's so different, because I really get to play with stuff. It's not like you have a static menu. And there are some restaurants that change their food more frequently, but at a restaurant, you want to provide something that people are familiar with. So I really have the freedom and flexibility to try something new just about every time. 
The pandemic was obviously really tough on New York restaurants, but as a chef in New York right now, what are you feeling optimistic about or excited about?
There are a lot of restaurants that are trying new things since COVID disrupted the industry (not necessarily in a good way), but it did lead to more rapid growth than we've ever seen before. So there are people trying new styles of restaurants, new formats of dining.
People are starting to experiment with different types of work models, closing two days a week so their staff can be energized and rested, or trying new pay scales so that people are paid well for the work that they're doing. I'm really excited to see where our industry goes in that regard—in terms of treating people well and paying people well—because we work really hard, and it's very grueling and sometimes thankless, so it's really nice to see people pumping the brakes.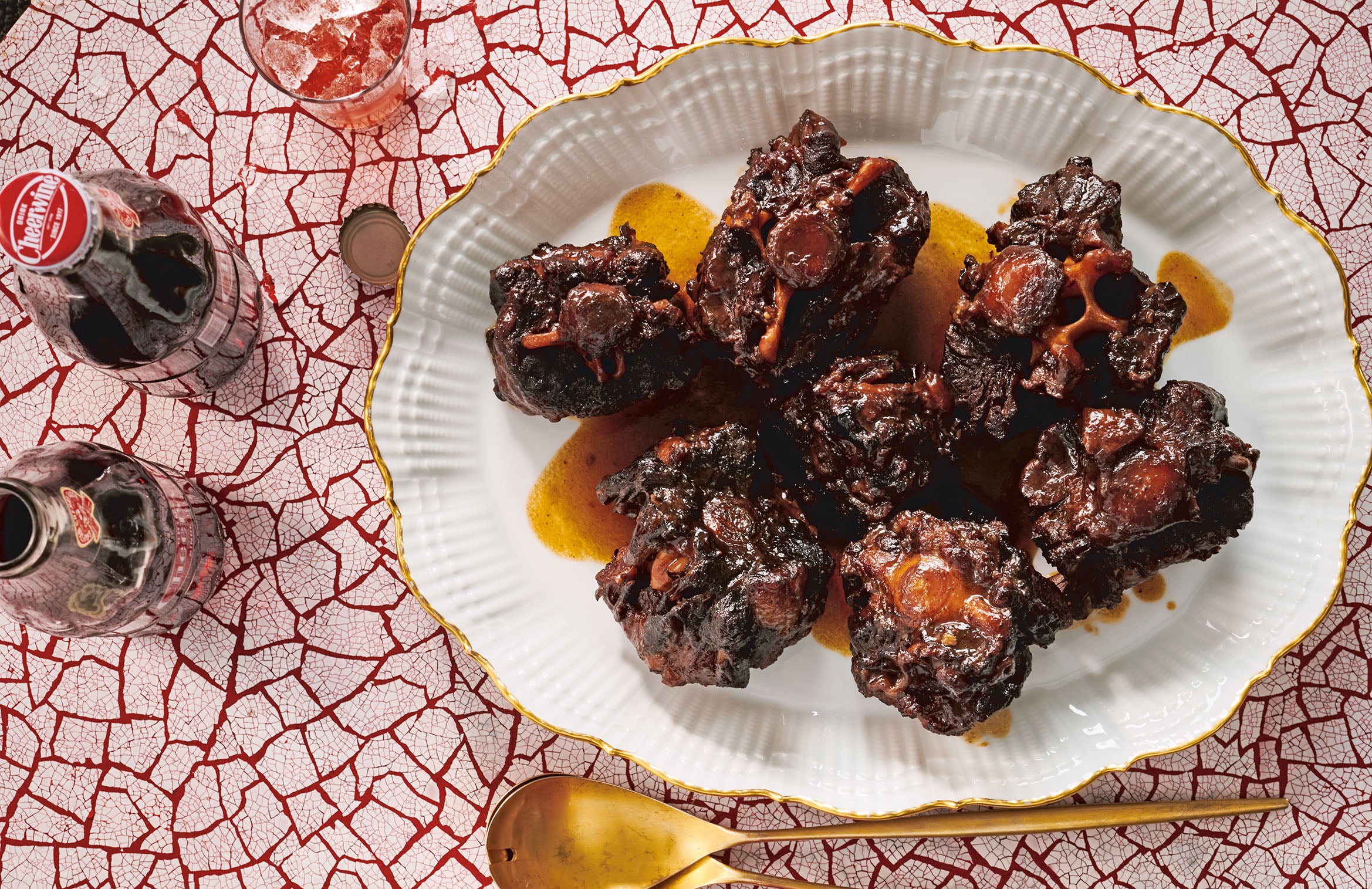 THREE EXCITING RECIPES FROM SUNDAY BEST:
Cheesy Pork Caraway Bites
A classed-up take on a favorite party snack from Cheatham's childhood.
Cheerwine-Braised Oxtails
This vivid red soda brings out all the saucy sweetness in an oxtail braise.
Split Pea Salad with Warm Bacon-Sherry Vinaigrette
Get to know the bright, green, fresh side of split peas.