Angel Hair Has a New Look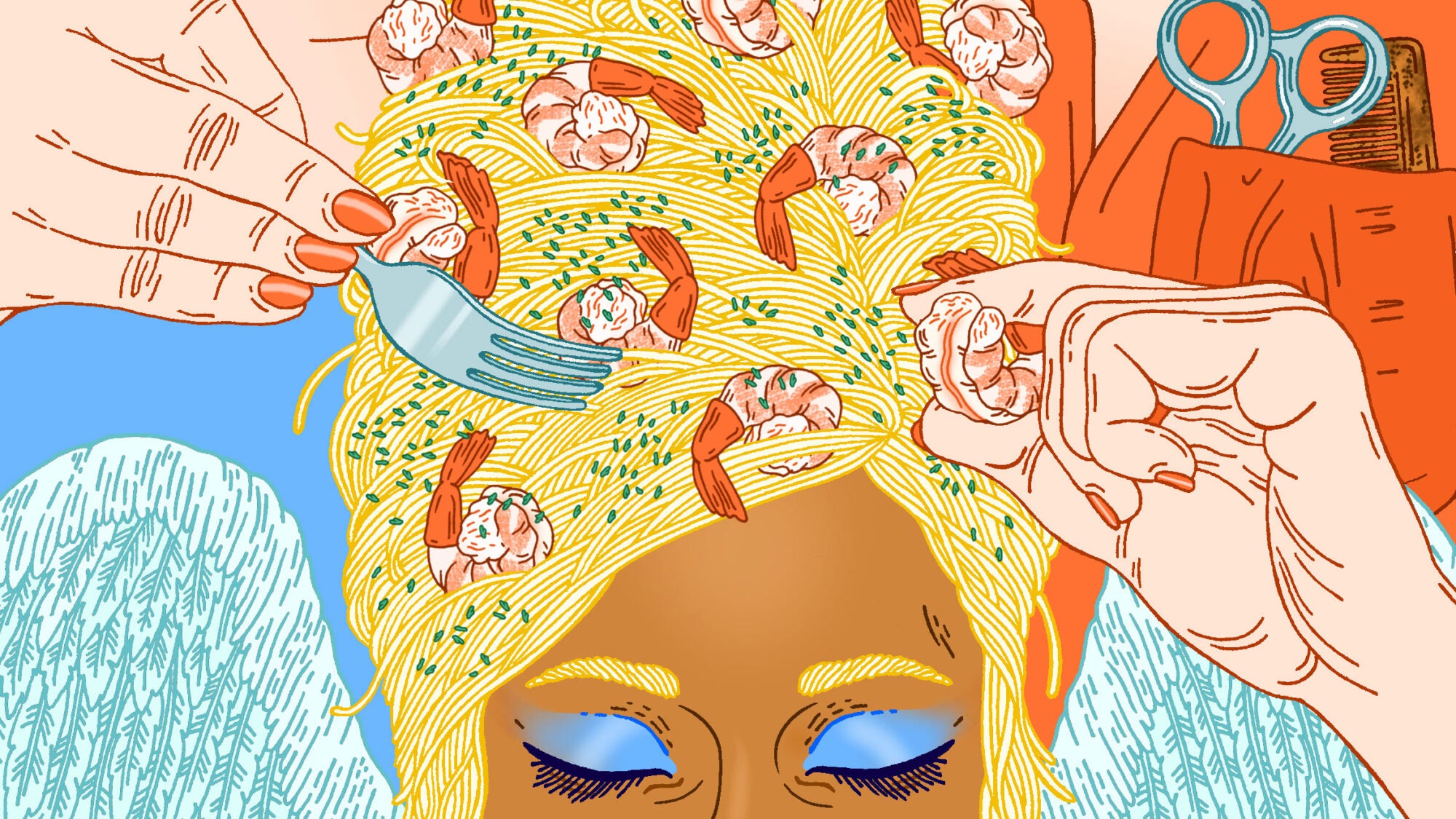 It may trigger nightmares of overcooked pasta in the '90s, but in the right hands, it can be truly great.
Last year, a Reddit thread began to take off, simply called, "What's wrong with angel hair pasta?"
"It doesn't take sauce well," someone chimes in. "It overcooks easily," says another. "Angel hair is garbage," bluntly states a third.
Yet on the same thread, an equal number of people come out just as strongly in the pasta's favor: "It's fucking delicious." "I have been craving Angel Hair Pasta!!" "I would say if some chef doesn't like it he or she is just being a snob." The post, which numbers close to 200 users, is almost evenly split between lovers and haters.
The debate is so fierce that even NBA star LeBron James has chimed in on Twitter: "Way to soupy if u use those noddles [sic]. No substance at all." Then there's former vice president Joe Biden, who allegedly requests angel hair pasta pomodoro in his rider for speaking engagements.
A few decades ago, the ultra-thin noodle shape, made by passing a uniform pasta dough through one of the thinnest settings on a pasta machine, was the pasta of note in America, served at restaurants from Spago in Los Angeles to Il Mulino in New York, presented in cookbooks (Ina Garten is a fan), and included in diet plans. Then something changed, and in some circles, it all but disappeared from the culinary zeitgeist. But in others, in remained lurking in the shadows, popping its head out to inspire—at times—fierce dispute. Was it passé and clumpy, or the underutilized ringer of pasta shapes?
According to Oretta Zanini De Vita's 2009 Encylopedia of Pasta, angel hair—sometimes called capelli d'angelo—was first recorded in Rome as early as the 17th century as a specialty of convents. It was made by rolling an egg-based pasta dough out into a thin sheet, then cutting it into even thinner noodles. Nuns would send the pasta in broth to new mothers in ailing health, as it was easy to digest. It was food for infants, too, since it didn't require much chewing.  
Danielle Callegari, a lecturer in Italian studies at UC Berkeley, theorizes that angel hair came to America around the wave of Italian immigration in the first half of the 20th century, when key ports of departure were Campania and Liguria (where angel hair is commonly found). Amidst a sea of pasta shapes, she believes angel hair caught on for a simple reason: branding.
"Angel hair translates really beautifully into English," she says. "It is recognizable, and it makes sense." The pasta quickly became synonymous with a simple sauce of olive oil, chopped tomatoes, and basil—angel hair pomodoro.
While pasta slowly began to trickle around the United States with early-20th-century immigration, the big boom began around the '90s. The context? Diet food.
A 1990 Los Angeles Times story says it all: "Talk of pasta in Los Angeles' restaurants is lightening up at every turn. One hears: 'We suggest the angel hair pasta. It has a very light sauce . . . fresh tomatoes, cut up and sauted lightly in their own juice with a thimbleful of olive oil and some basil. Very light.'"
"Growing concern about fat and cholesterol intake is causing many Americans to find low-fat and low-cholesterol alternatives to foods that they love to eat," the piece went on. "And pasta is one of them."
Lifestyle magazines like Good Housekeeping followed along with this narrative, peppering their pages with vegetable-heavy angel hair preparations that extolled the pasta's slender shape and the many low-fat ways it could be prepared. One example: the strands are tossed in an olive-oil-anchovy-garlic sauce and paired with artichokes, bell peppers, olives, and capers.
Around this time, Italian cooking in America was also shifting away from just red sauce, and toward regionality. Many chefs wanted to demonstrate Italian food's lighter, more coastal offerings, and angel hair fit nicely into that evolution. In 1992, D Magazine wrote about an angel hair piled high with crab, shrimp, and mussels at Quadrangle Grill in Dallas. The New York Times restaurant columnist Florence Fabricant remembers seeing angel hair paired frequently with lobster.
"It is a pain in the ass to cook. It gets clumpy because the noodles are so thin."
Another force propelling angel hair into the cultural stratosphere in the 1990s was the Food Network. Rising stars like Ina Garten and Tyler Florence used angel hair pasta in their recipes, from Tyler's angel hair doused in toasty bread crumbs and fried chile flakes, to Ina's angel hair pasta with lemon and roasted shrimp. One of the bigger proponents of the thin stuff was Giada De Laurentiis, the network's Italian food doyenne. The sleek pasta fit nicely into her ethos of bright, simple, and often healthy-ish Italian food, where not everything was drenched in marinara sauce.
"I will tell you, I am not a lover of angel hair pasta," she now admits nearly two decades later. "It is a pain in the ass to cook. It gets clumpy because the noodles are so thin." She only started cooking with it because it was thin enough for her daughter, Jade, to slurp up without choking issues.
Of course, once the Food Network was adopting it, it didn't take long for the chains to do so as well. In the 2000s, Olive Garden was serving shrimp with garlic sauce over a bed of angel hair pasta. A similar version appeared at the Cheesecake Factory.
Yet ten years later, it suddenly vanished from magazines and menus. Grocery stores were stocking maybe one or two brands of angel hair, rather than several, De Laurentiis recalls.
"There was a run of angel hair, and then suddenly we were geeking out over bucatini or pappardelle," remembers Kate Heddings, who was an editor at Food & Wine from 2000 to 2017. "Pasta is funny that way. Each shape has its moment in the food world. Then it gets dropped like a hot cake."
She adds that the concept of "al dente" was becoming more well understood in America as the pasta gold standard. "You don't eat angel hair al dente," she advises. "It became a harder pasta to showcase." 
Fabricant says there was a newfound emphasis for both home cooks and chefs to make their own pasta from scratch—and because of its thin shape, angel hair is more difficult to make than, say, ravioli or pappardelle.
Maureen Fant, who translated the Encyclopedia of Pasta into English, has a different theory for why it fell out of favor and ultimately became such a divisive food: Americans did what Americans do best, and they put angel hair in everything, even in places it didn't belong. There was a factor of burnout at play.
"Angel hair is something that is used the most correctly in broth," she insists. "It absorbs sauce like a sponge. That is why it works in broth and not a sauce." It was never meant to be tossed with cream sauce or marinara. But there it was at the TGI Cheesecake Olives of the world.
Today, the debate rages on—in online forums, in food magazines, and on Twitter. A recent Bon Appétit newsletter declared: "Angel hair just lands on your chin like the strands of a wet mop."
Some of the pasta's biggest supporters are first-generation and second-generation cooks. At Lola's, a Spanish restaurant in New Orleans, co-owner Pilar Miranda prefers to use angel hair in the fideuà (think noodle paella) because the pasta comes in nests that can be easily crushed into the pan to create the dish's charred chunks.
"There was a run of angel hair, and then suddenly we were geeking out over bucatini or pappardelle"
During cooking classes, the cookbook author Nandita Godbole uses angel hair in seviyan, a sweet, milky, noodle pudding, instead of the more traditional vermicelli because it has the "nuttiness and toasty qualities" she wants, and it doesn't require going to a special store. (She notes that while she loves angel hair, her husband and daughter hate it.)
David Shim, the chef of the Korean steakhouse Cote in New York City, says he and his family loved angel hair when they immigrated to the United States because it reminded them of somyeon, a thin wheat flour noodle used in Korean cooking.
And then there's Anton's, a new New York City Italian restaurant whose surprise hit dish, chef Nick Anderer says, has been . . . angel hair pasta. The homemade noodles are hand cut and cooked quickly so they maintain a chew, and the lemon, butter, and breadcrumb coating is light enough to not overwhelm the delicate strands. Perhaps it will be the dish to quell some haters and help settle this debate.
Then again, notes Fant, "It is very Italian to have an irrational prejudice against a particular pasta shape."