An Audience with the Queen of the Birthday Cake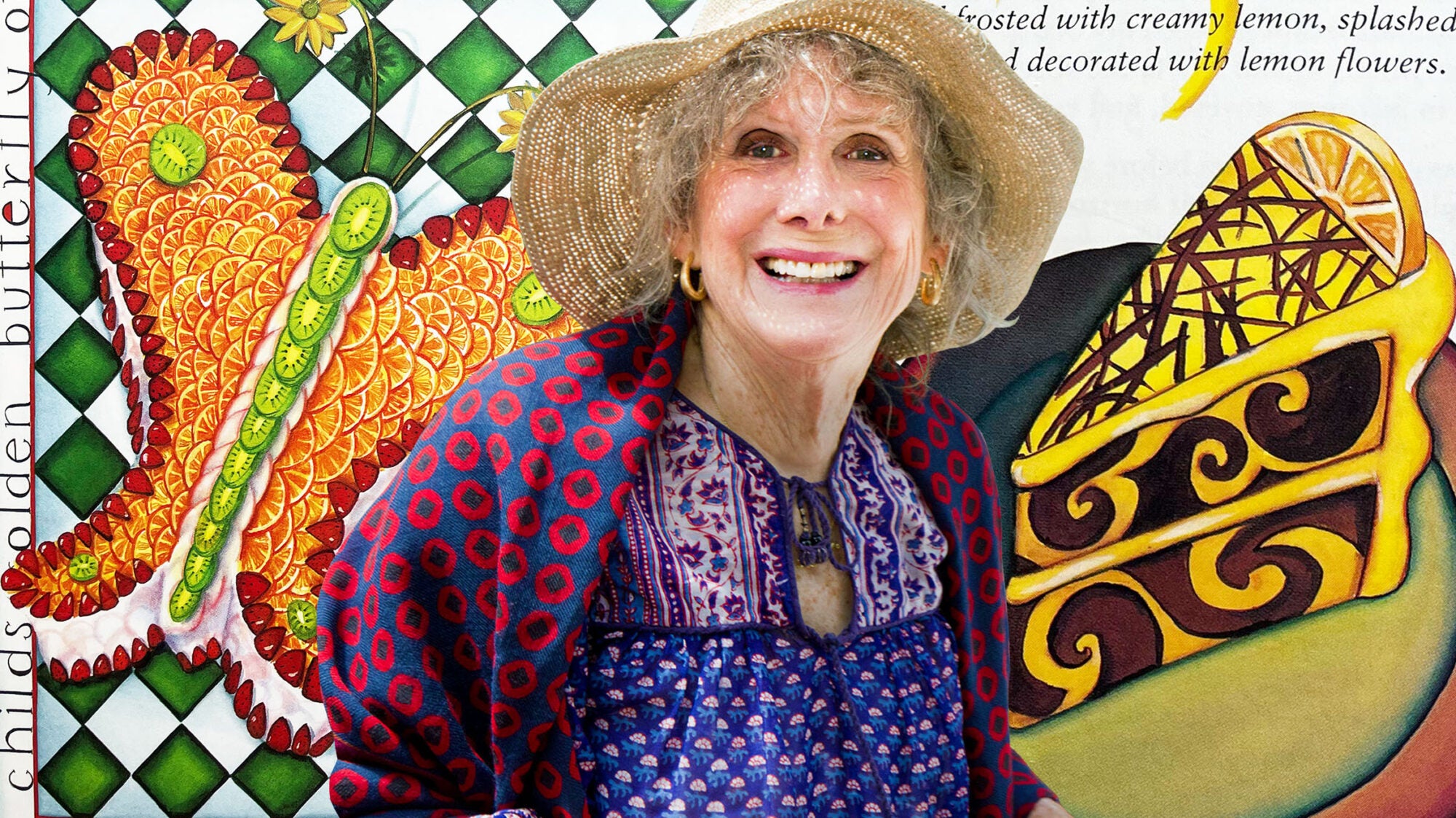 Sylvia Thompson's cookbook legacy is deep, but 1993's The Birthday Cake Book sparked one young pastry chef's career.
In 1997, my mother purchased a small cookbook ahead of my second birthday. The book featured recipes for cake—specifically birthday cake—and she chose a marbled lemon- chocolate cake covered in lemon frosting and spattered with chocolate. The cake went down as legendary. Each year that followed, a cake was chosen from The Birthday Cake Book. When my parents divorced, my dad bought his own copy, and when I started baking as a teenager, my mom found a copy in a used bookstore and gave it to me. As I slowly and blindly made my way toward a career in food writing, The Birthday Cake Book was always beside me, reminding me of both where I came from and where I wanted to go. 
The author of this little red book is Sylvia Thompson, a food writer and cookbook author whose career spans nearly forty years. Her name might not be as recognizable as some of her contemporaries, like Dorie Greenspan and Diana Kennedy (the latter of whom she counted as a close friend), yet she has penned eight books and well over a hundred articles for magazines like Vogue and Gourmet. Now 87, she has just finished writing her first novel and shows no signs of slowing down anytime soon. 
The Birthday Cake Book, published in 1993, captures a unique array of the cakes that mark our birthdays, our milestones, and all the parts of life that demand celebrating—in only twenty recipes. The aforementioned Marbled Chocolate and Lemon Cake with Chocolate-Spattered Lemon Frosting is a delightful combination of moist yet airy cake covered in the tangiest and creamiest lemon frosting, and it has been my birthday cake of choice for well over 15 years. I've tasted almost every cake in the book and baked at least half of them myself, from an Italian Zuppa Inglese filled with three flavors of custard, to chocolate cake with Hershey's bar frosting, to good old-fashioned carrot cake.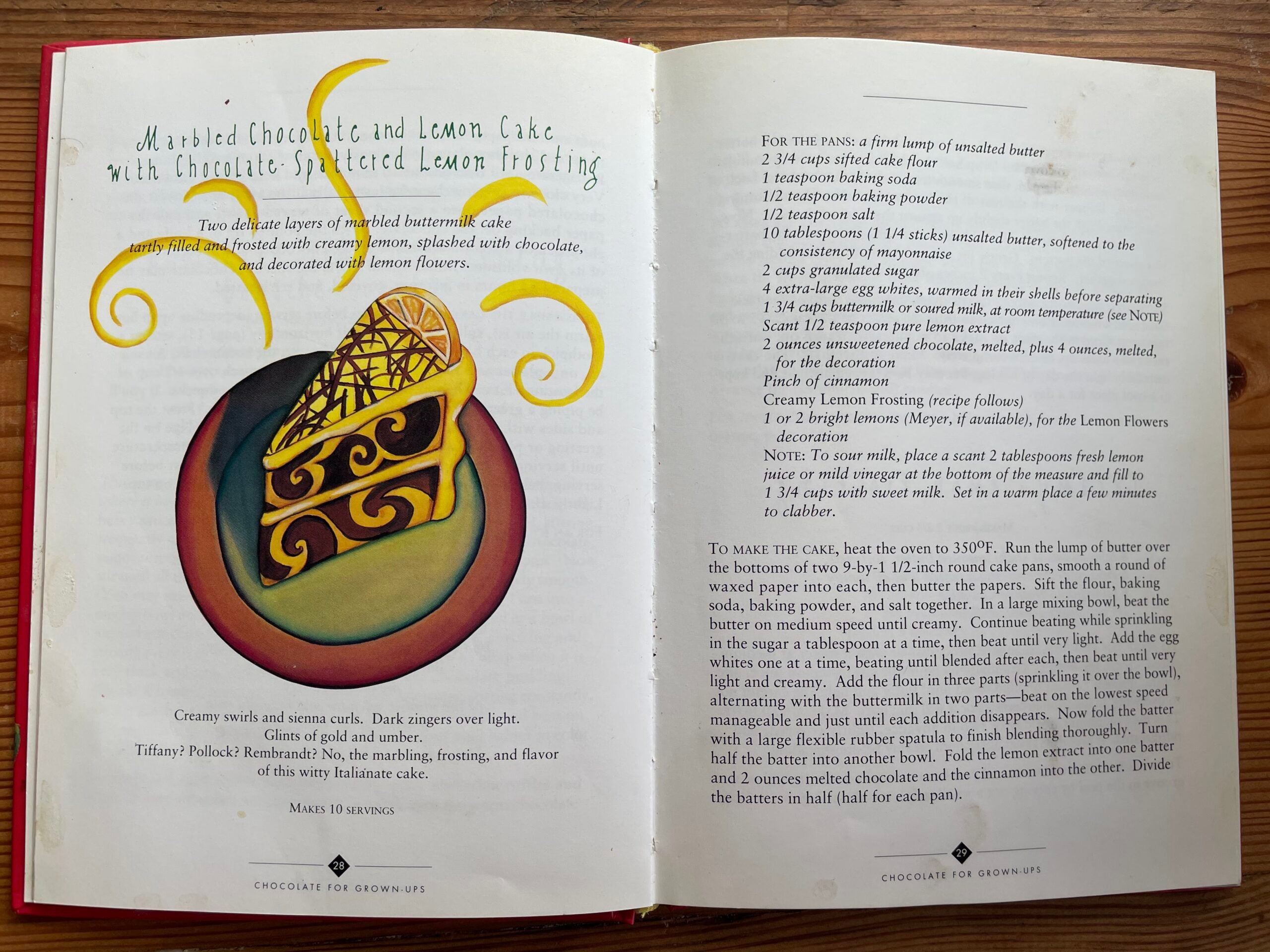 The book is a joy to read, and Sylvia's sweet sense of humor is present throughout. "[Is it] Tiffany? Pollock? Rembrandt?" she muses of the abstract chocolate spatter on the cake. "No, [it's] the marbling, frosting, and flavor of this witty Italianate cake." But it's not only the recipes and prose that make this book shine. Illustrator Brooke Scudder's curls of chocolate, glossy icings, and playful, prancing figures bring the recipes to life. Scudder's illustrations and art have been featured in magazines, on book covers, and in children's stories. In The Birthday Cake Book, her illustrations offer a refreshing alternative to photographs and contribute to the timeless feel of the book.
When Sylvia agreed to an interview, she told me that, out of the eight books she has written, The Birthday Cake Book was her favorite, too. While I had initially set out simply to learn more about a favorite book and its author, I never expected to hear the story of such an incredible life. 
We sat down to talk on a Saturday morning, Sylvia in Santa Cruz and I in Seattle. She sat in her study, which she told me is epically and famously messy. "I'm trying to reorganize," she said, sitting in front of a wall of books. The Birthday Cake Book stood casually on end to her right.
Sylvia comes from an impressive parentage. Her father, Arthur Sheekman, was a playwright who worked on the Marx Brothers' movies. To Sylvia, Groucho Marx was Uncle Groucho. 
Her mother, Gloria Stuart (of the very same Stuarts who, at various points, ruled England and Scotland through the early eighteenth century) was a Hollywood actress in the 1930s who went on to play Old Rose in the 1997 film Titanic. "My mother was a fabulous cook," said Sylvia, "and she never made anything simple in her life. Everything she made was very, very complicated." As an only child, Sylvia played sous chef to her mother as they hosted dinner parties with guests like Humphrey Bogart and Dalton Trumbo. "My mother was an immensely creative person," she told me. "Whatever sifted down to me, creatively, I got from her." 
M. F. K. Fisher, the eminent food writer, was a close friend of Sylvia's mother, though Sylvia would like to put to rest the "old fable" that Fisher was her godmother. Fisher was, however, Sylvia's mentor and close friend. Fisher even wrote the introductions to a few of Sylvia's books. 
Sylvia began her writing career after the birth of her first child. "I was bored with the baby stuff," she remarked. Her late husband, Gene Thompson, told her she ought to either finish her English degree or chase her lifelong dream of becoming a writer. "I was always told, 'Just write about what you know.'"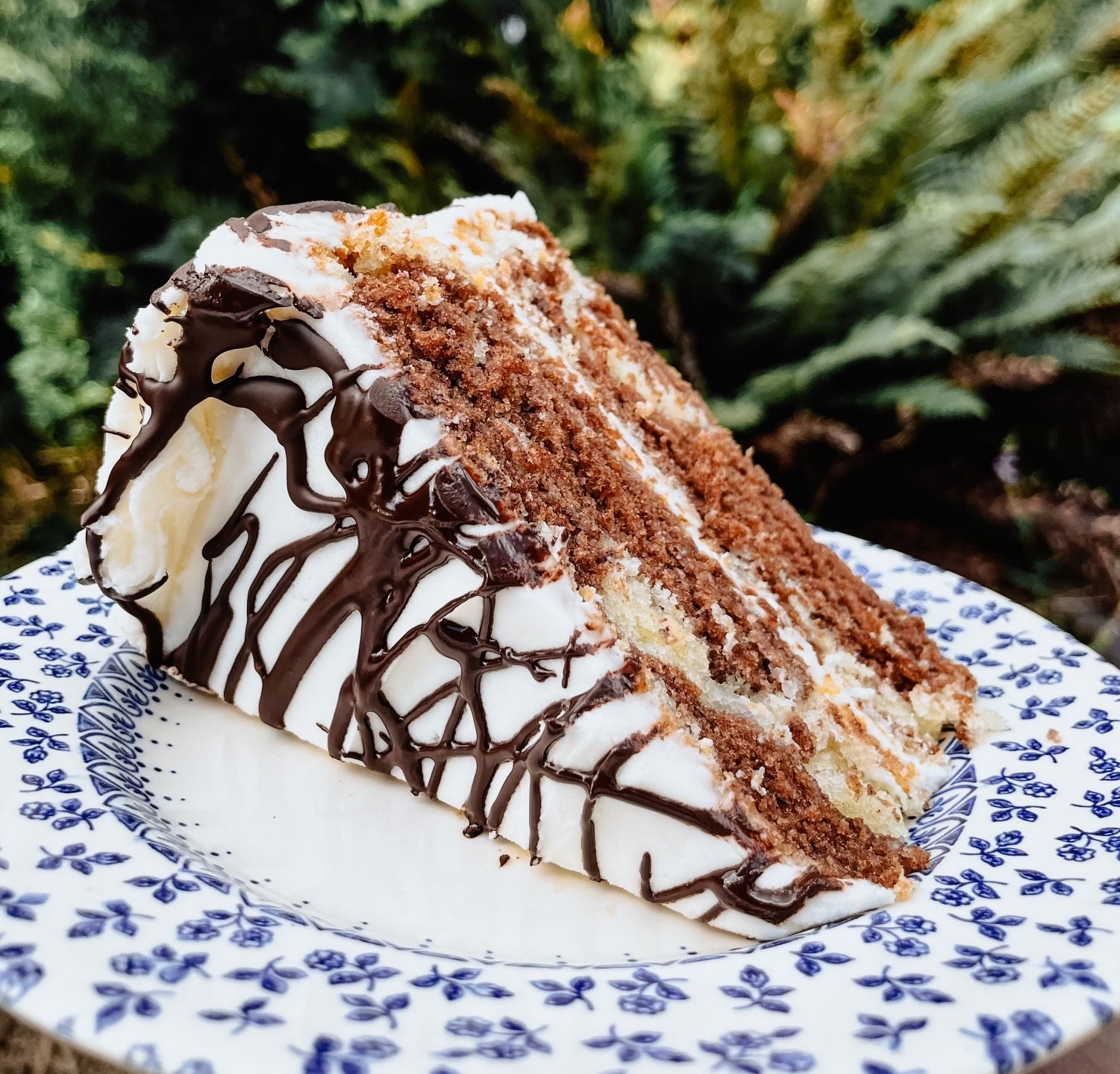 Her first published work appeared in House Beautiful magazine in 1957: "Giving Up Gardening is Easy—I've Done It So Many Times." The essay was about how she hated to garden as a child, but her mother always made her do it. She did eventually (and perhaps grudgingly) grow to love working in the garden, and it became the subject of many future articles and books. 
After freelancing for magazines for several years, Sylvia wrote her first cookbook. Economy Gastronomy was published in 1963—a collection of gourmet recipes made from affordable ingredients. She went on to write six more cookbooks—The Birthday Cake Book was number five—and a memoir entitled Feasts and Friends, as well as a syndicated column, "Garden Fresh," that ran in the mid-'90s . In 2015, one of Sylvia's recipes was included in Genius Recipes, a book of recipes compiled by Food52's Kristen Miglore, where her Fresh Ginger Cake (adapted from a version in The Birthday Cake Book) enjoys the company of recipes by Nigella Lawson and Marcella Hazan.  
Sylvia wrote The Birthday Cake Book while living in Idyllwild, California, a small community in the San Jacinto Mountains at an elevation of six thousand feet. At high altitudes, a cake turns out drier, rises more dramatically, and takes longer to bake, so she relied on the daughter of a close friend to test her recipes and ensure that they worked just as well at sea level as they did in the mountains. The Birthday Cake Book includes a thorough guide to high-altitude baking toward the back of the book.  
In just 120 pages, Sylvia captures a whole spectrum of cake, from classic chocolate and playful peppermint to the technical feat of a nine-layer Dobos torte featuring thin layers of sponge interspersed with chocolate buttercream and topped with a sheet of caramel. Even her most basic recipes stress the use of room-temperature ingredients and proper creaming technique as crucial for achieving light and fluffy cakes. Though it may not have the massive index of other scriptures on the subject, The Birthday Cake Book gives you foundational knowledge to confidently bake any cake.
The chocolate and lemon cake—my birthday cake of choice—also gave me my start as a pastry chef. My aunt and uncle asked me to make a cake for their 2016 wedding. When I asked what flavor they preferred, I was given free rein. Having made a wedding cake the year prior, I understood the importance of not trying to reinvent the wheel when under pressure, so I chose something I knew well. The reception was held at an Italian restaurant in a trendy neighborhood in Seattle, and after the party was over, the head chef told me how much she enjoyed the cake—and that she was in search of a pastry chef. I had never even worked in a restaurant, let alone baked in one. That job led me to other jobs in pastry and eventually to where I am now—developing recipes and writing about food.  
The chocolate and lemon cake is always a hit. Sylvia told me that Deborah Madison, author of lauded cookbooks like Vegetarian Cooking for Everyone, also makes it for her birthday. Sylvia spoke fondly of Madison, referring to her as a dear friend and heartily recommending her books. It was Madison who got Sylvia her first gig teaching cooking classes—a job Sylvia loved. After teaching a class at a conference in Chicago, a woman approached Sylvia and said, "I've seen Julia Child teach, and I've seen you teach, and you're better!" 
As Sylvia mentioned two strong culinary influences, Paula Peck and Elizabeth David, she held up their books to the camera and read recipes aloud to me. She described Peck's 1961 book, The Art of Fine Baking, as being fundamental to her baking knowledge and Peck herself as "brilliant." Sylvia had Elizabeth David's 1960 French Provincial Cooking checked out of the UCLA library for an entire year. "Finally, I bought it," she said. "Then it fell apart." 
When I asked Sylvia about what work she was most proud of, she mentioned her memoir, Feasts and Friends—which is also part cookbook. And she described her column, "Garden Fresh," which ran from May 1993 to December 1995, as being a great joy. The column was featured in the Los Angeles Times, the Washington Post, the Chicago Tribune, and the Oregonian.
In the mid-'90s, Sylvia was commissioned to work on the back section of the 1994 edition of The Joy of Cooking. It was a huge opportunity to contribute to what many considered, particularly at the time, to be America's most important cookbook. Yet she described the experience as challenging. "I wrote about sauces. I did the whole vegetable chapter, and then I worked on herbs, and then techniques," she says. They also asked her to do the "keeping" chapter—a section about preserving, pickling, and drying—which never made it to print. "I worked six months on that, and then [the editor] cut it out of the book because she wanted more room for meat." The Joy of Preserving, its own book, came out later, but it didn't include any of Sylvia's work. "It was a really, really bad thing," she said, expressing a hint of exasperation, "but I learned a great deal. I learned all about preserving."  
Sylvia now lives in Santa Cruz with her second husband, William Park, whom she has been married to for eleven years. Park is a retired professor who taught 18th-century English literature and film studies at Sarah Lawrence College for thirty-eight years. "Bill loves the movies," Sylvia told me, which seems fitting, considering her own Hollywood roots. They watch a film together every night. At 87 and 92, they are very much in love, which is demonstrated by Bill frequently prompting Sylvia to be a little less humble. "Tell her about your new book," he would say as we talked. 
As Sylvia mentioned two strong culinary influences, Paula Peck and Elizabeth David, she held up their books to the camera
Sylvia and Bill fell in love shortly after the death of her mother. When Gloria Stuart died in 2010 at the age of 100, Sylvia had been a widow for nine years. Bill's wife had passed away earlier that same year. Sylvia's daughter, Dinah, set the two up. They sent over 600 pages of letters to each other before ever meeting in person. 
"We were in love before we even saw each other," Bill told me.
"We fell in love though the correspondence," said Sylvia. "We're both writers!" she laughed. "We figured we were each other's reward."
Sylvia has just finished writing her first novel, Mazie Raz, which she is busy pitching to various publishing houses. "It's a comic romantic novel about two old people!" she told me. When I asked if the book was perhaps a bit autobiographical, she responded with, "Who am I to say?" There are no plans of retiring from writing anytime soon—she also keeps a blog chronicling tales of cooking, travels, and musings on getting older, titled "Views from My Eighties: Love, Food, and Life." The writing on Sylvia's blog captures the same flavor as her books and recipes; an almost musical embodiment of both wit and wisdom. She has yet to figure out Instagram, but she does have a Facebook page. 
Sylvia's shortest book has affected my life in so many ways—from celebrating my birthdays and getting my first job as a pastry chef to writing this essay. When she offered to test recipes for me, I leapt at the chance, sending her a recipe for an olive oil cake with sumac and lime. Sylvia baked the cake the next day and sent me notes and suggestions. She loved it, but she also didn't hold back with her opinions of my salt usage. The cake recipe has since been published, but even last week, we spoke on the phone about a new recipe I'm developing. I had expressed some self-doubt about working on a dish that is far outside my comfort zone. "I'll test it!" she declared. "Bill loves barbecue." 
Now, when I pick up The Birthday Cake Book, it's hard to remember a time before I met Sylvia, because in a way, I've always known her—she's been present in every cake along the way. Cake doesn't just mark our passing years or commemorate our achievements—every once in a while, a cake comes along and changes your life.