Amethyst Ganaway Is Rewriting the Nose-to-Tail Narrative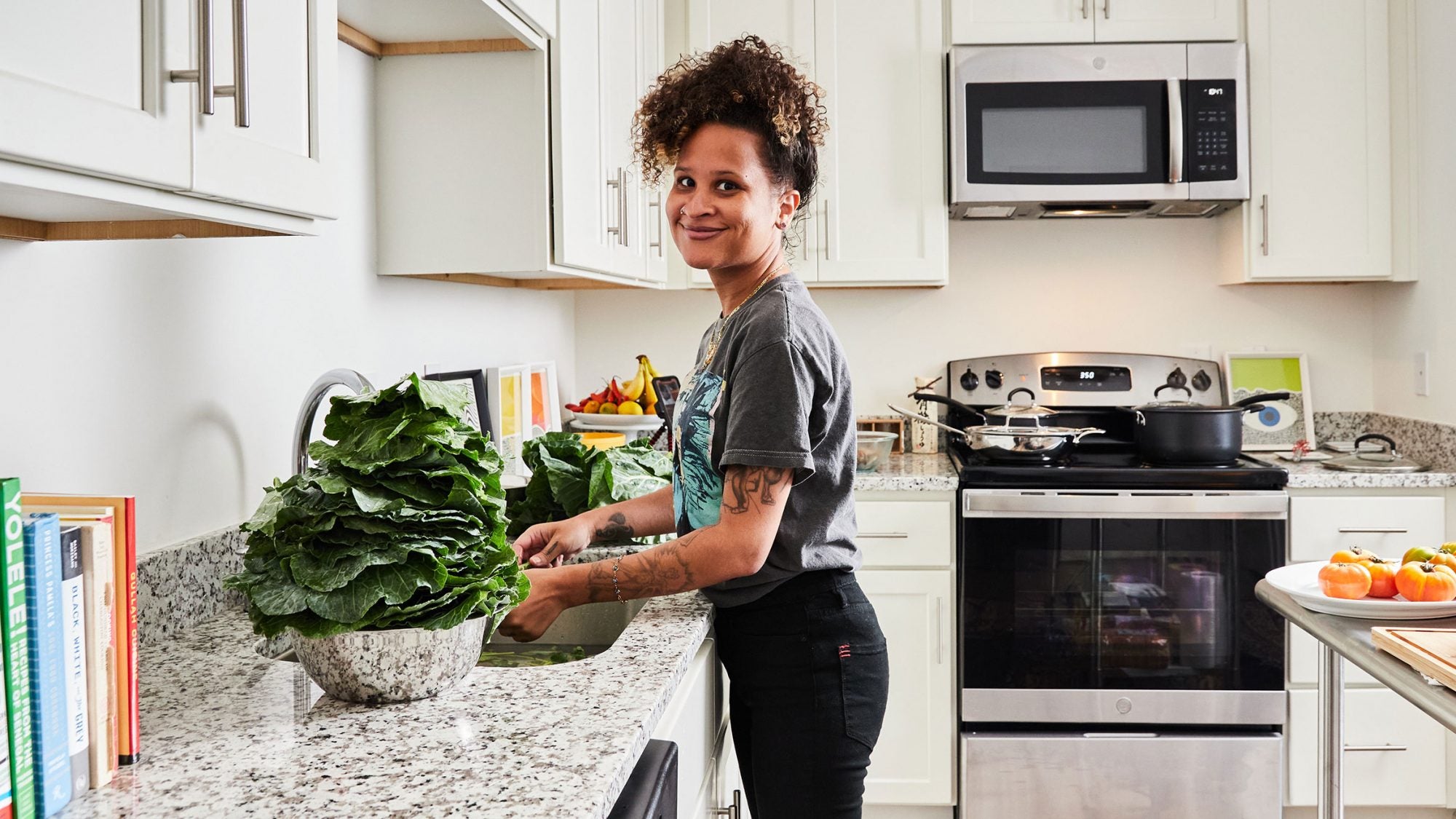 TASTE's newest Cook in Residence takes on the offal bros and the often-misunderstood world of shrimp and grits.
For Amethyst Ganaway, food is an entryway to talking about history, theology, agriculture, and sustainability. Between cooking in restaurant kitchens in South Carolina, Georgia, and New Mexico, and working as the head recipe developer for Yolélé, Ganaway has written about the history of Black communities using food as protest, the finely tuned art of red rice, and about Edna Lewis's roast duck technique.
As TASTE's newest Cook in Residence, with exciting original writing and recipes rolling out over the next two weeks, Ganaway will be diving into the world of offal and giving us a fresh perspective on the myriad cooking techniques we tend to classify as French. As a self-proclaimed grits snob, she'll be showing us the way to a silky bowl, topped with gently cooked shrimp and littleneck clams, as well as how to incorporate more hog's head cheese into your charcuterie routine.
To kick things off, we sat down and talked about the food and food-related books that have been on her mind lately, some sources of inspiration in the world of chefs, and hot sauce. (Texas Pete, if you're reading this, please send hot sauce.)
One of the things TASTE readers will get to read about and hear about from you in the next few weeks is offal, and the cuts of meat that—just for whatever reason—aren't as popular as the skinless, boneless chicken breasts of the world. Why were you excited to write about this, and why should people be excited about some of these other cuts of meat?
It just tastes good. And I want to be a part of helping change the narrative around these cuts of meat. A lot of people have already done that work, obviously; it's not like I'm bringing up something new. I'm from a younger generation, and I grew up with a lot of older people who are used to eating liver and used to eating gizzards and whatever else. So that's always been normal to me.
I think another part, too, is, we're killing the planet, so if we want to be more sustainable, why are we not doing what people have done for centuries? Use every single part of this animal. If you go to the grocery store, all you can get now is a 12-pack of chicken thighs, or boneless, skinless chicken breasts. And it's like, so what are y'all doing, literally, with the entire rest of this animal? You killed 12 chickens; where's the rest of it? I think part of it is, how can we be more mindful about being respectful? Yes, you're still taking a life, and you should still be trying to honor that—and you're not only honoring the animal, you're also honoring cultures.
I guess the last part is just dude-bro chefs who've written books about nose-to-tail, right? But Black and brown people have done this forever. And they don't get book deals about it; they don't get recognition for it.
Speaking of using every piece of the chicken, one of the first pieces I think I read by you was your essay in For the Culture magazine, where you write about learning how to catch crabs with string tied around little bits of raw chicken. You talk about becoming a total expert in breaking down seafood, and especially crabs, by the time you were 13. Are you still learning new crab tricks? Or did you peak at age 13?
Oh, I'm always still learning. Always. Now, there's no way you're going to show me another way to crack a crab, you know what I mean? There's only two or three ways you can do it, and the way that I learned how to do it is going to be the quickest way for me, because that's how I learned. But, for example, I first saw a marinated raw crab on one of the shows on Netflix. And I saw that Eric Kim did a version of it, and he was talking about how he and his mom made it. And I always find it so interesting how different cultures use the same or very similar main ingredients, but they have their own spin on it. He's used to having blue crab, and their blue crab is going to taste different from my blue crab because it's in different water. I can take what I've always known, what I've always known how to do, and I can learn from what another culture does, and find a way to tie it back to our culture. So I'm always learning.
You just moved back to Charleston a couple months ago, after living in Albuquerque. What brought you back to the city, and how much has the food scene changed since you were last living there?
I'm going to say this, and some people will get it, and some people won't get it. My spirit was literally telling me to come home. This is my home; this is what I've always known. I haven't physically lived in Charleston ever as an adult. And the food scene has changed—the city has changed, not even just the food scene. Everything has changed tremendously. It is virtually impossible for me to buy a house here, which is absolutely nuts.
Right now, you're the head recipe developer at Yolélé, a company that focuses on agricultural products from West African smallholder farmers. What has the process been like of researching these ingredients that you work with? Have you found yourself diving into some of the culinary history of these West African countries that the ingredients are from?
I think for me, and I hope I can say for the company, that it's been such a good fit because so much of the food and research I already was doing was connected to West Africa. It doesn't feel like I have a big divide in between them. When I'm researching these ingredients and learning to work with them, it just feels like parts of the puzzle fitting together.
Now that we've talked a little bit about your work and your writing, I want to get into a few lightning round questions about food. What's the most underrated cut of meat?
First thing that comes to mind is liver. I'm a sucker for liver and onions and grits, all day. But also, I love a good pâté. I can get country with it, and then we can get French and fancy if we want to. You can't beat fried liver.
Most underrated grain?
I'm going to say fonio. I work with fonio now; I didn't know anything about it, obviously, before Yolélé. I mean, I had kind of read up on it before I started working with Yolélé, but it's one of those things that has brought me to seeing the things we ate before we were in America. Or even once we got here—we brought fonio over here, too; it just didn't really grow as well. It just wasn't as sustainable as corn, rice, and other grains. But fonio's cool, man; it's so versatile—you make one cup, and it expands to four times the amount. It takes five minutes to cook. And it's inexpensive. So it's just one of those things where you can pretty much do any and everything with it. It has a neutral flavor. If you like couscous, you'll like fonio.
What's a good entry-level thing to do with fonio? If someone's just gotten their first bag of it from Yolélé.
I just made a recipe with shrimp curry, and the curry took me like 30 minutes, maybe, at most. You just throw it with some fonio; boom, that's it. Or even if you just have a bowl of soup. A bowl of tomato soup, a can of soup or something. You just need that little extra something to fill you up, something like that. Like I said, it takes five minutes to cook, and you can make fritters out of it.
I like to fry my fish with the fonio flour, actually. You get that nutty, kind of toasty flavor; the color of it is absolutely nuts, frying something in it. You know how sometimes you can fry something with regular flour or whatever and it just kind of looks light-skinned? Anytime I use the fonio to fry something, it always comes out perfectly golden brown. Every time. It's insane.
Most surprisingly useful kitchen gadget?
My citrus reamer. You're welcome.
What's your favorite "put on everything" condiment?
Texas Pete hot sauce. Texas Pete all day. There are people out there who get Texas Pete and Duke's Mayonnaise tattoos, and I don't know if I'm going to go that far. I almost feel bad, because I'm going to Louisiana next month, and I want to try real Louisiana gumbo, and I know somebody's going to get real offended if I just sneak in a little bit of Texas Pete on the side.
Dream cookbook to read?
I want to read—I want to literally, physically touch—the first edition of The Carolina Housewife by Sarah Rutledge. It was first published in 1847. I have a copy of the newer edition of it, and it's a really good reference point for a lot of American cuisine. You get to see really traditional Lowcountry food, but then you also see where that French and kind of more European technique and stuff like that is starting to come into play in a lot of these recipes. It's just interesting that, in 1847, you can really start seeing that kind of change in culture and cuisine by that time.
What's your dream cookbook to write?
I have a lot—I want to write one about offal. And I want to call it "From tha Roota to tha Toota." It's a good name; it's named after a Field Mob album. But it's also a saying that old Southern people say, because we eat everything, from the roota to the toota! And then, I would love to do a seafood cookbook. I really want to do something on the anthropological side of stuff, on food and root work—using traditional hoodoo, and how we incorporate using food into that. I don't know what that might look like; there might be some recipes here and there, but it would be more of a scholarly type of book.
What's the cookbook that has meant the most to you as a cook?
Anything by Vertamae Smart-Grosvenor—anything. I'm reworking my way through The Travel Notes of a Geechee Girl, just because I'm back home. Anything by Sallie Ann Robinson. Anything by Charlotte Jenkins. I read a lot of Zora Neale Hurston, so I'm starting to get into some of her books that talk more about food, and food and culture being intertwined.
Dream collaboration with a chef, a restaurant, a book, anything.
Always Mashama Bailey. One day. One day! I'm getting to meet Nina Compton next month, so that's another one. RIP Anthony Bourdain; would love to have collaborated with him somehow, and just sit and shoot the shit.
Favorite follow on Instagram, Twitter, newsletter, whatever.
Andy Doubrava from Rustic Canyon. They're doing some wild shit. And Shola Olunloyo, of the first kind of inaugural class that Dan Barber is doing. I think he's Nigerian. I think for him in particular, why he is probably my favorite is, I respect people like René Redzepi and what all of them are doing, but it's different when I see a Black man doing it. Or when I see a Black chef period doing something like that. Because I want to be able to get to that point, too.